5X16: "A Whole New World, Don't You Dair Close Your Eyes"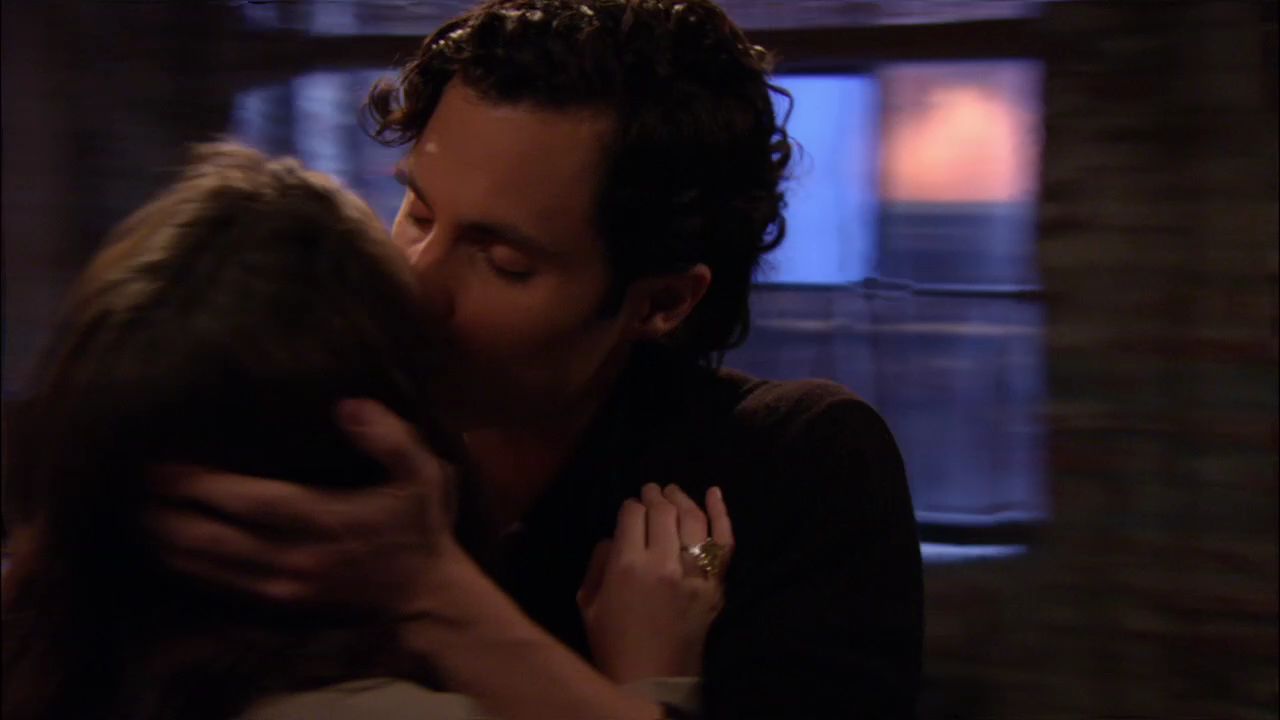 A "Very Special Recap" brought to you from the grave:

So this was me during most of the re-cap process:
But in honor of Dair, I'm forging through this
HOT MESS
of an episode.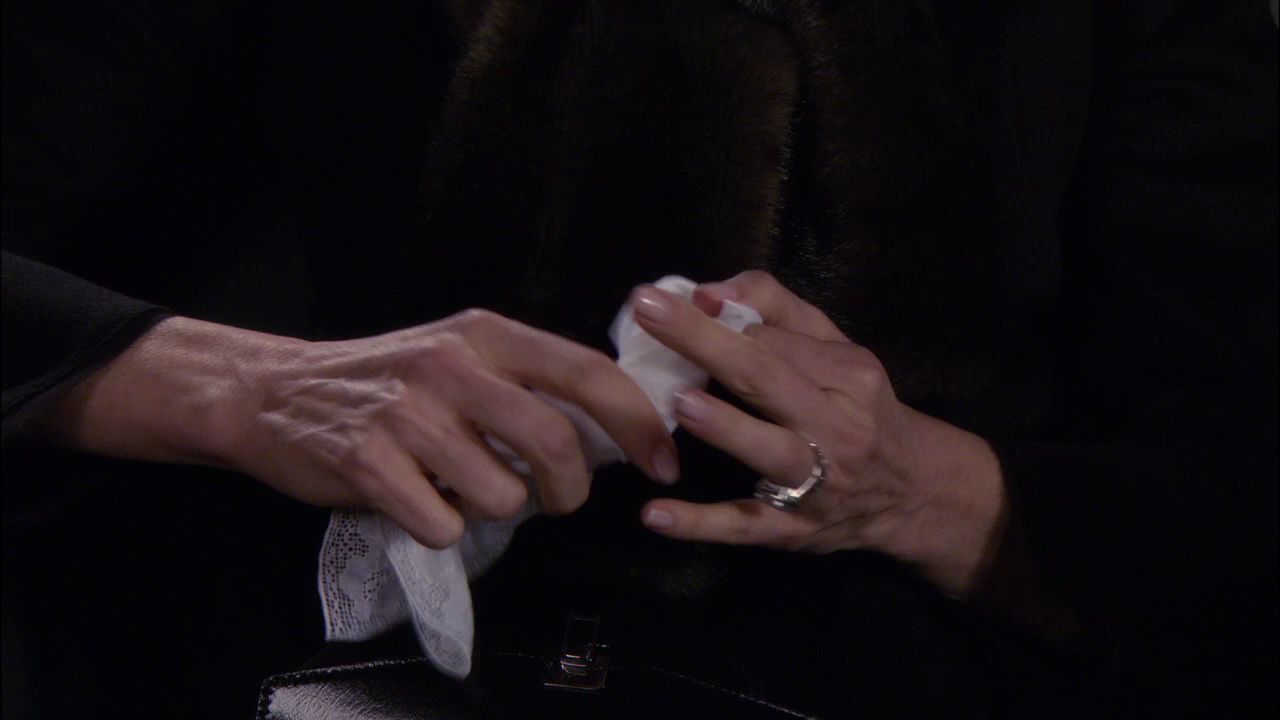 (screencaps: homethenutty.com)
Cherish this moment: Because this is the only evidence of actual grief (related to the wake) you'll see.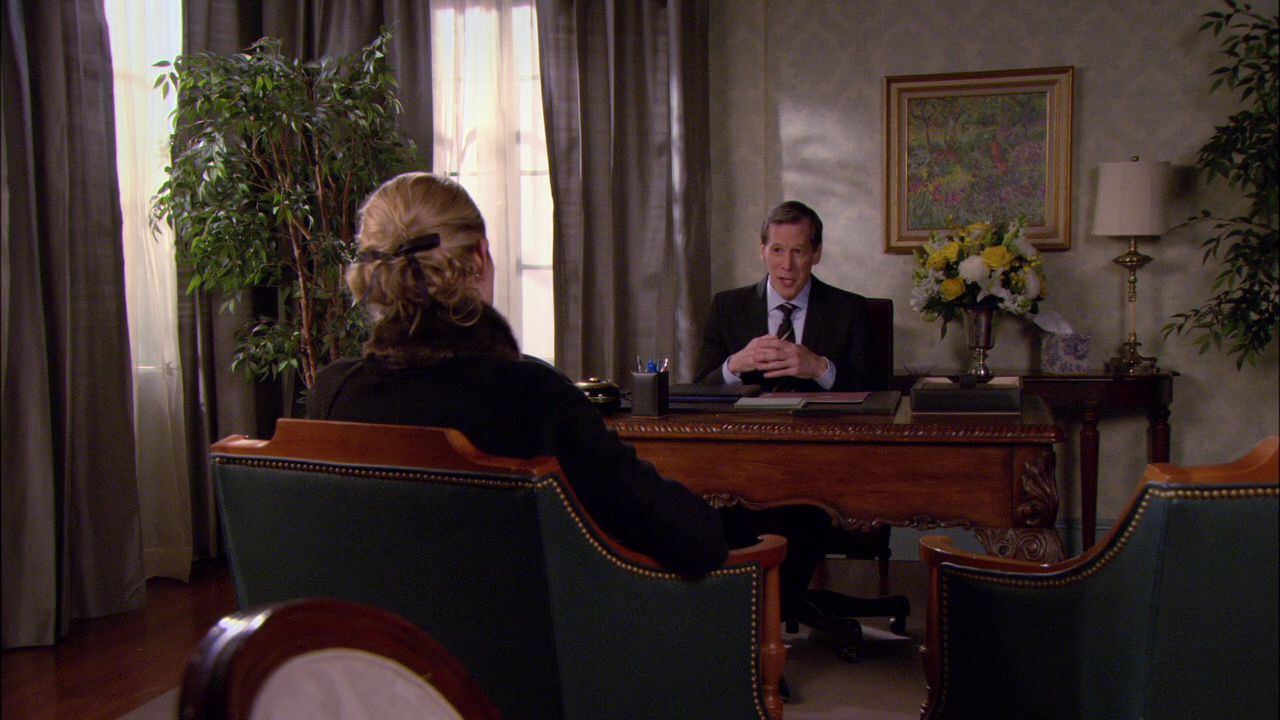 Guy: In my business, there's rarely advance warning...speaking of, Suprise! There's a wake at your house this very second.

::is confused basically::
I'm sure the rest of the episode will make more sense ::smirk::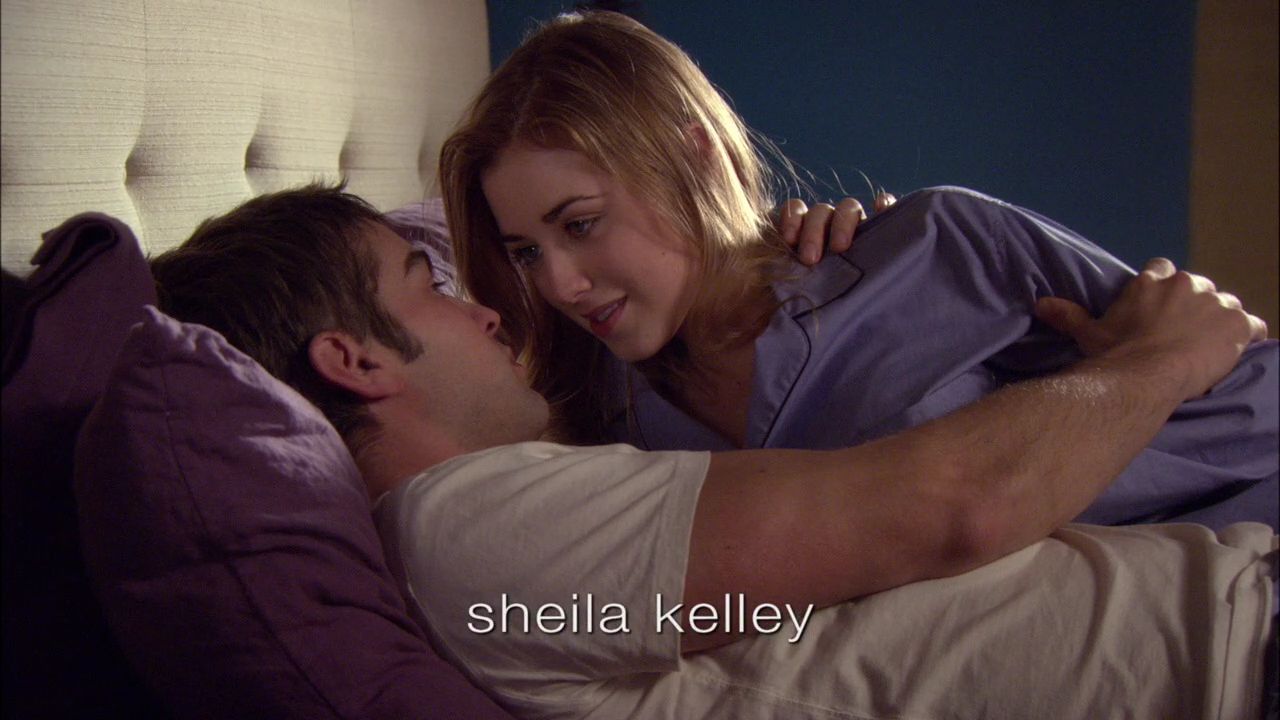 Lola: You must be really worried about Serena right now?
Nate: Who...?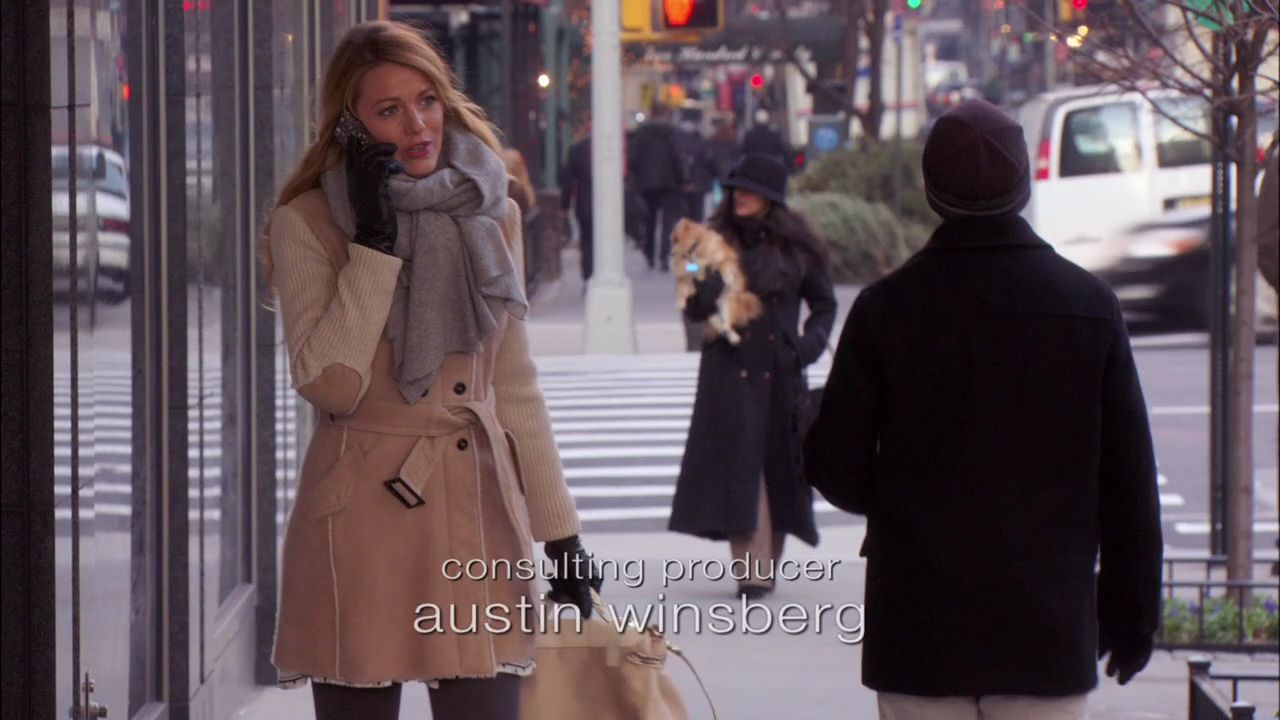 The sun will not come out tomorrow.
Serena's recent string of fortune continues--but at least she looks super cute! Plus, I'm sure all the NOT-GRIEVING for her grandma takes a load off her shoulders.
Also there's this: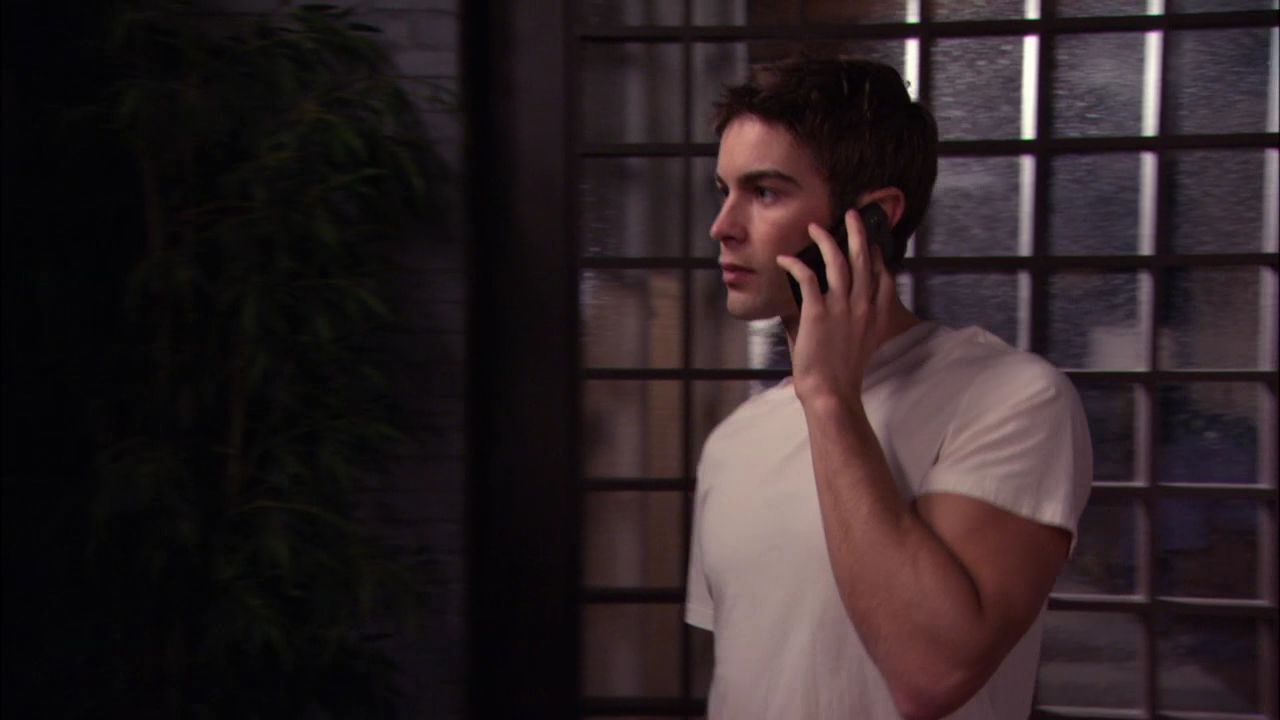 Serena: Hey, remember how we've been friends for years and dated and you only met Lola like two seconds ago?
Nate: No.
Serena: Well, still, I could really use your help.
Nate: I'll check my schedule, but I'm super biz.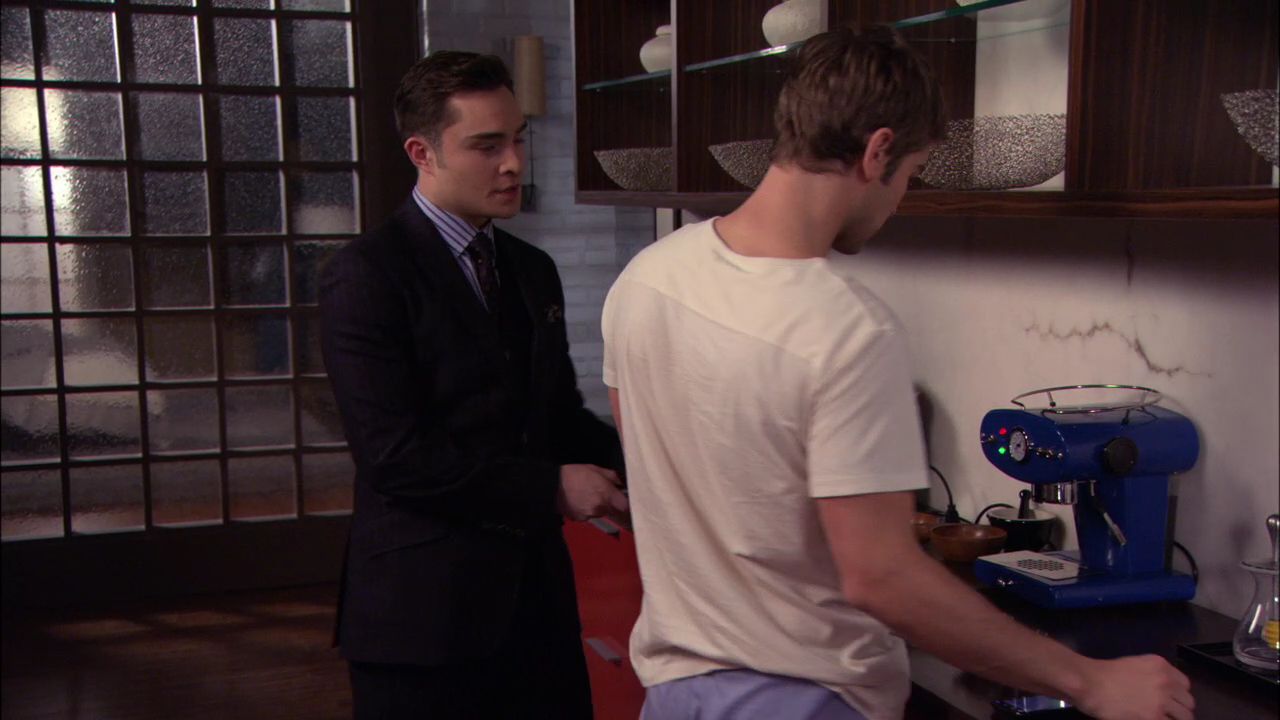 Meanwhile, after stopping to steal more candy from toddlers and push old people into the street, Mr. Redeemed reveals his plot to eternally love Blair ruin her life some more.
Nate: Take the High Road.
Chuck: I'm Chuck Bass.
Nate: Oh...right. Nvrmnd.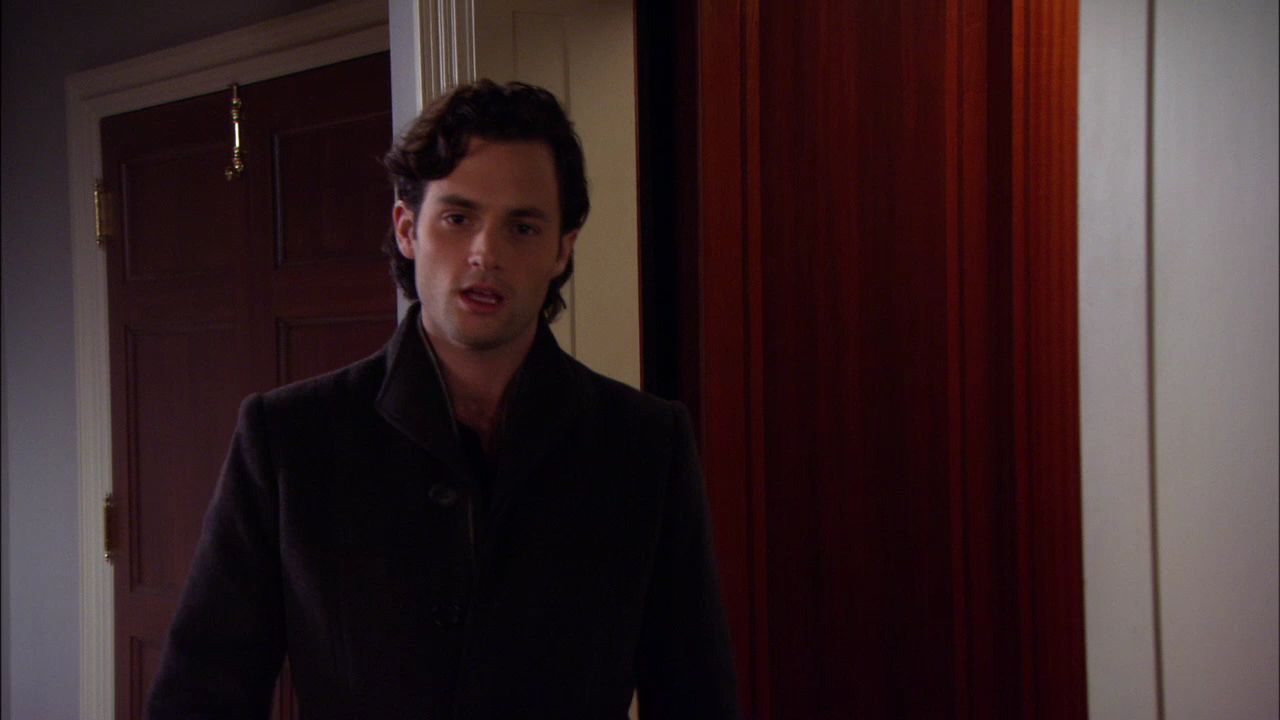 If you're sexy and you know it, clap your hands!
Was it just me or was Dan extra sexy in this episode? Even his hair was passable. Plus, totally love the extra swagger he has now that Blair kissed him.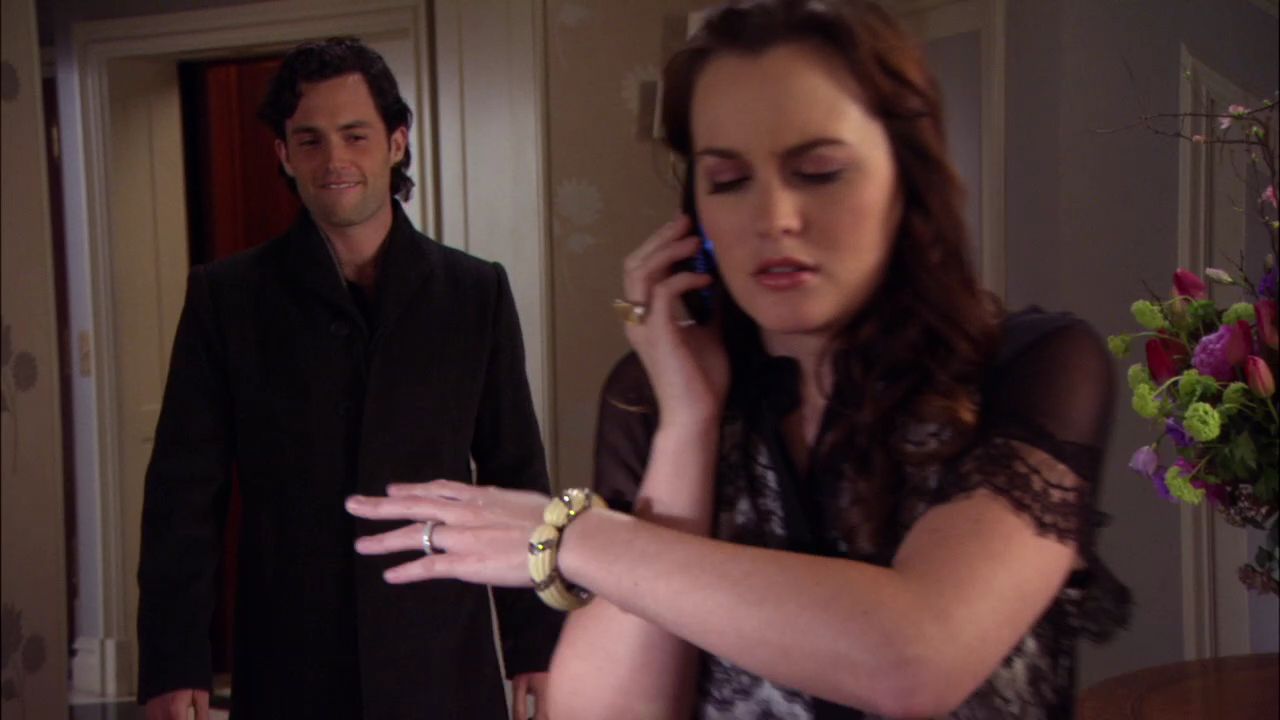 Blair: In case you thought I'd be nice now....
LOL. I love how Blair dismisses him. I love how even after several love declarations, romantic -running, etc they still have that same loveable screw-ball comedy dynamic.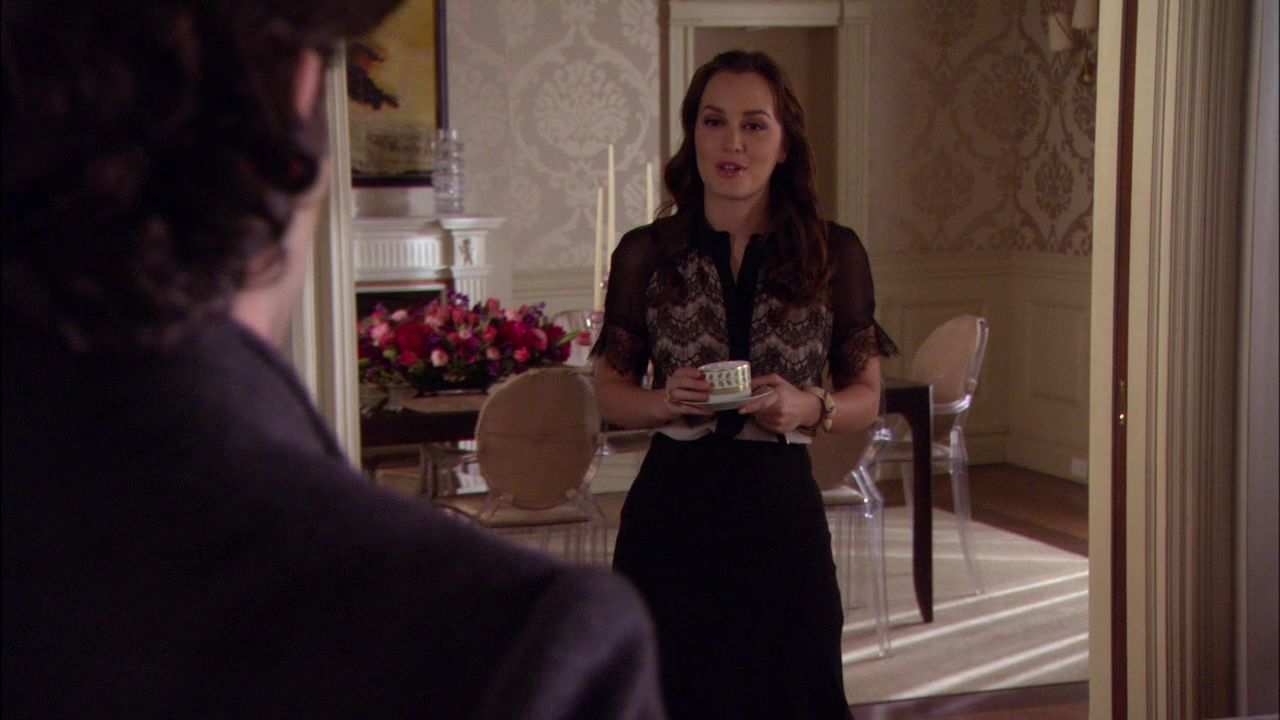 Blair: Walkin' Sexy for ya.
There's this underlying UST (somehow even more charged than usual) throughout the whole dialogue. And, it's funny because Blair keeps a real balance between Dignified Blair and Smitten Blair the entire time that I find very endearing.
Also, there's this: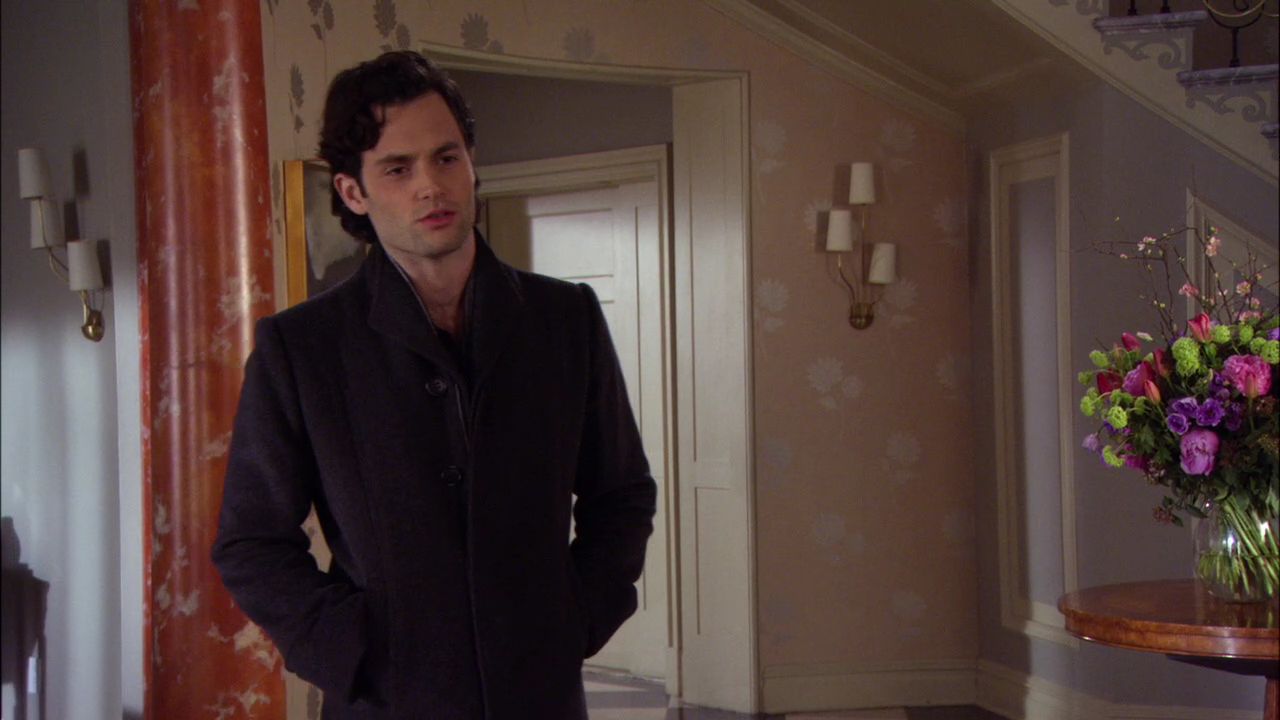 Blair: "I think they may have found a loophole in my pre-nup."
Dan: aljdalfjdaldjfa;ldjfaljlfjdlj sex sljaldjfaldjfaldjfldjlsjs.
Blair: Basically.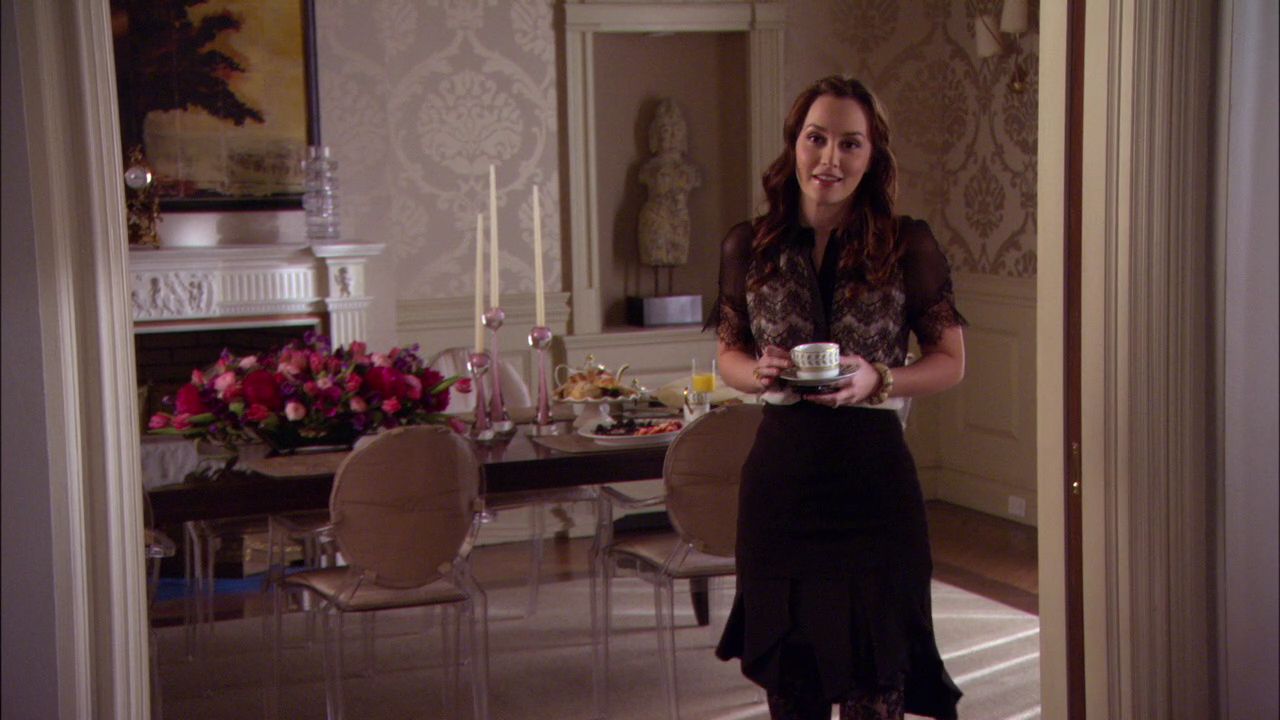 Blair: Meaning that they'd waive my dowry...
Dan: ...and you wouldn't have to wait a year for...
Blair: ...anything.
In all seriousness, this is a very sweet, intimate, and revealing scene. This is the beginning of them being completely on the same page. Wanting the same things, thinking of the same things, finishing each other's thoughts.
"You're like a brother to me."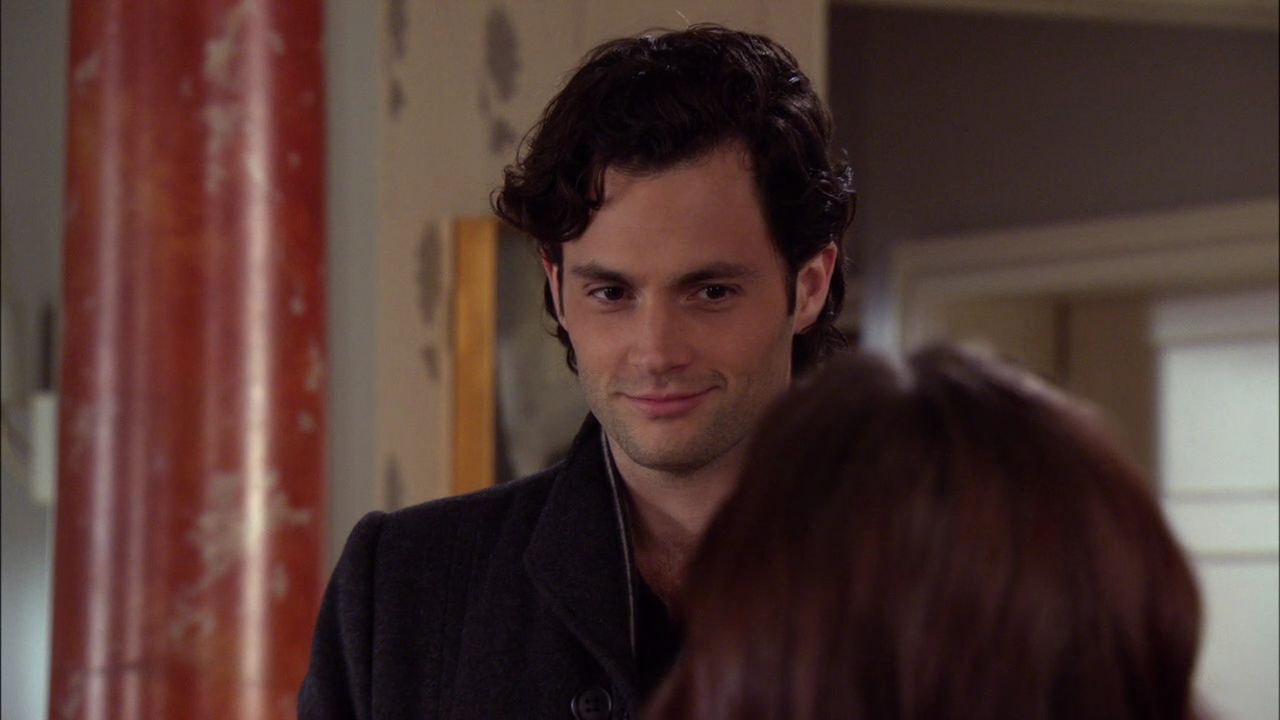 "Yeah, our sex is totally never gonna work."
If only they had any sexual chemistry....lol.



Whoops, how'd that get there?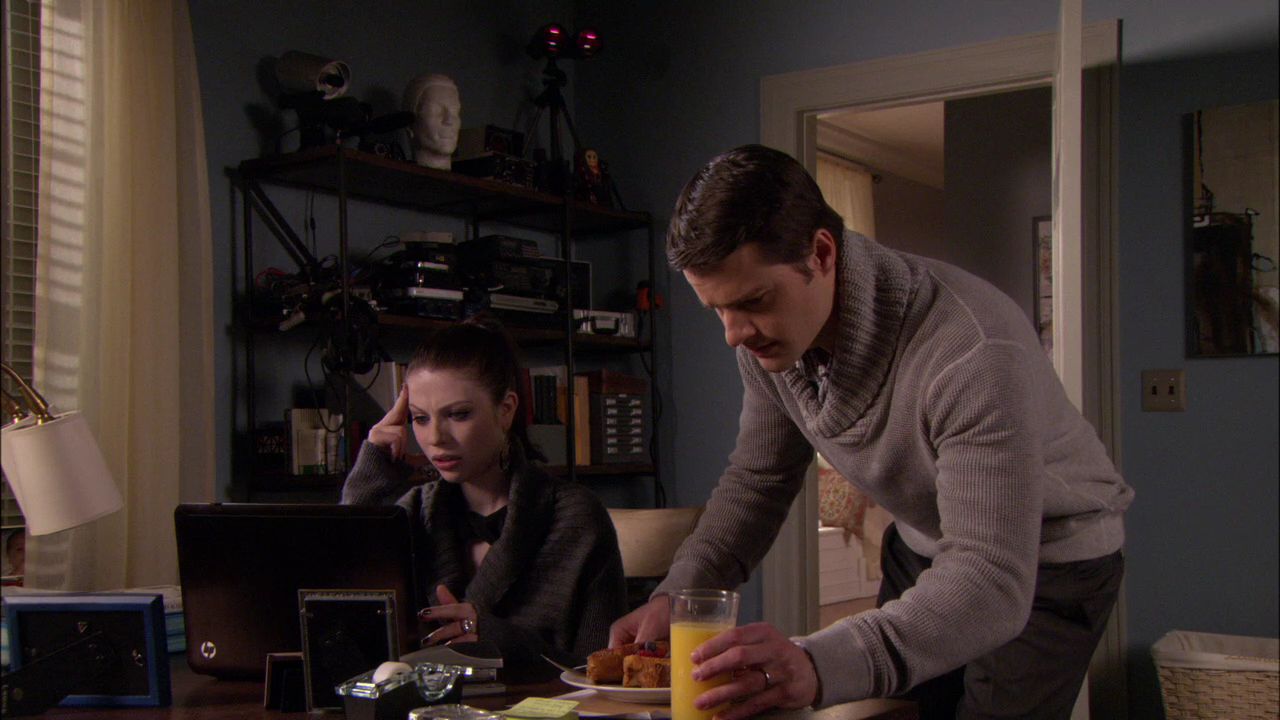 The picture of abuse?
Lol, not sure why Georgina's lashing out at him, but okay. Also, is their home literally composed of one room. Do they even have stairs or do they just have to climb out the window?.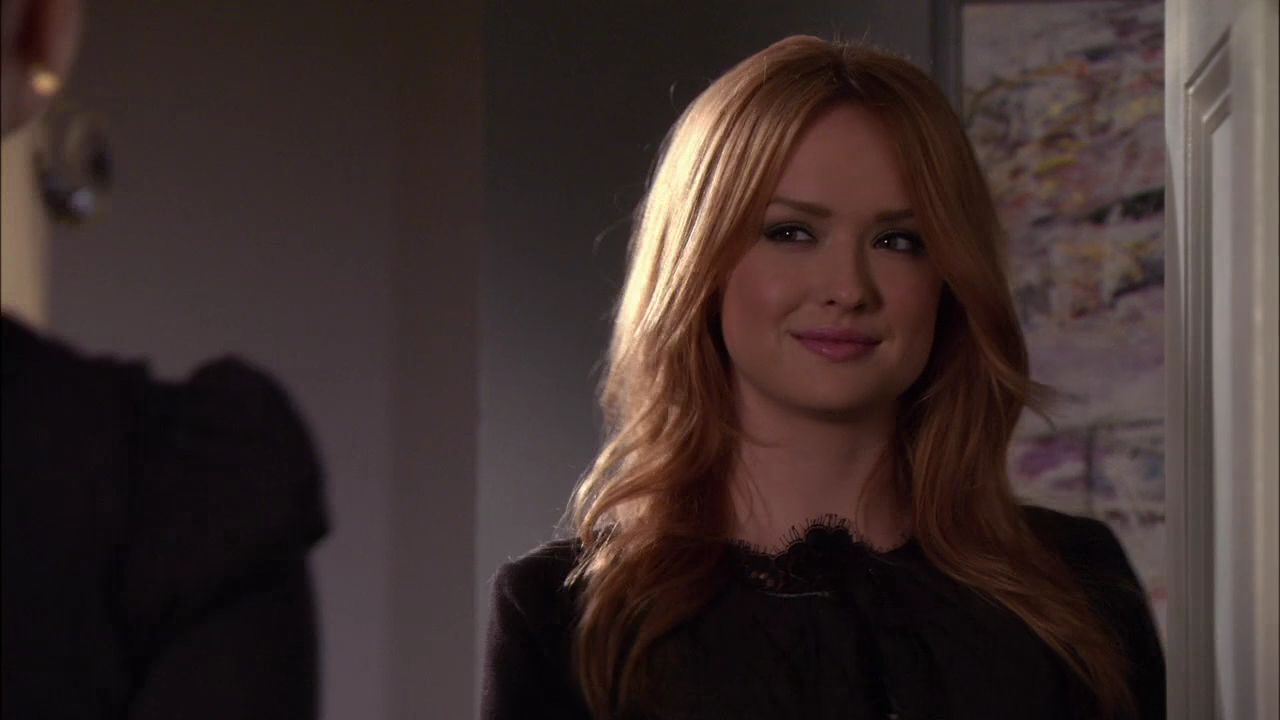 Chivy: ::whispers almost incoherently:: It's so hard being this innocent. ::crosses fingers behind back::
So, yes, these are my two main gripes with Chivy: 1) I can't hear what she's saying half the time (has she had throat surgery--was that a B plot in an episode I missed?) and 2) as much as she wants to play the victim card, b*tch be crazy sometimes.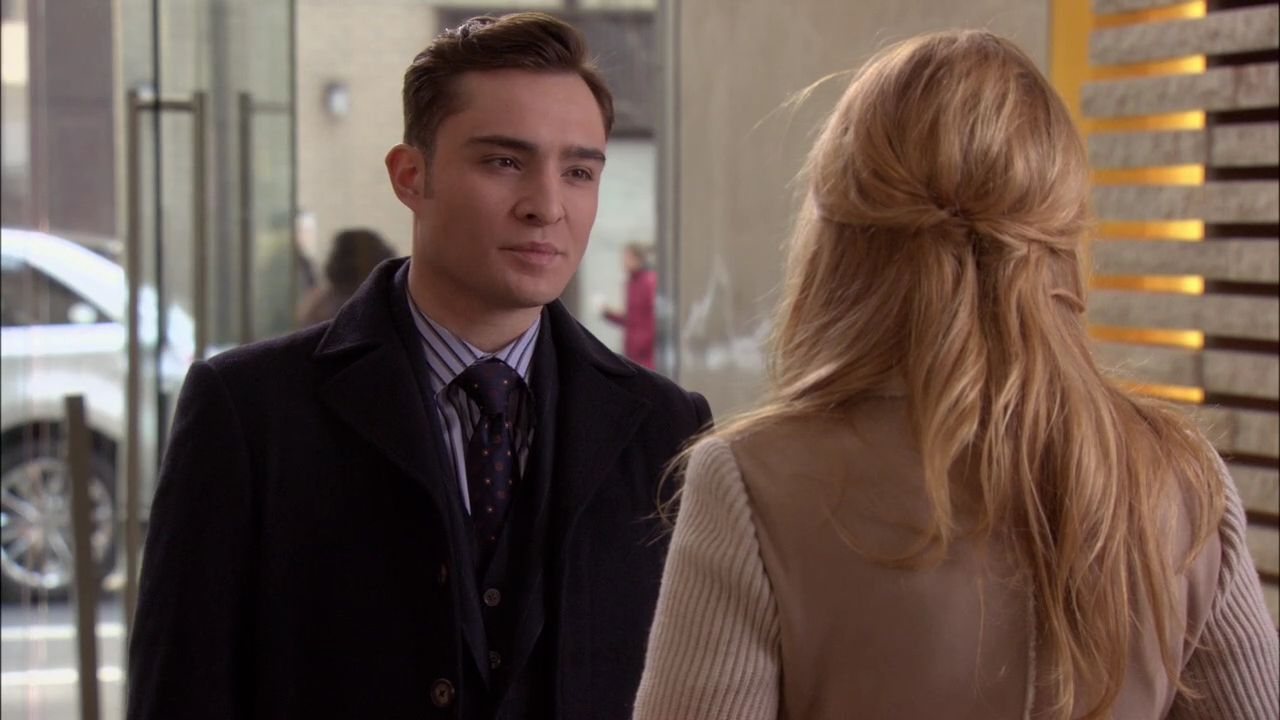 Chuck: I thought there was a family brunch.
Serena: Ah, geez, yeah, apparently when your grandma dies, you have to acknowledge it. Who knew?
Once again, don't get how CeCe managed to hi-jack their brunch and turn it into a wake from beyond the grave, but I digress...
But, more importantly, Prince Charming responds to Serena's (presumably good?) news that Blair might be freed from her living nightmare with typical class: "And right into Dan's waiting arms."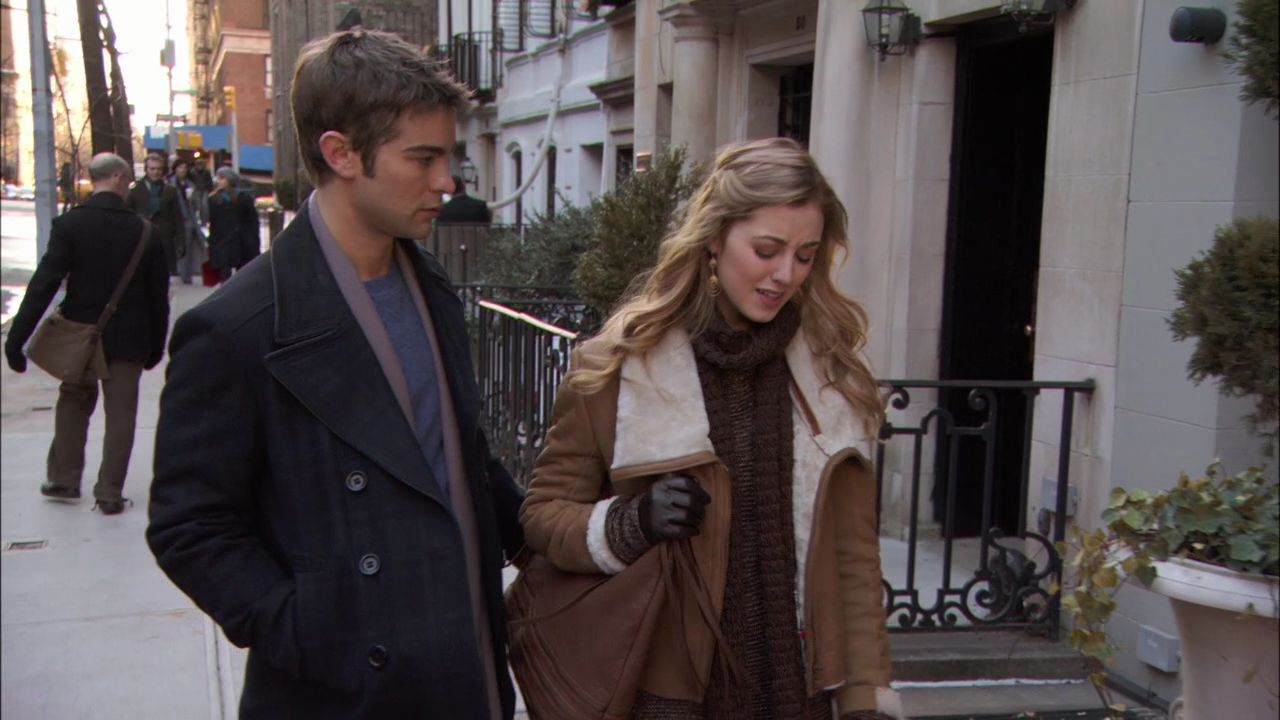 Meanwhile, Chace earns his "Guest Star" credit by being part-time relevant. (In all seriousness, he was being a good friend here....P.S. that will not continue).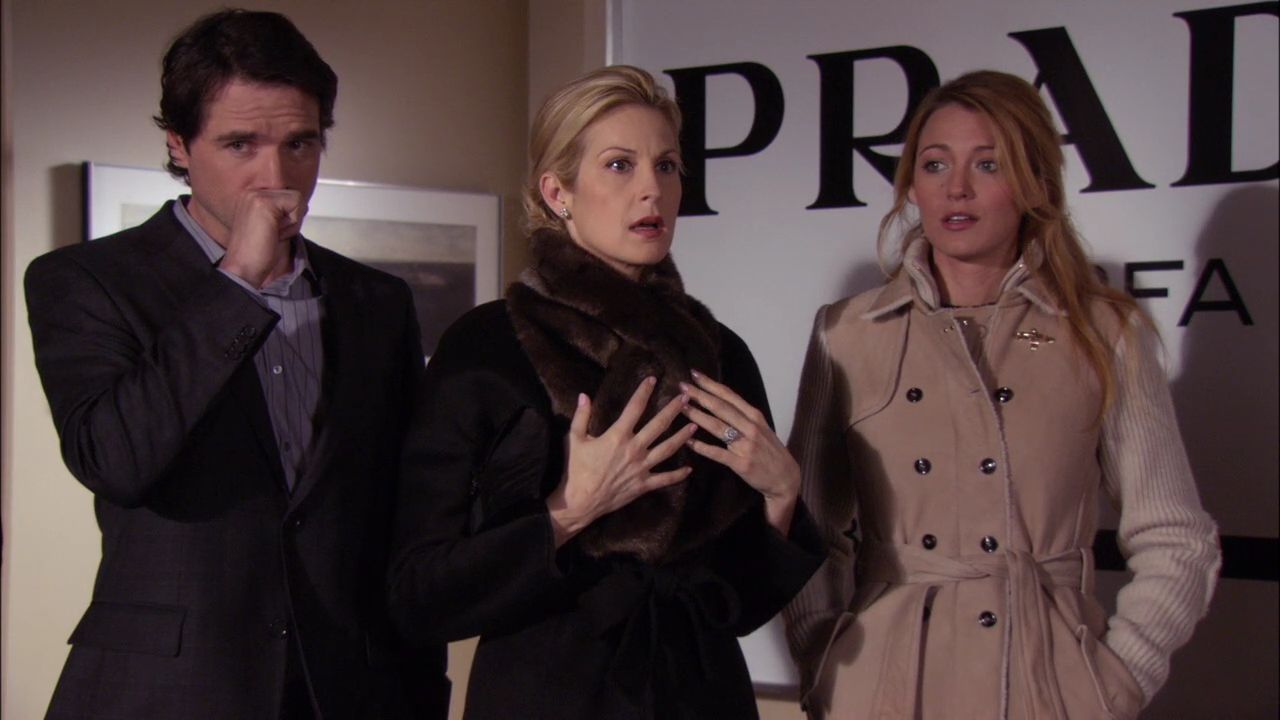 Surprise: This episode makes no sense!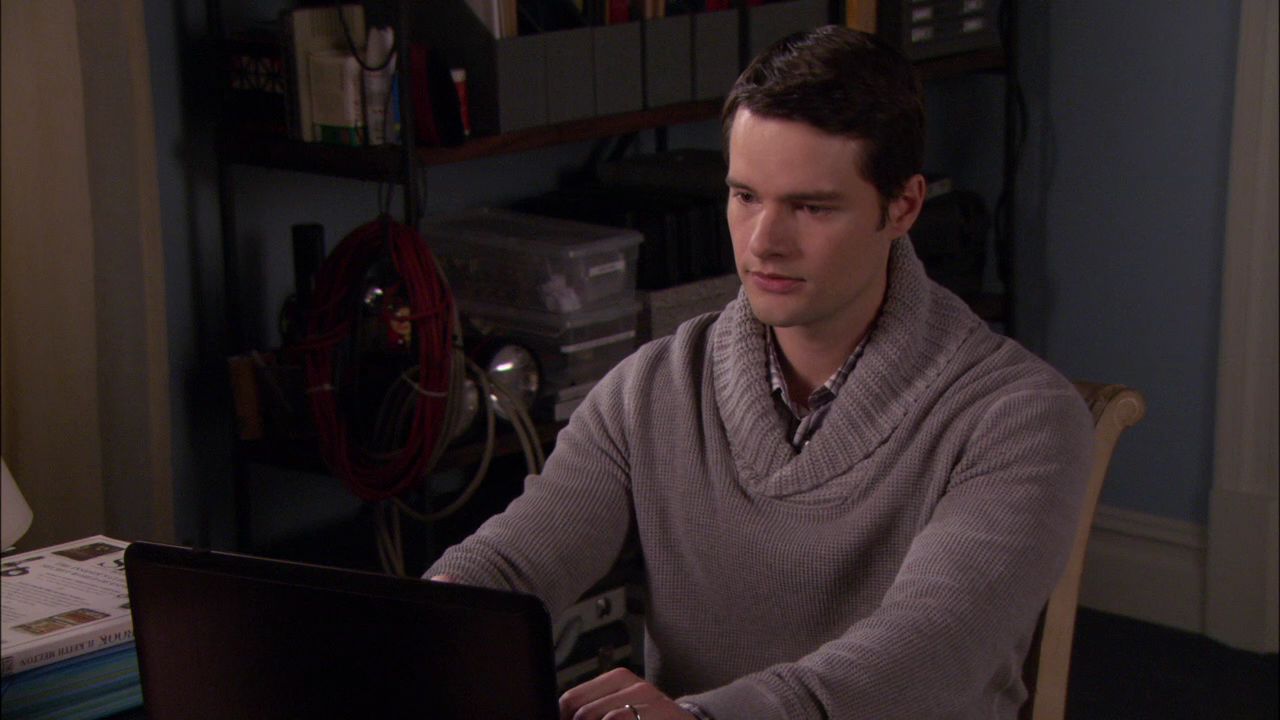 Copy.
Paste.
Idiot.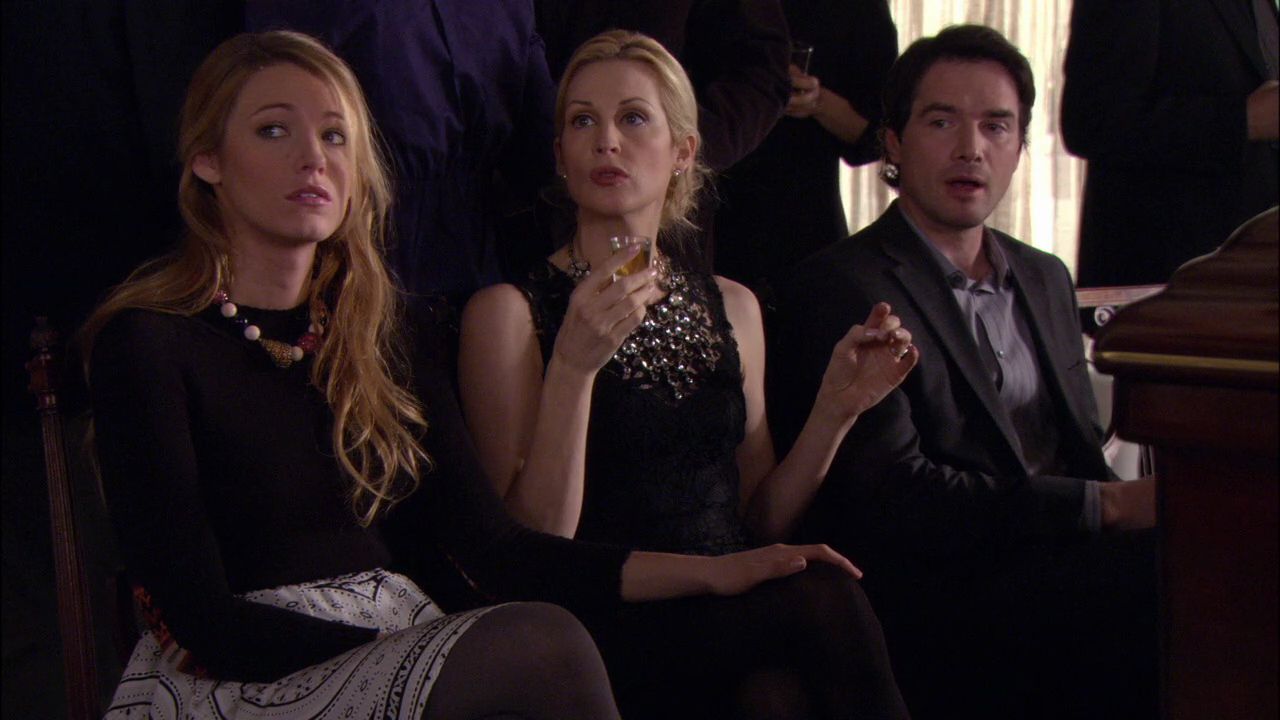 Totally makes sense all three of us could have missed this earlier this morning...totes makes sense.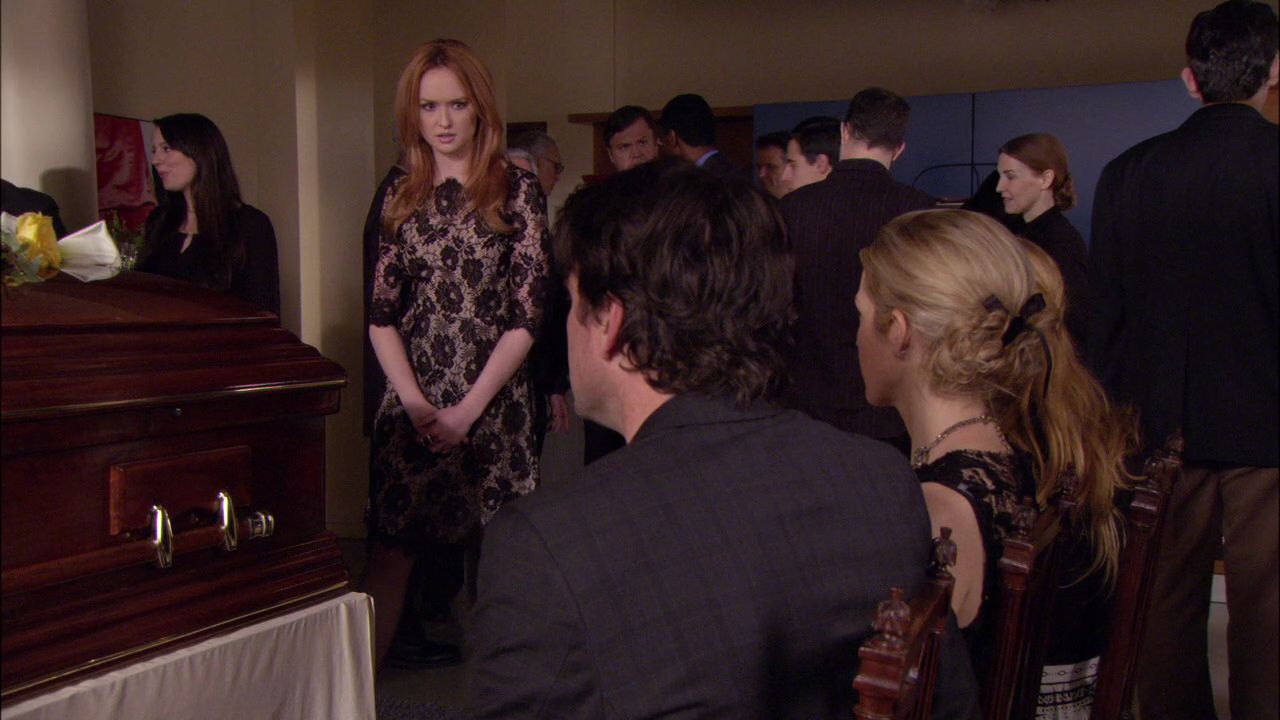 Chivy: ::whispers:: I won't bother anybody.
Rufus: Did you hear something?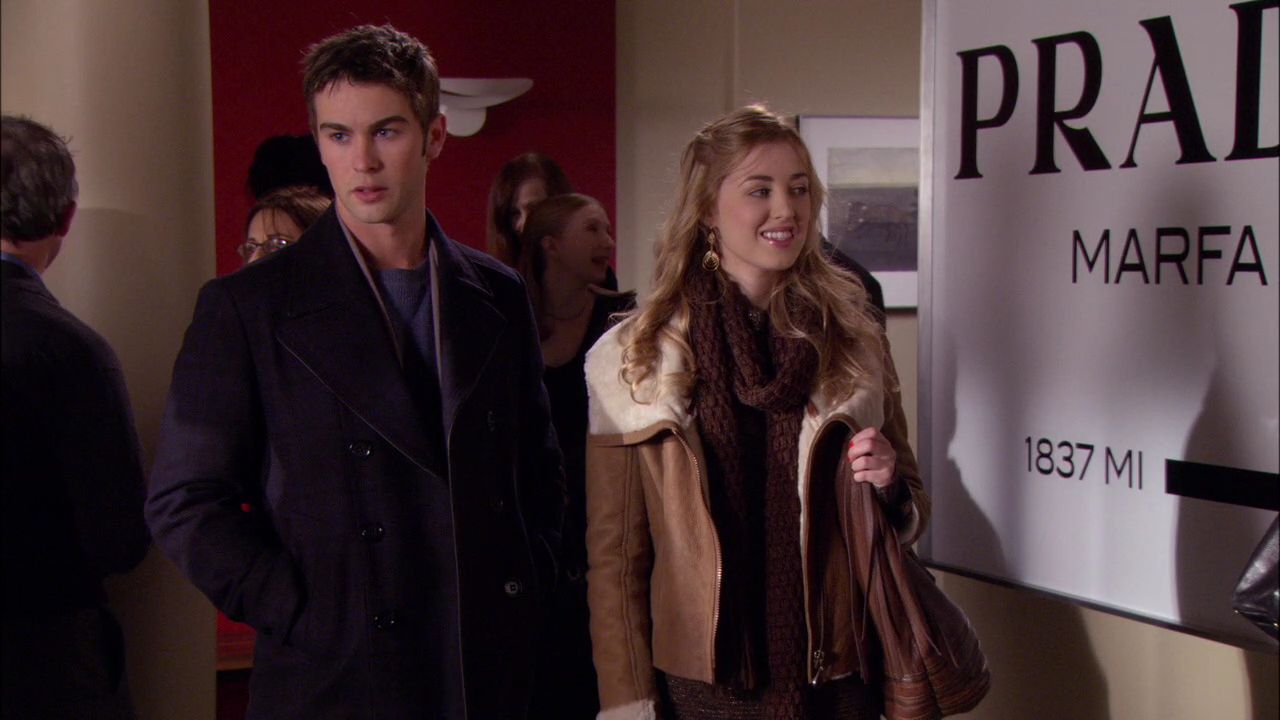 Lola: Oh, a wake, I could see how you'd get that confused with a brunch.
::Natefusion::
Nate: Let's go before I can be a good friend this ep.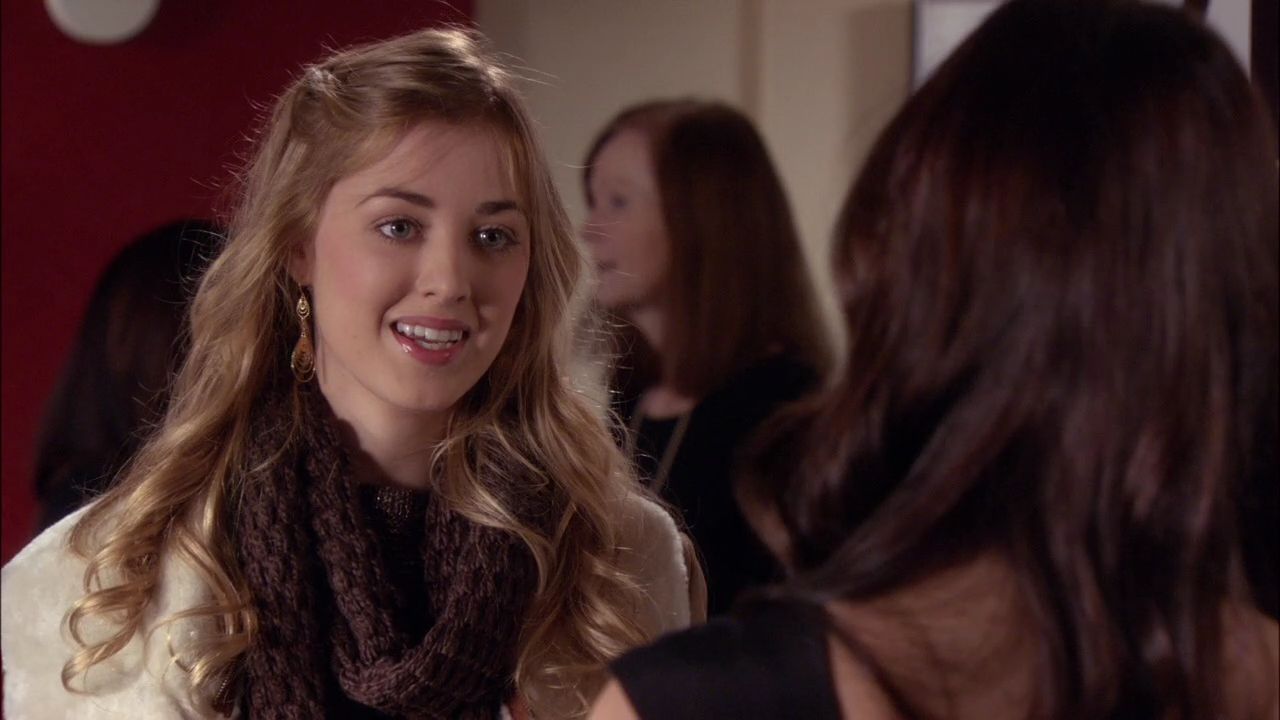 Lola: Summary, back story, summary, thanks for tuning in every few months to watch GG, etc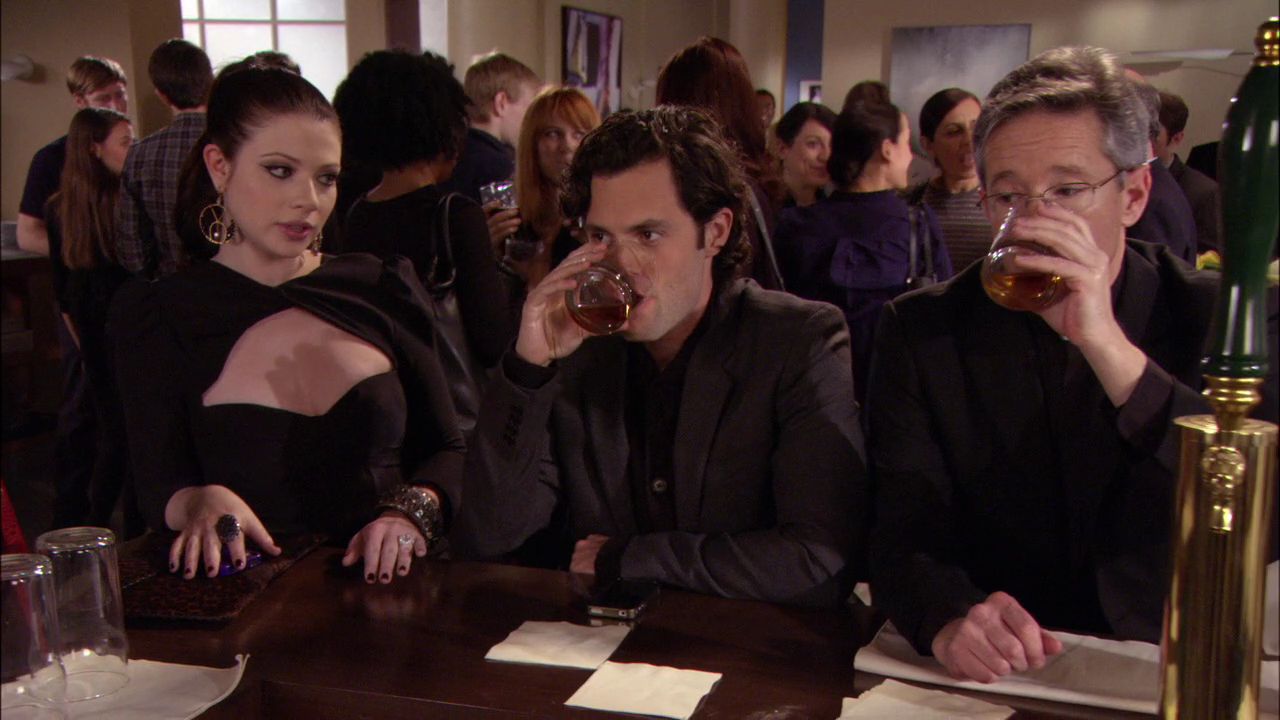 Just knocking back drinks with a priest. Typical wake stuff.
Again, WHAT?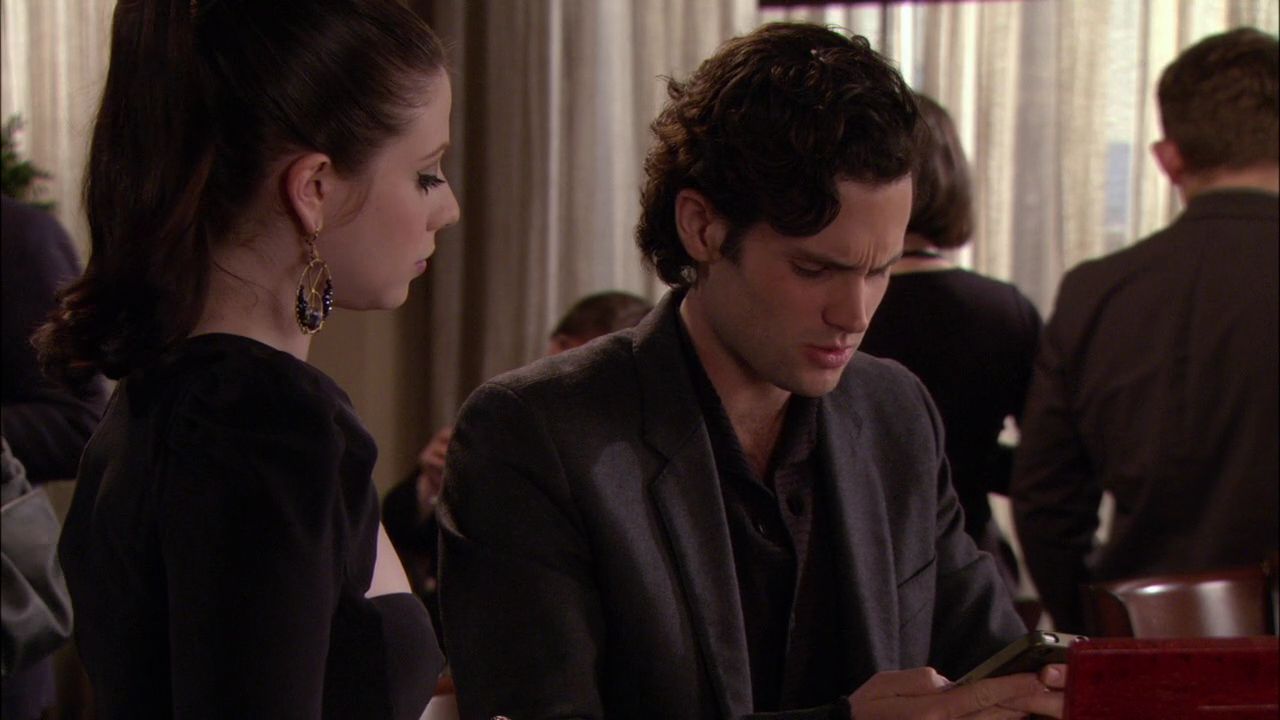 Dan: So, basically, I'm never having sex again?
Georgina: Basically.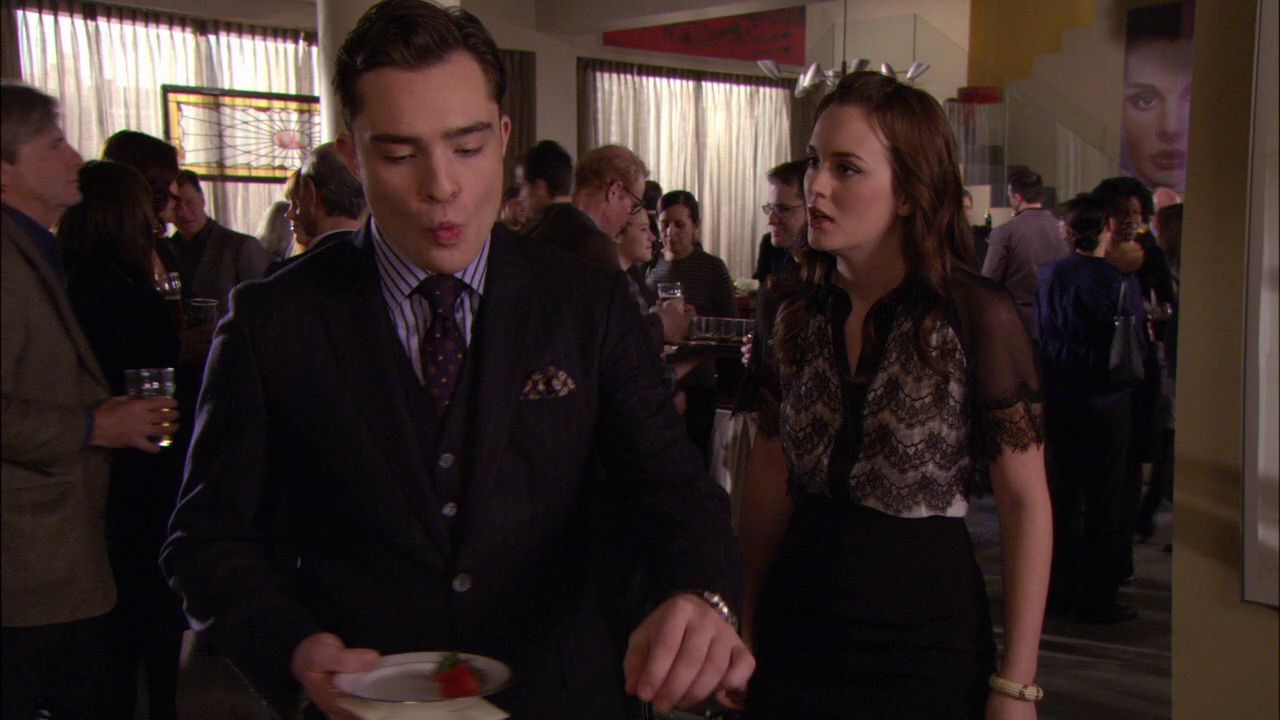 Misty Water-colored mem-ah-ries of... how destructive we were together.
Chuck and Blair are not always bad together, but when they are bad, they're really, really BAD. And, you can tell Blair is wearied by their games and darkness here. Not to mention her accusation is more than just about this single instance, but about A PATTERN of Chuck's thoughtless behavior.
But enough of that...on to how REAL, mature couples interact with each other (even while fighting)...
Dan and Blair: Activate Mind Meld--Now!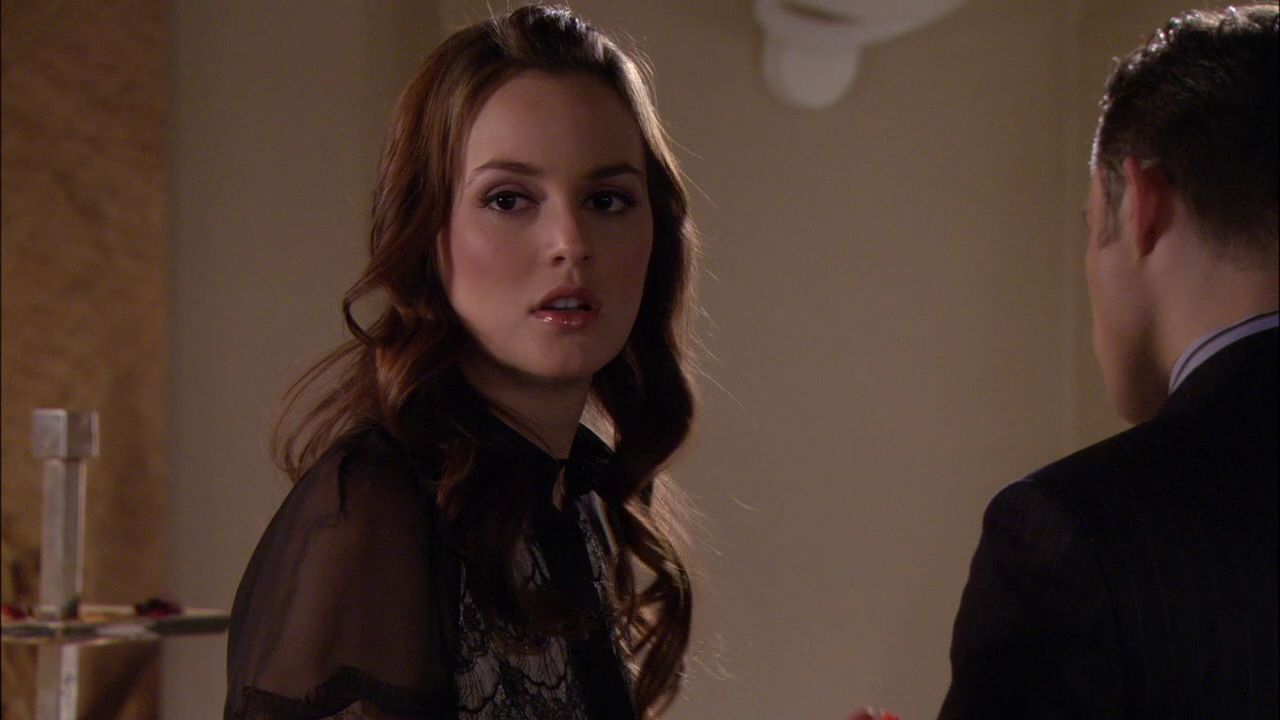 Blair: Thinking of and somehow knowing where you are even though we're in different parts of the building.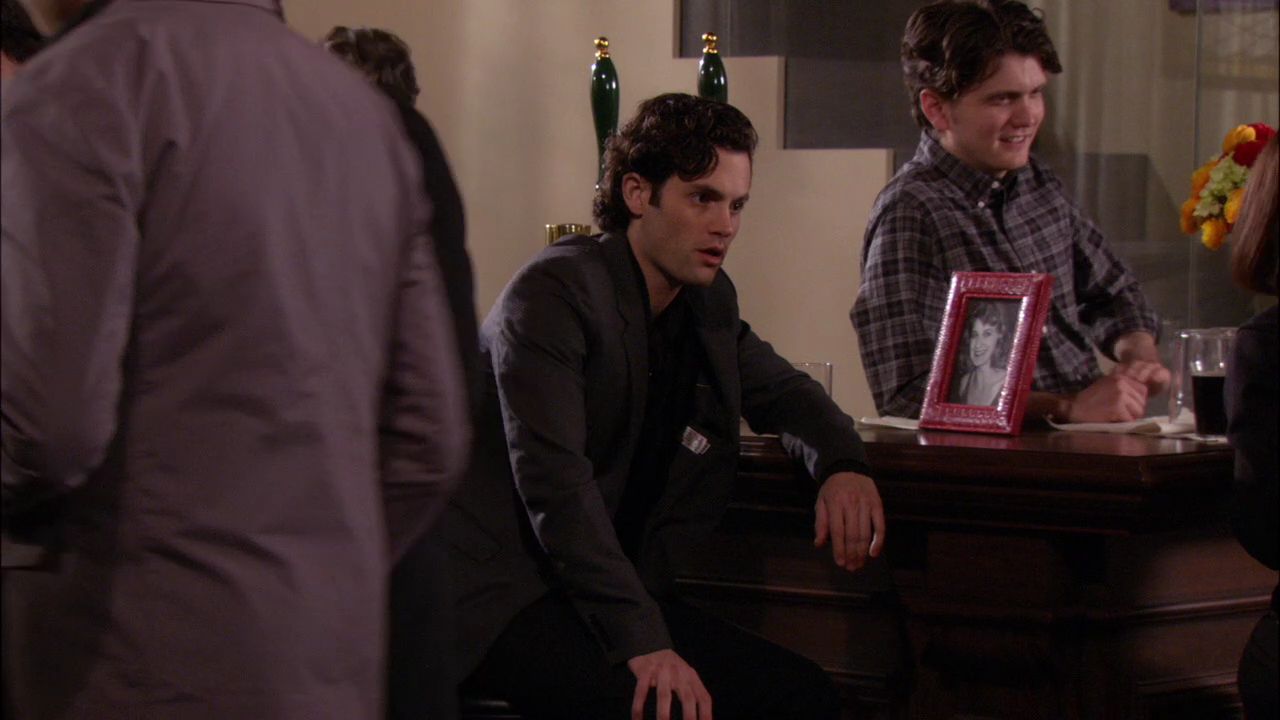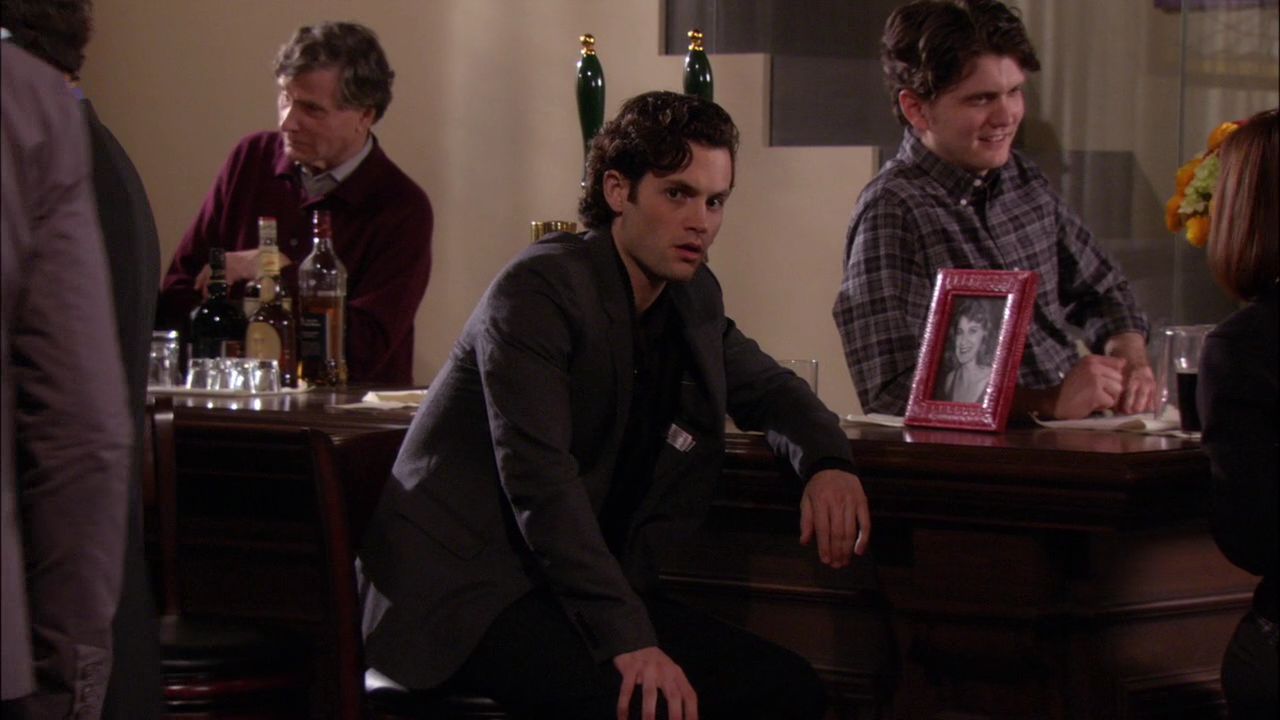 Dan: Ditto.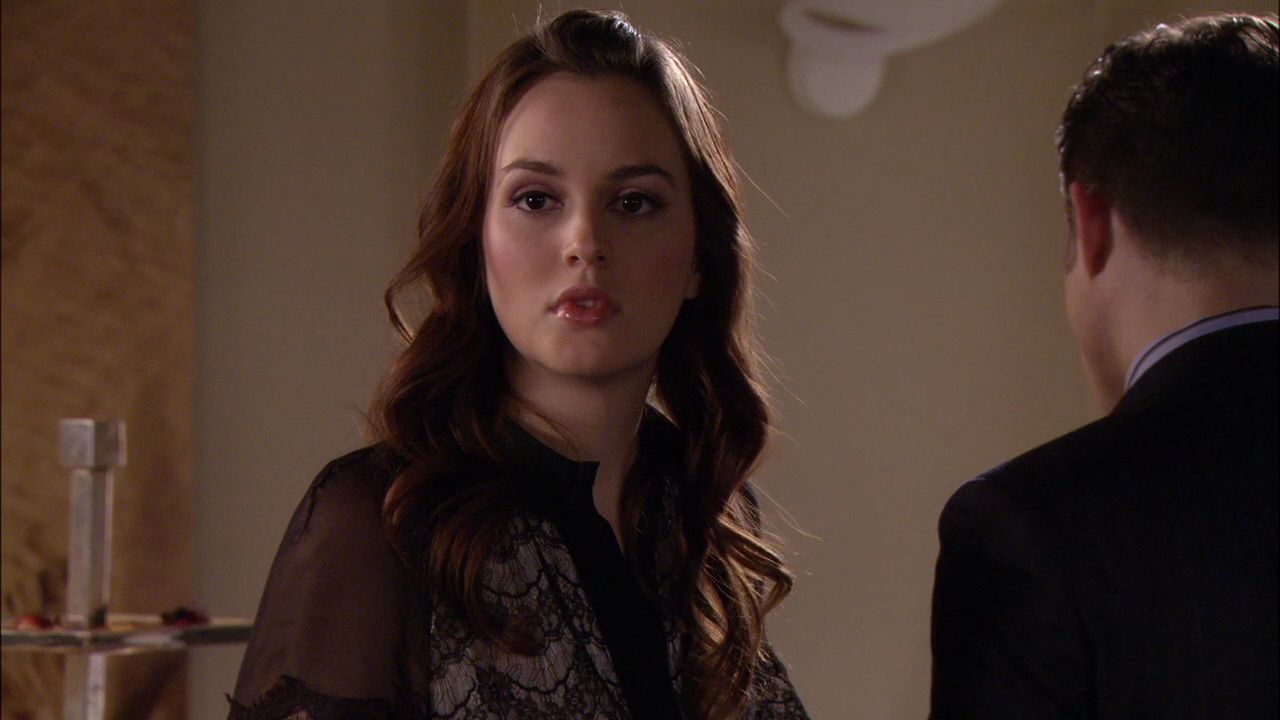 Blair: I trust you--I don't think it was you--tell me it wasn't you.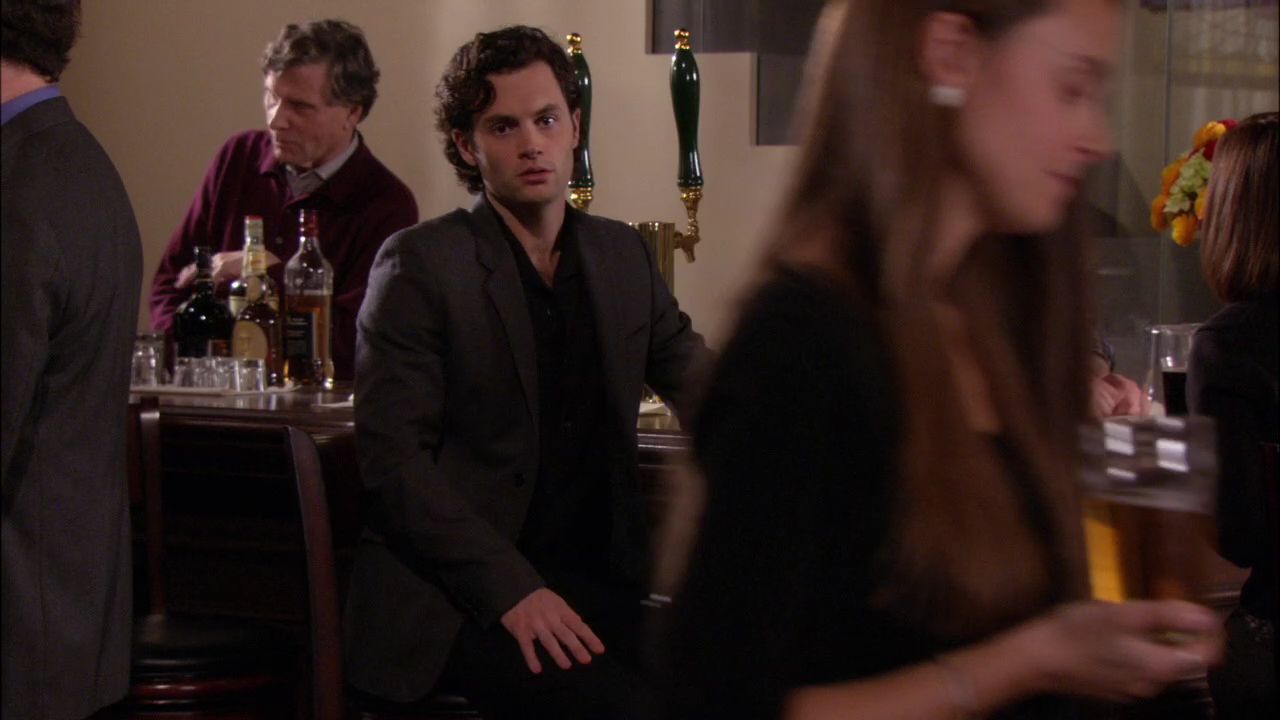 Dan: ::sigh:: It was me.
Blairk: How could you hurt me?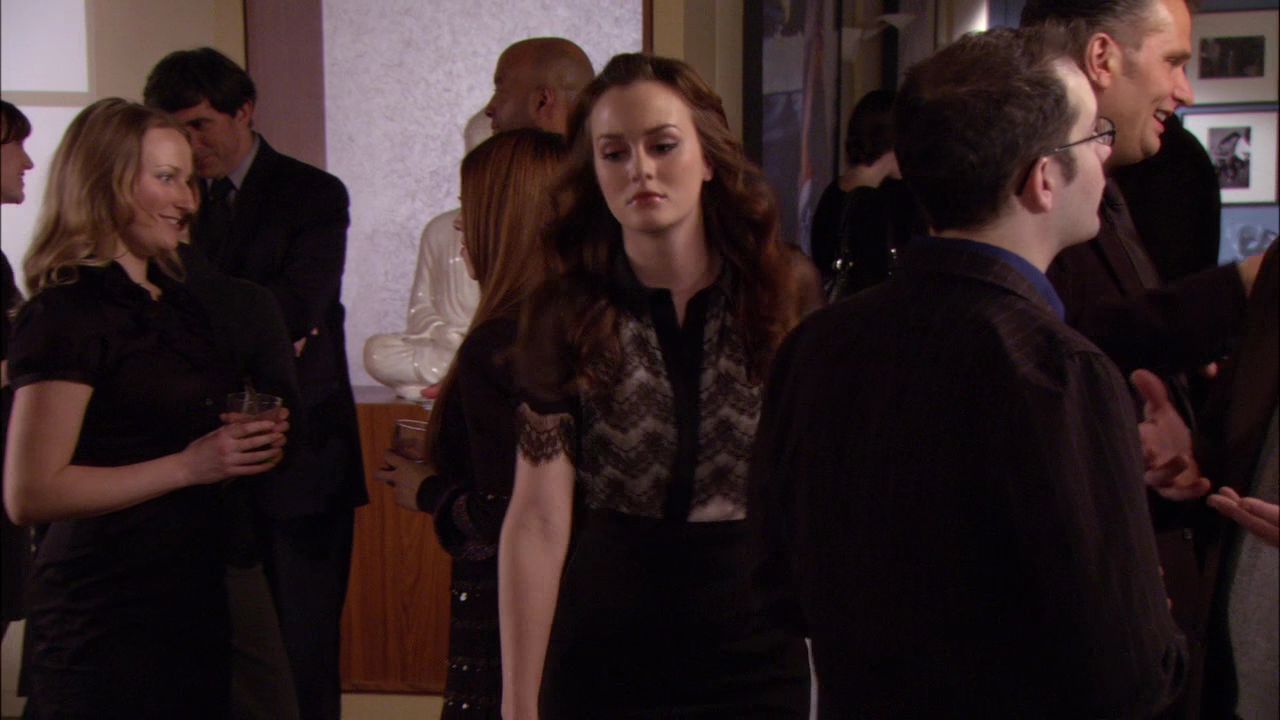 Blair: I'm running off in a huff. Follow me.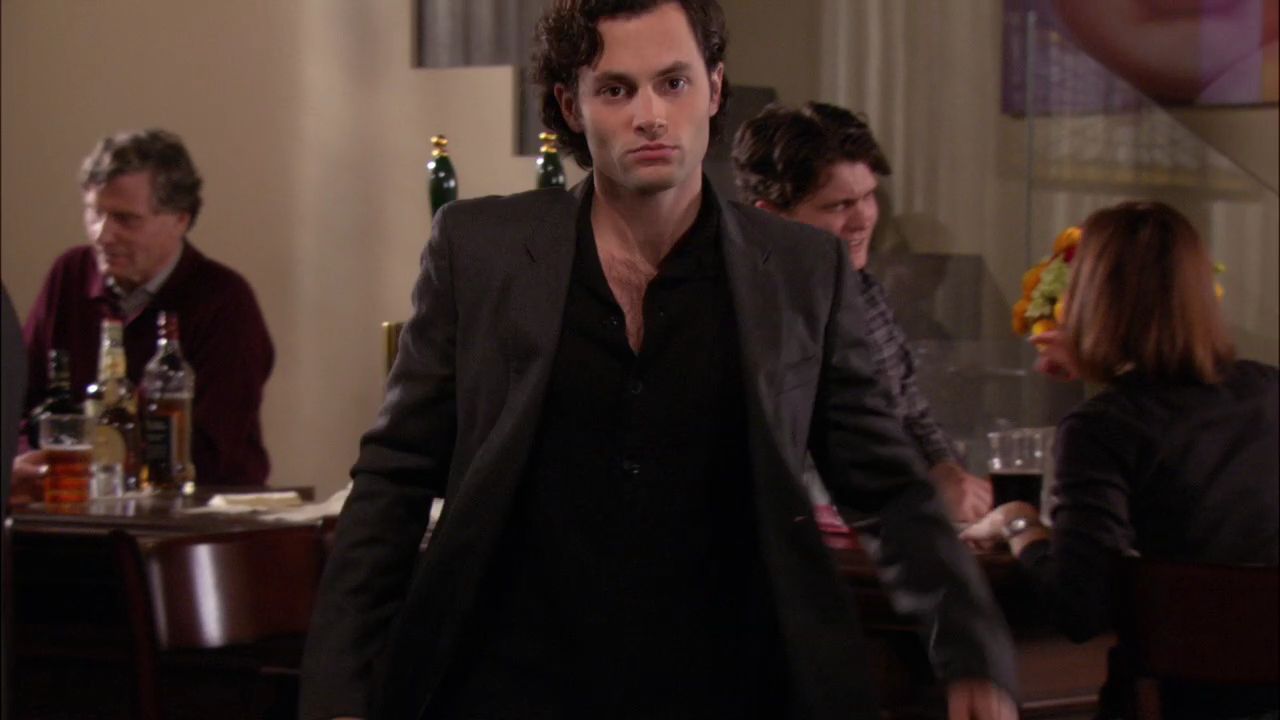 Dan: I'll always follow you.
--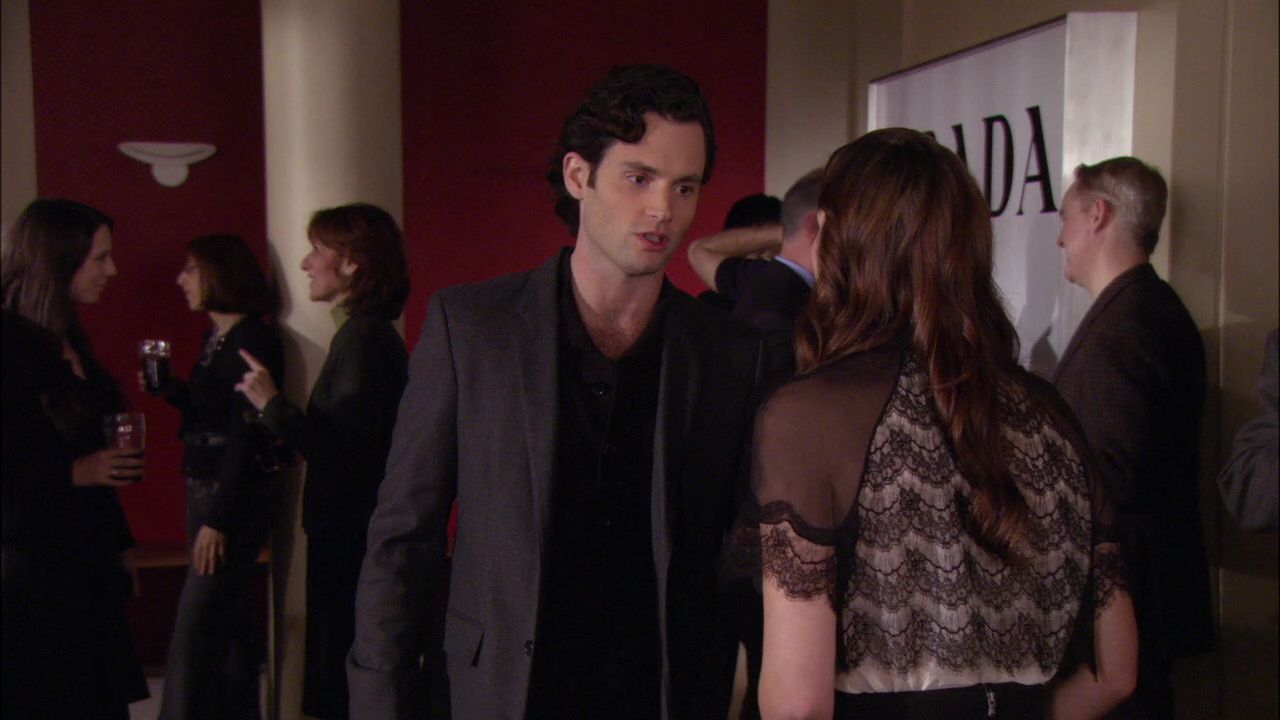 Dan:
I'm too committed to you to just let you walk away.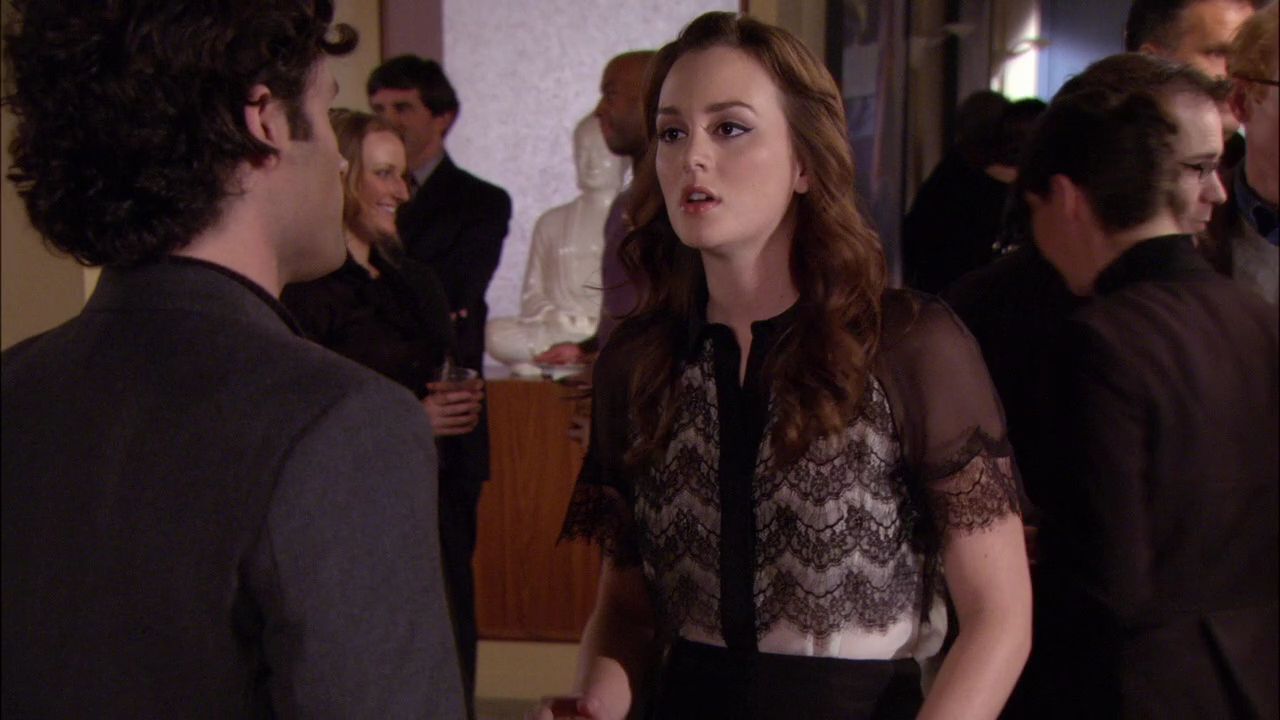 Blair: Give me one reason to stay heeere....No, but seriously, WTF?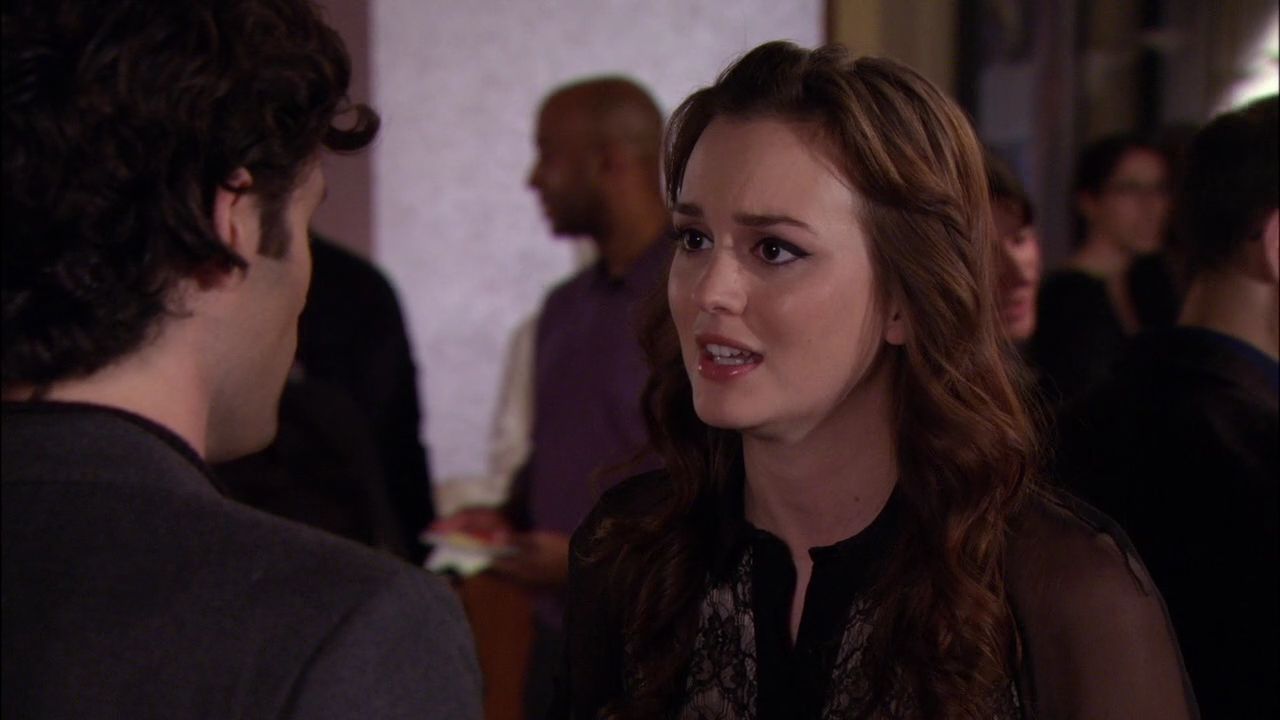 Dan: I swear I never meant to hurt you.
Blair: Then what other reason could you have had to send in that video. (Is she for real? How does LM render this line with a straight face, but I digress...)
And, did anyone else see a parallel to the end of 5x01, where Blair asks him what possible reason he could have for lying about Louis? Not only does this echo once again make me wonder how much feelings Blair was harboring for Dan even back then, but the fact that Dan actually ANSWERED this time shows how far they've come.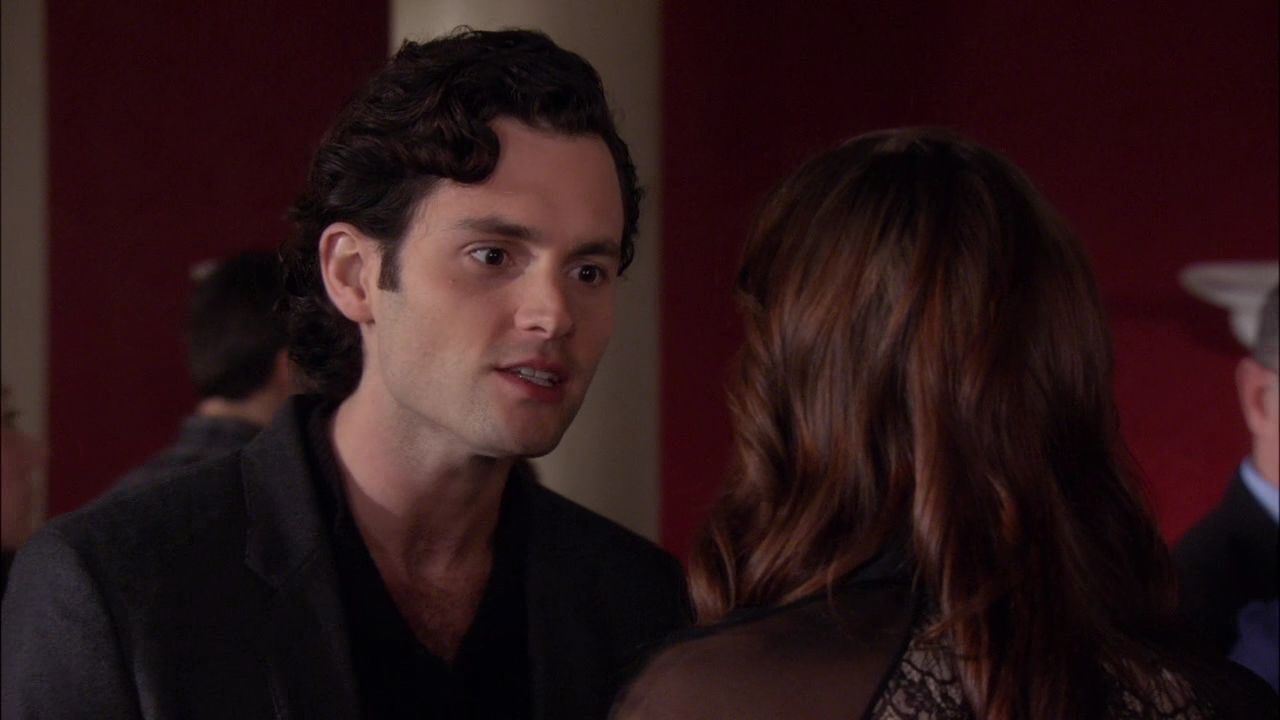 Dan: I love you more than I love myself. I couldn't stand to see you so unhappy.
Think about this. NOT counting endless episodes we were privy to in which Blair ran to Dan in heaps of tears and misery, NOT counting how many times he had to sit back and do nothing but hold her...there was the entire time jump, where day after day after day he saw first hand how incredibly unhappy she was.
We can also assume, since he sent the video, that he WATCHED the video, and therefore heard how much she loved Chuck and wanted to be with him (more on that later, though).
And, I'm not mad that he sent in the video. Lying about it was wrong. Duh. But honestly he stepped up and stopped her from possibly making the biggest mistake of her life.
That's why we don't get a slap here, but this:
(Credit:http://annelli0t.tumblr.com/post/18506793253)
LM is such a talented actress, because you can literally see ( her gulp!) her walls tumbling down. Because she of all people KNOWS that Dan of all people KNOWS how much pain she was in.
Also important: Dan confirms that he DID NOT THINK she would leave with him. (Which is both sad and romantic at the same time).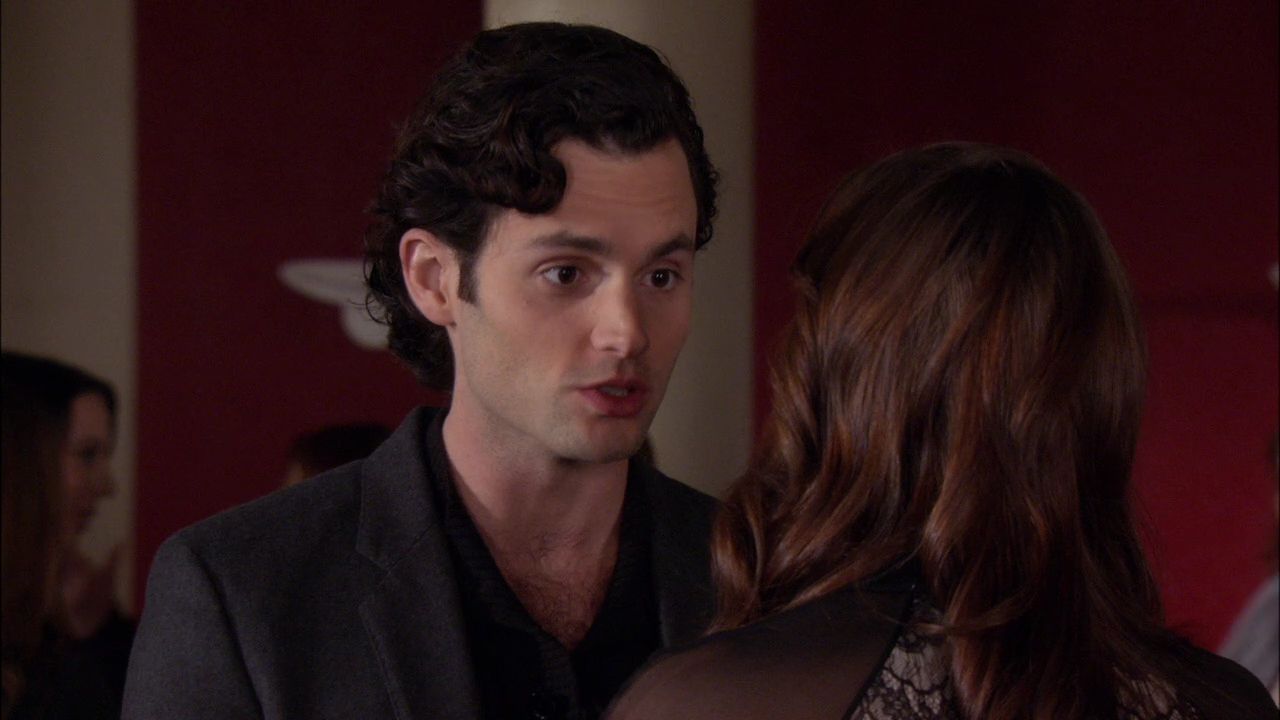 Dan: So basically....I'd catch a grenade for ya, yo!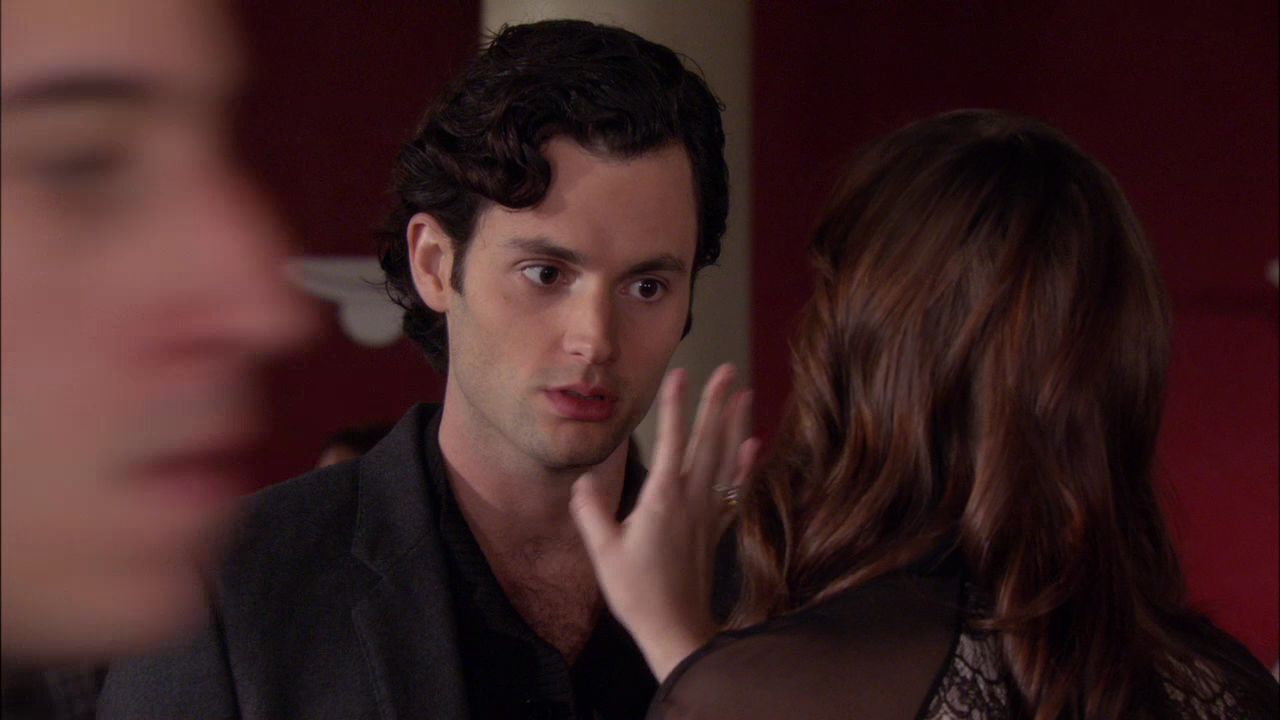 Blair: Shut up, we're too awesome for this.
BUT, in case you were tying your shoe and somehow STILL didn't catch the writers' clear attempt to contrast these ships...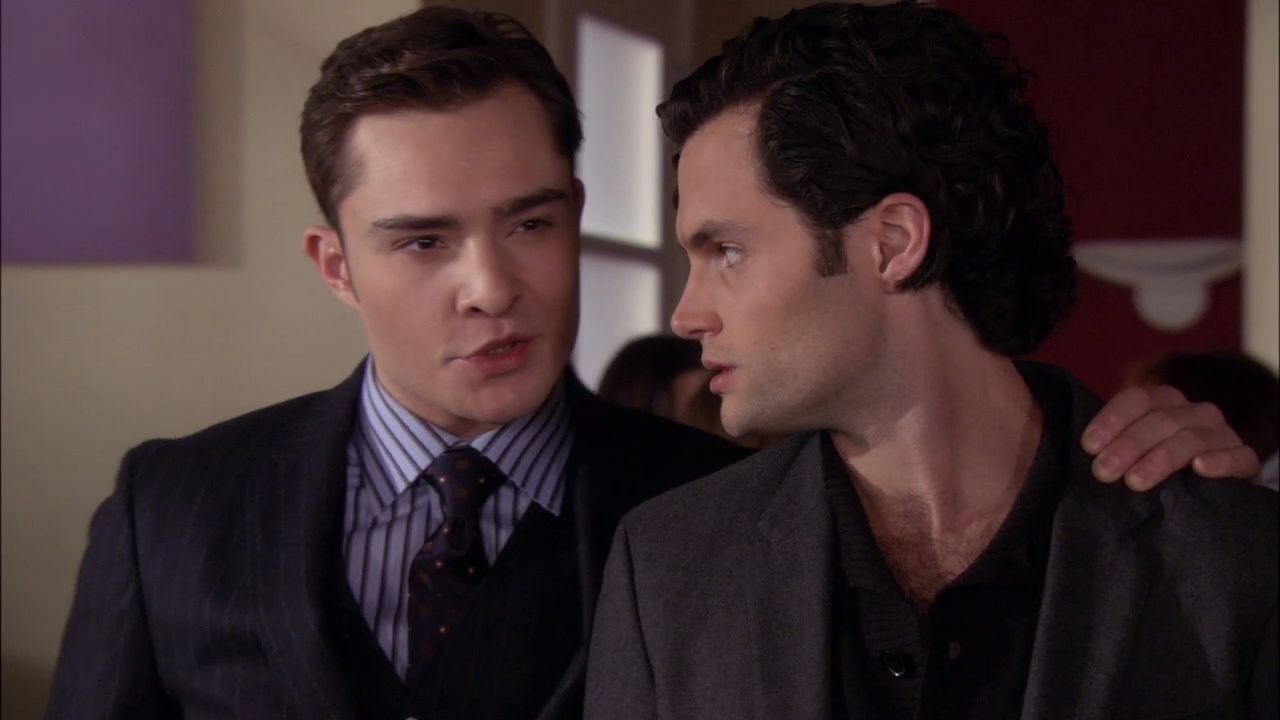 Chuck: Even I don't understand how this is a competition anymore and I think I'm Batman.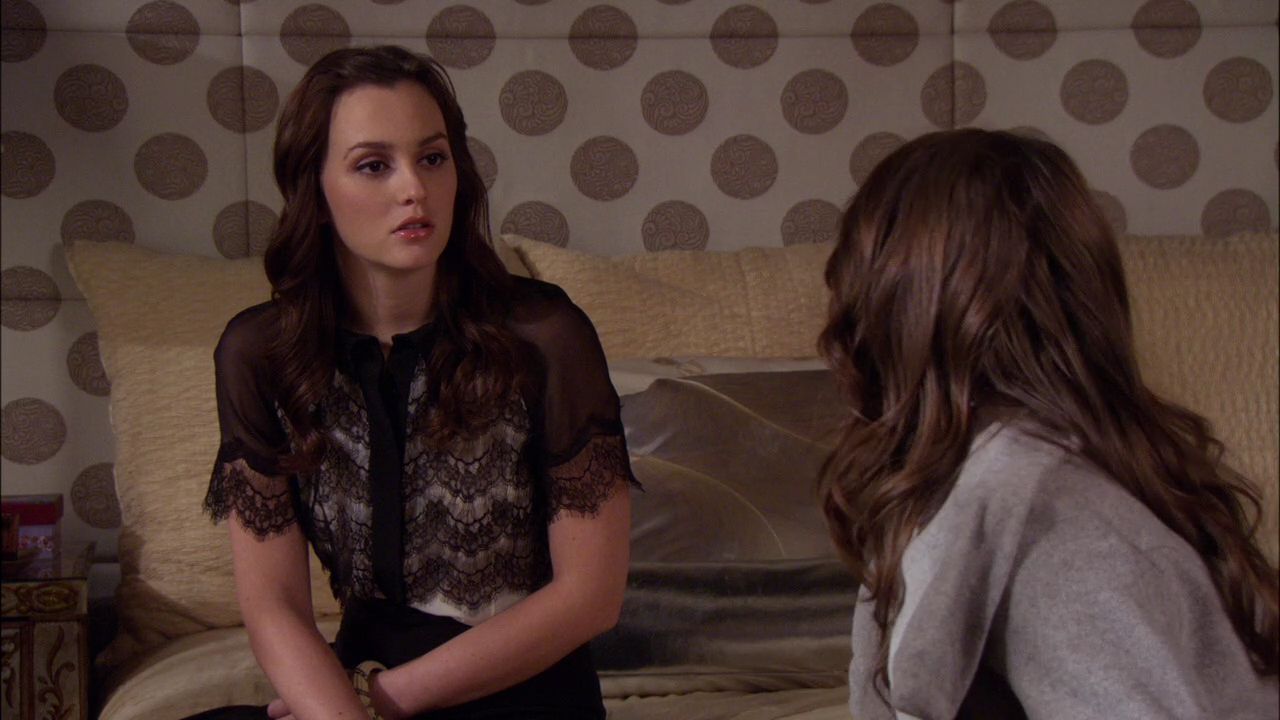 This totes seems like a good idea...totes.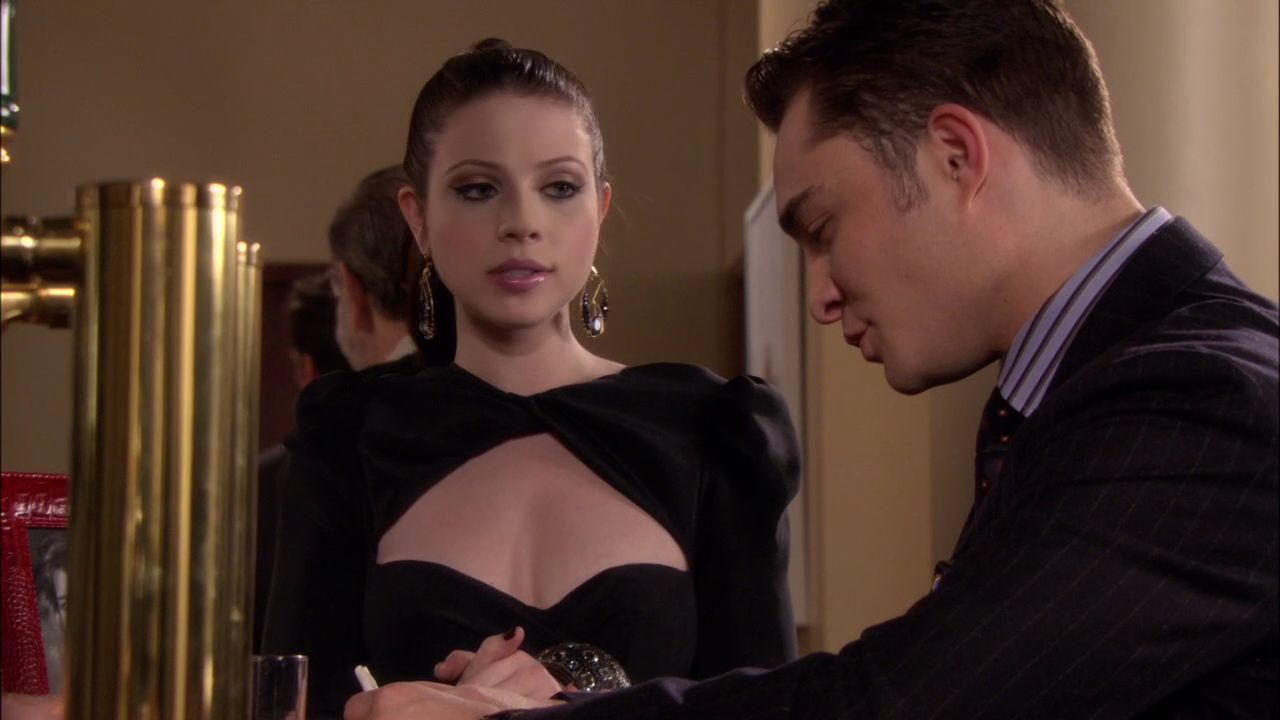 And, in other news, the Dark Knight, having not been an a** for a whopping five minutes (literally), decides it's time to declare his love for Blair again (aka trap her in a loveless marriage).
And total side note...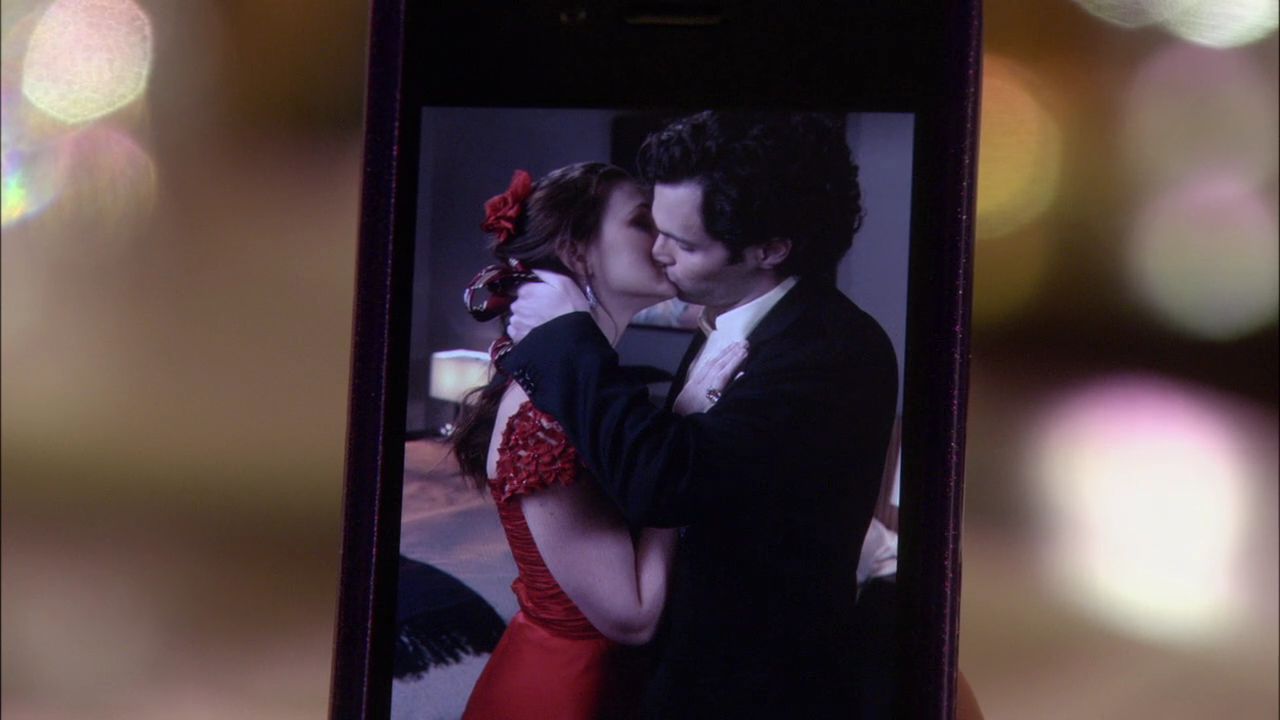 Is it just me or do they always pick the most awkward angles for Dair kisses on these blasts? I mean that was the most romantic kiss ever and here it looks like they were crammed in a locker or something. It's just weird...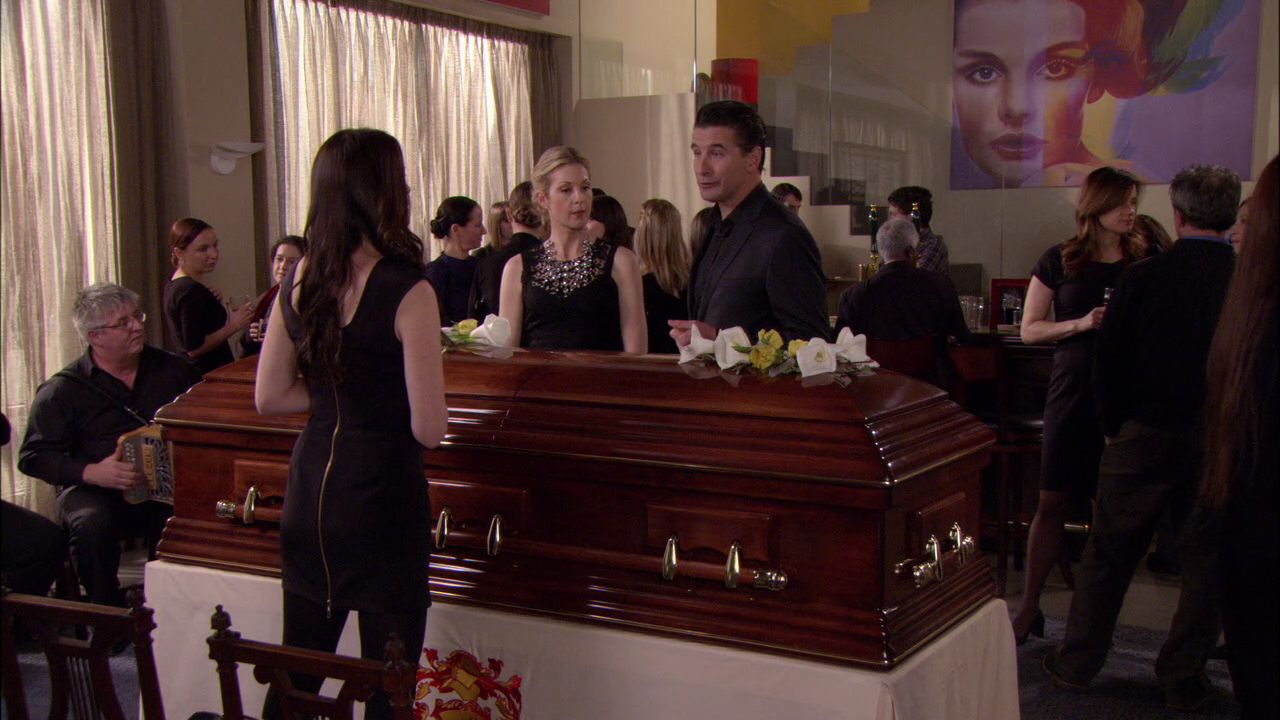 UGH, why does this COFFIN keep getting in the way of our conversations?
Buzzkill much?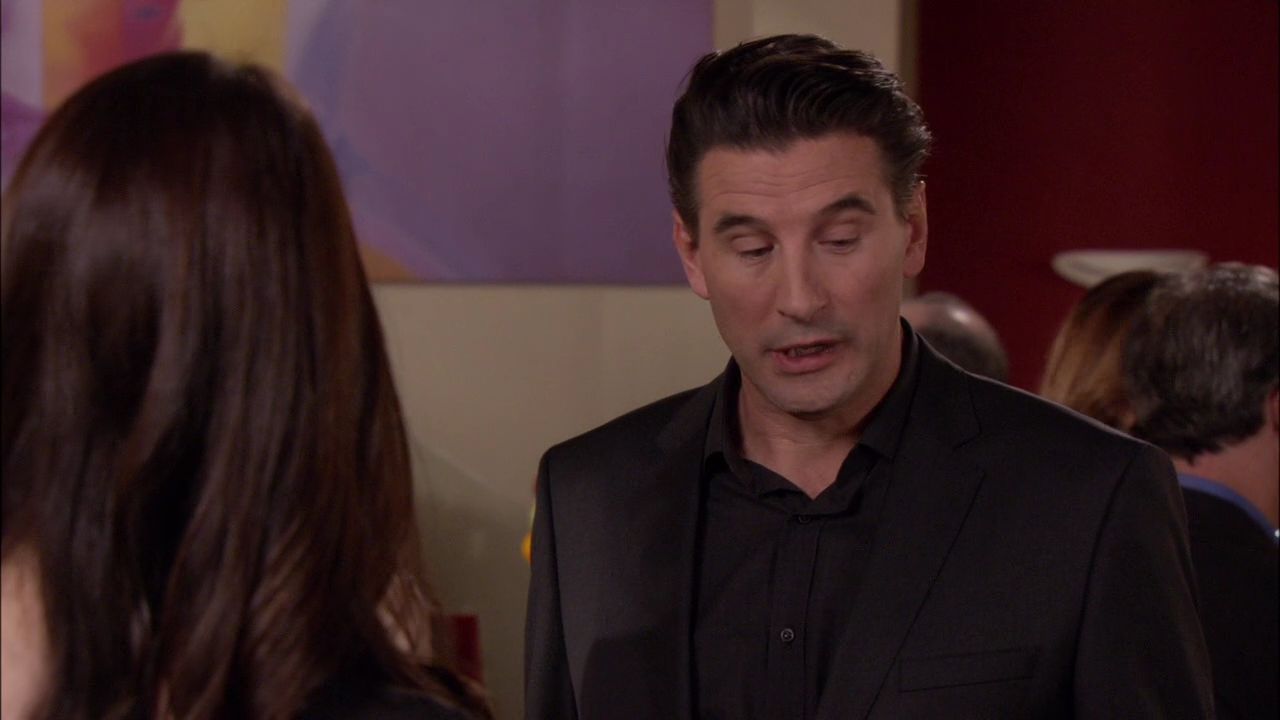 Also, in what was one of several random "Oh, this was totally implied all along" incidents of lazy writing plot twists, we find out CeCe owns the apartment. Sure that won't be important or anything for the rest of the episode...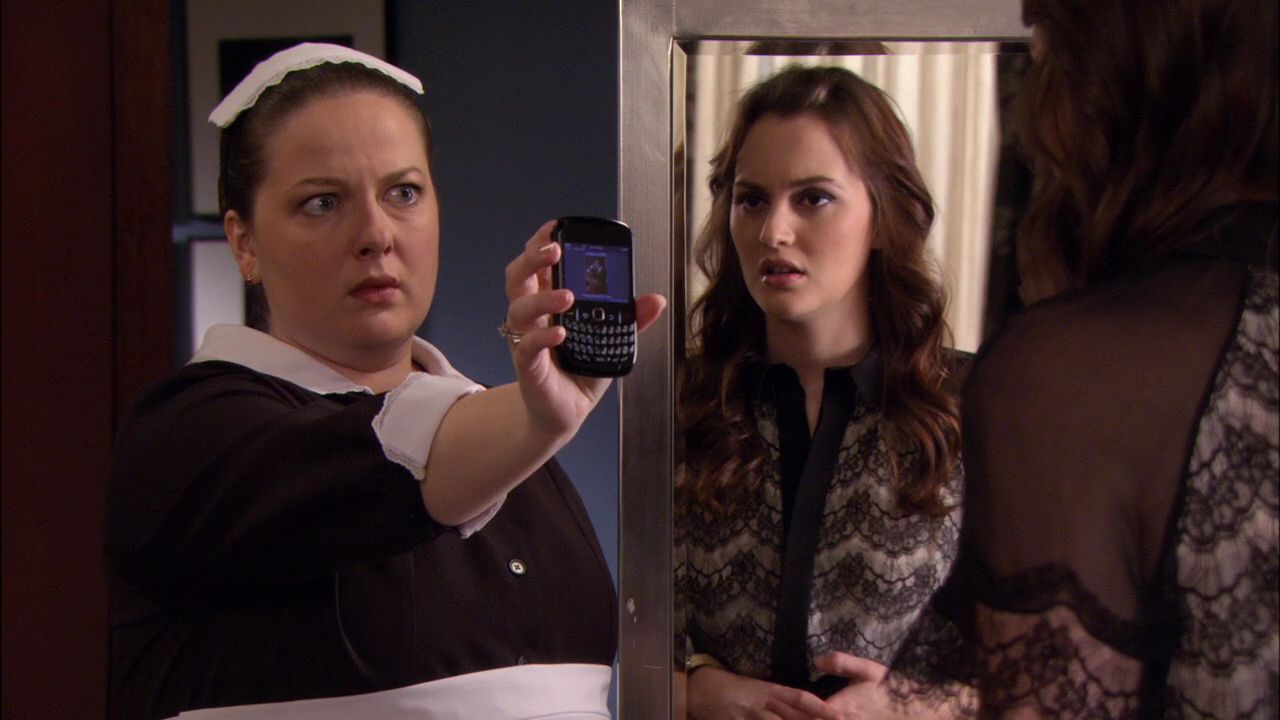 Meanwhile, after Blair makes some obligatory comment about being at her BFF's grandma's wake, more ridiculousness ensues.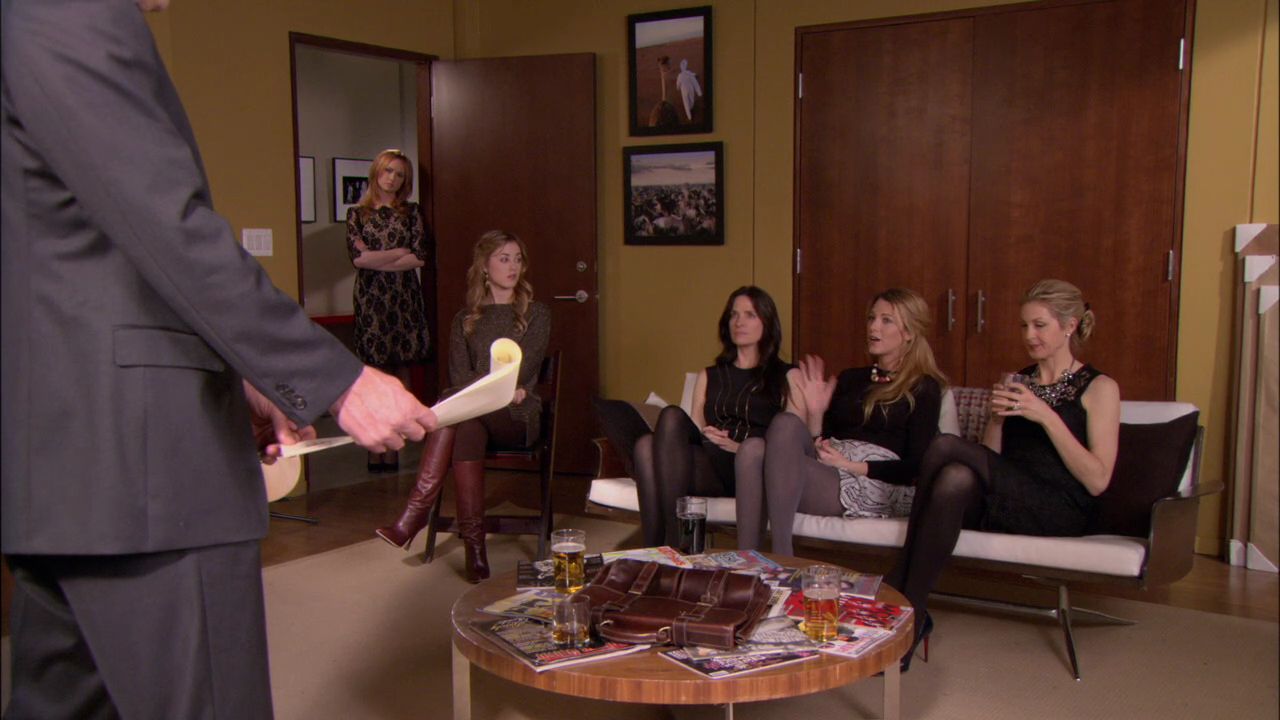 Chivy: ::whispers:: I'm seriously the victim here.
Serena: For real, I can't be the only who keeps HEARING that? Like the wind whispering or something.
Anyway, this whole next scene is golden: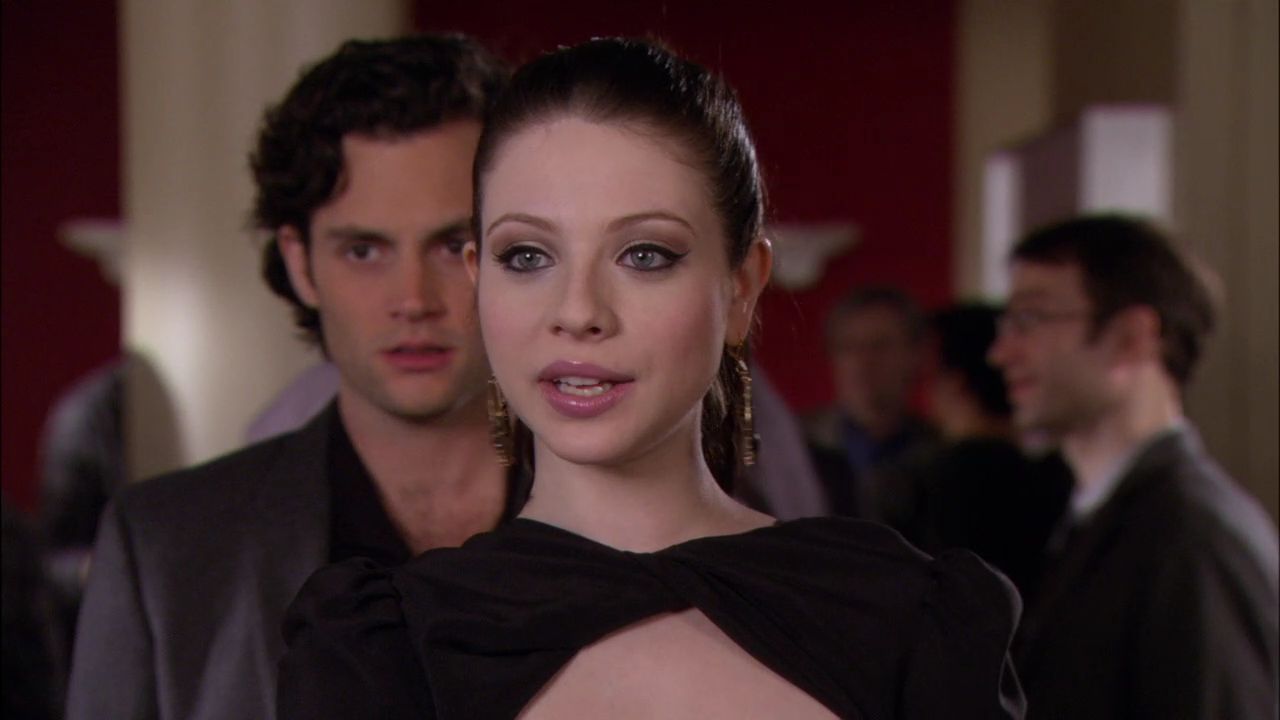 Dan: I'm afraid and yet oddly aroused.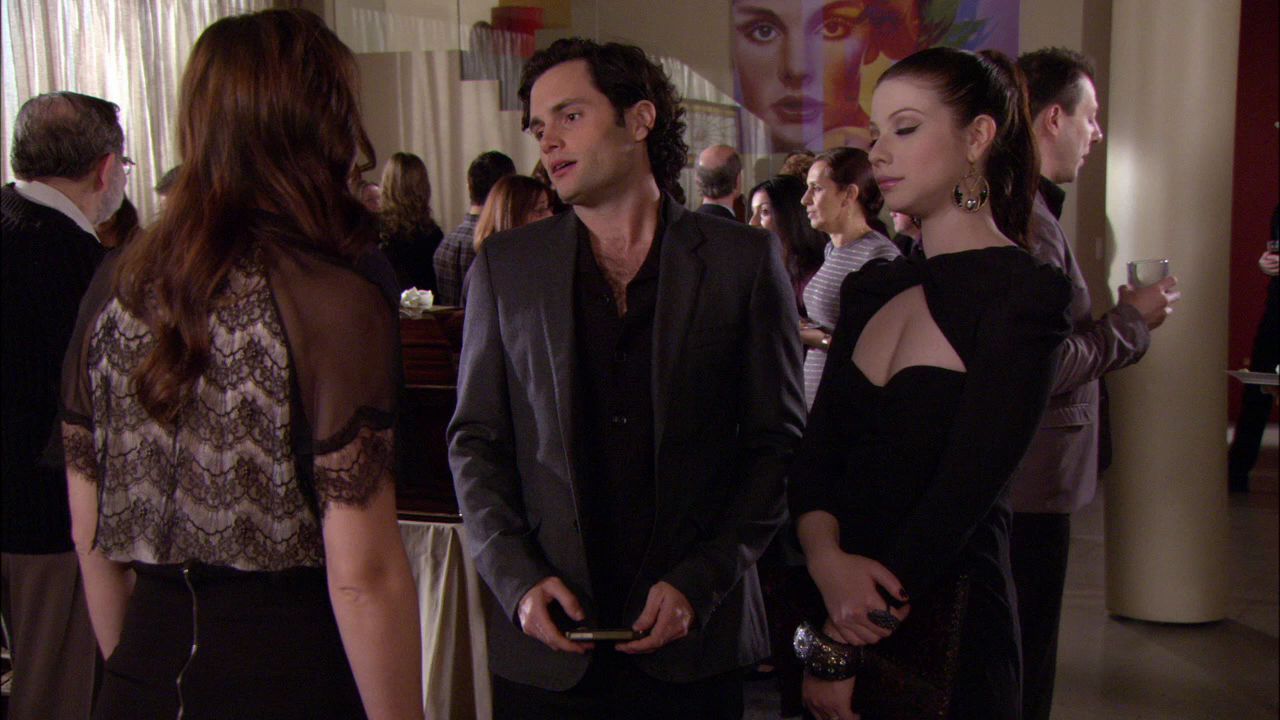 This is ridiculous and hilarious all at once. Blair is (rightfully) pissed and the truth is so outrageous (this is GG afterall) it really does seem like he's b.s.ing.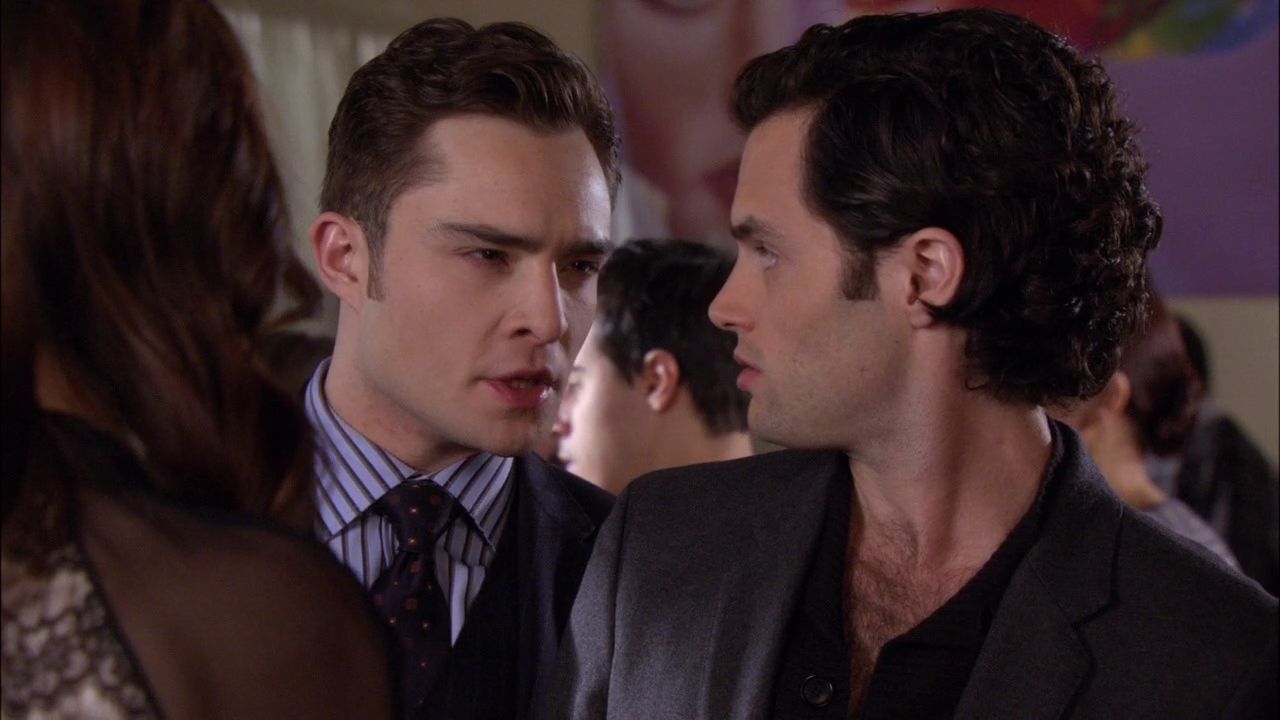 Haven't I seen this before? Like LITERALLY didn't I just cap this scene two seconds ago? The Basshole has truly outdone himself at this point. So much so that Blair barely even blinks: because this is WHO Chuck is. ::le sigh::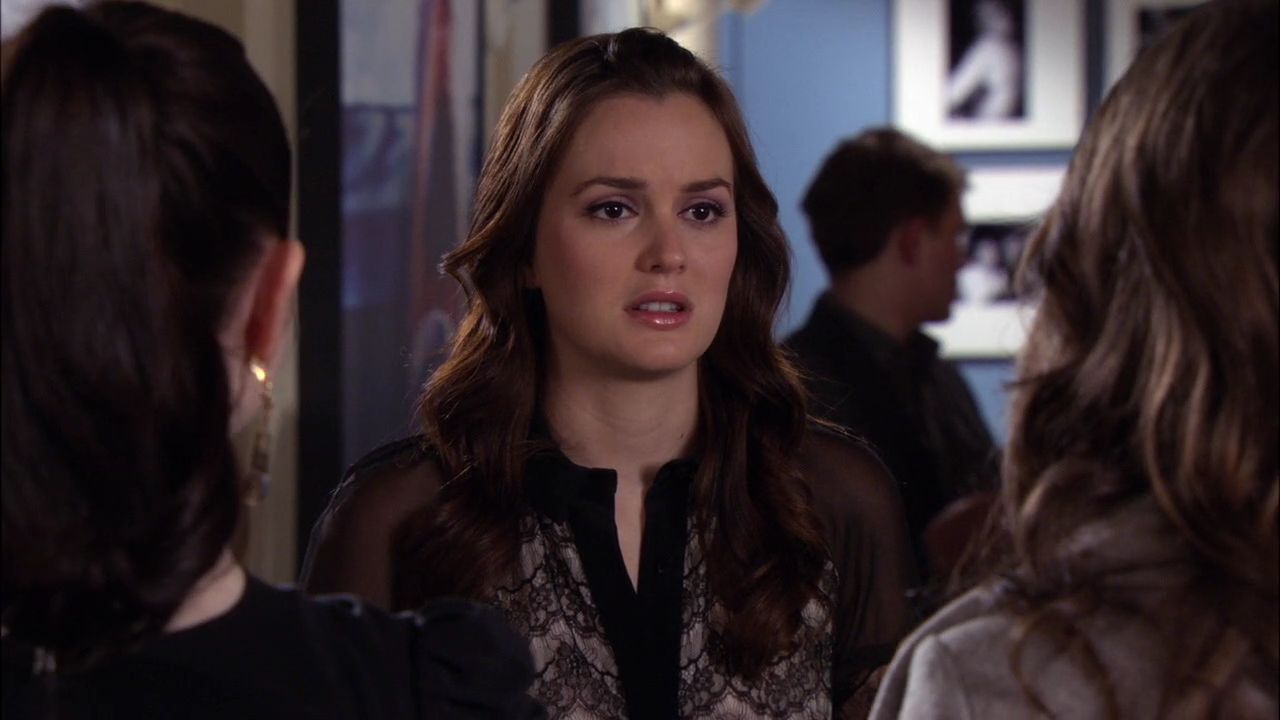 That awkward moment where Blair's the star of the ep about Serena's Grandma dying.
It really fascinates me how Blair-centered this series has become (not that I mind!).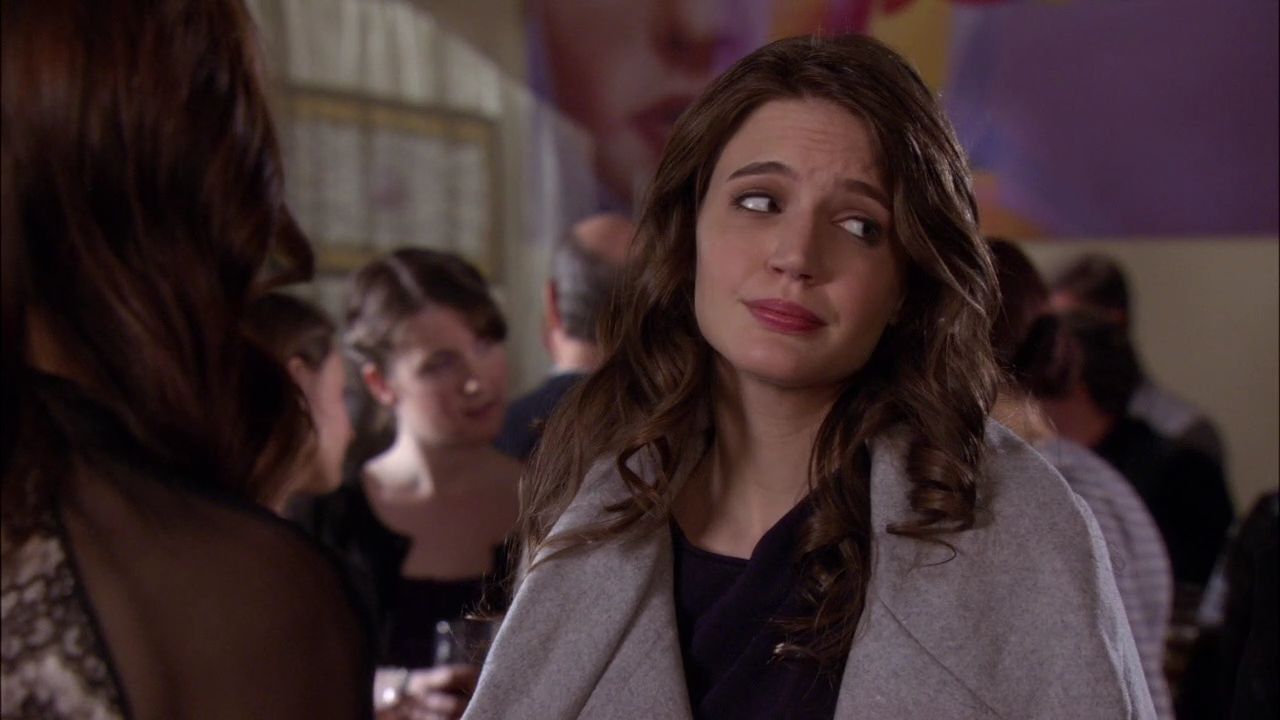 Blair: Omg, I was just bitch-slapped by Joey Potter.
I CANNOT be the only person who sees the Katie Holmes similarities here, can I?
More importantly, this scene pretty much confirms that it's canon that Chuck Bass is destructive.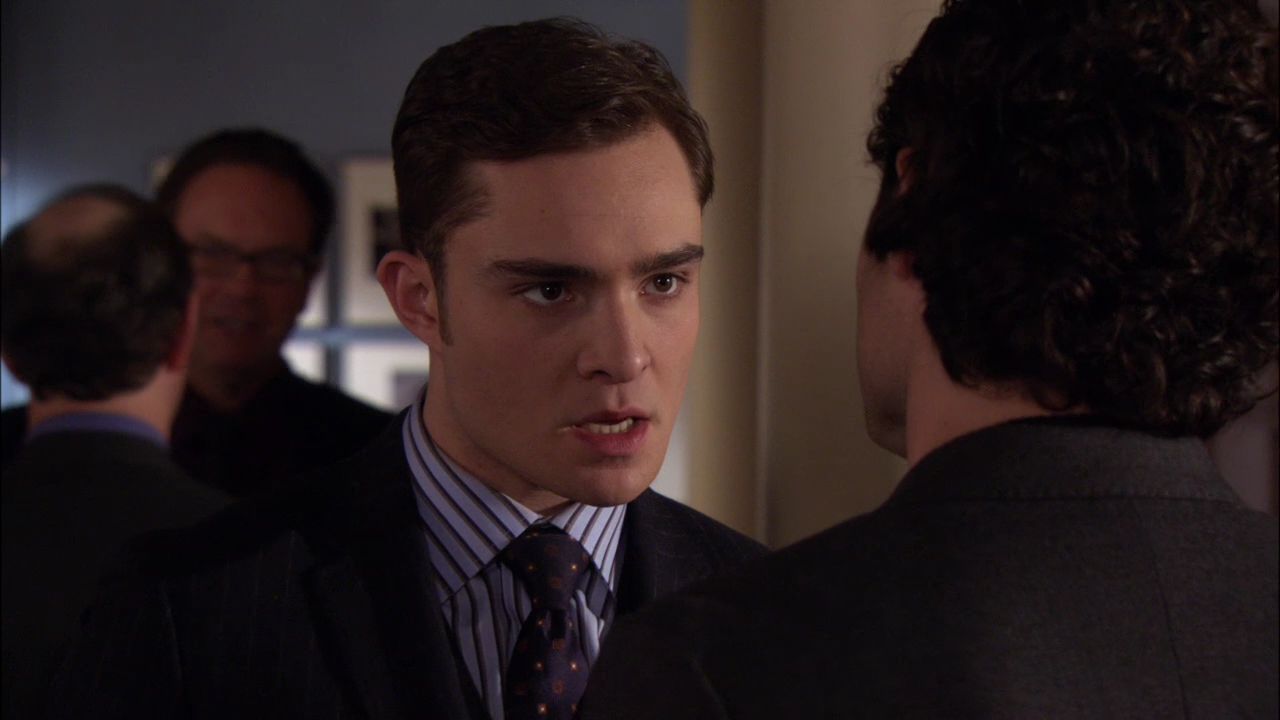 Dan: You don't realize what you've done.
Chuck: Yes, I do. I'm a Basshole.
And so apparently it's OPPOSITE DAY? Because pretty much everything Chuck rambled on about was false (except the video). And, while I (mostly) feel for Chuck, I was literally taken aback by how delusional he sounded. If I remember correctly, CHUCK was the one who was only friends with Dan when he didn't' perceive him as a threat. The second he sensed Dan had a chance with Blair, he turned against him. Not the other way around.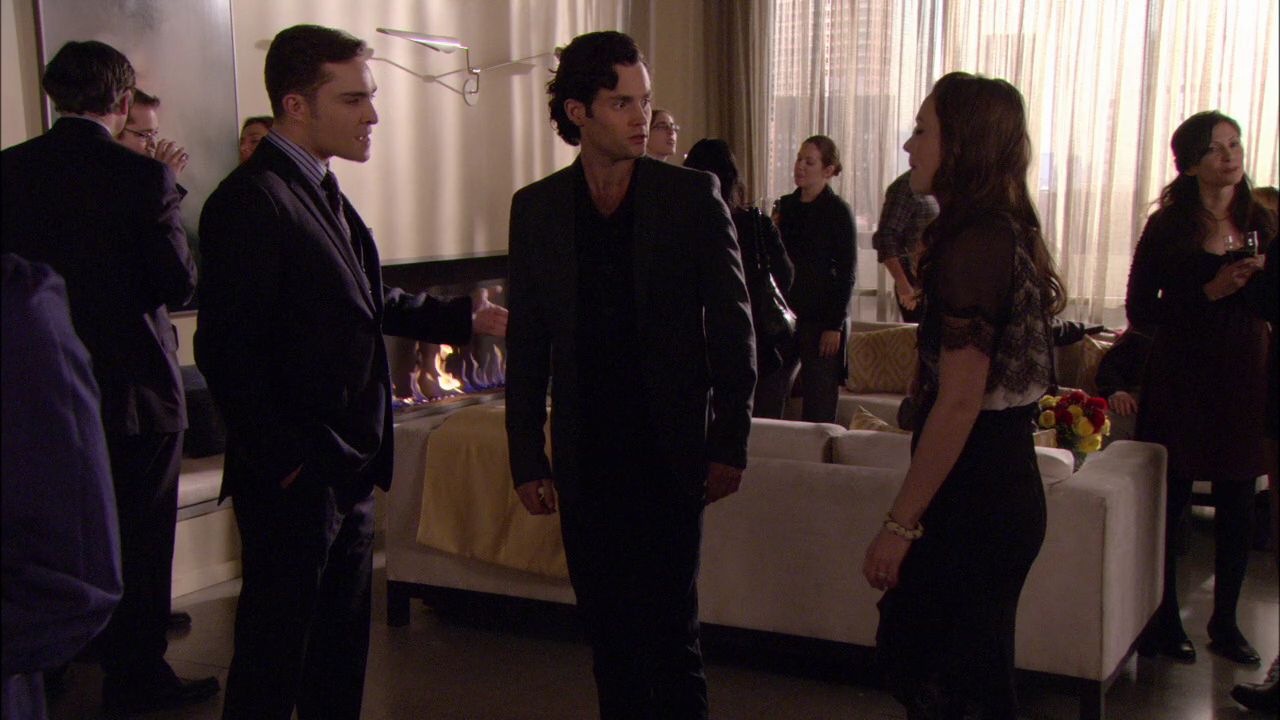 Triangle Tableau Shot. I ain't even mad show, I ain't even mad.
I loved the aesthetics and dynamics of this scene. One, all jokes aside, this will be one of the major focuses of the show here on out. Dan has literally and metaphorically inserted himself into the endless, soul-numbing loop of Chuck-and-Blair we've been watching for the last 4 seasons.
Second, Dan really held his own in this scene. A lot of the time, he is the adorkable, stammering guy, but here he is a grown man standing up to a grown man-child. I don't know what it was, but Chuck never seemed so small to me like he did in this scene compared to Dan. Humphrey's a contender, ya'll!
Third, Blair says very little in this scene and I think that's intentional. She's just standing there, soaking it all in, and I think it's becoming more and more clear to her that this is (again) not even a competition any more.
Then There's This: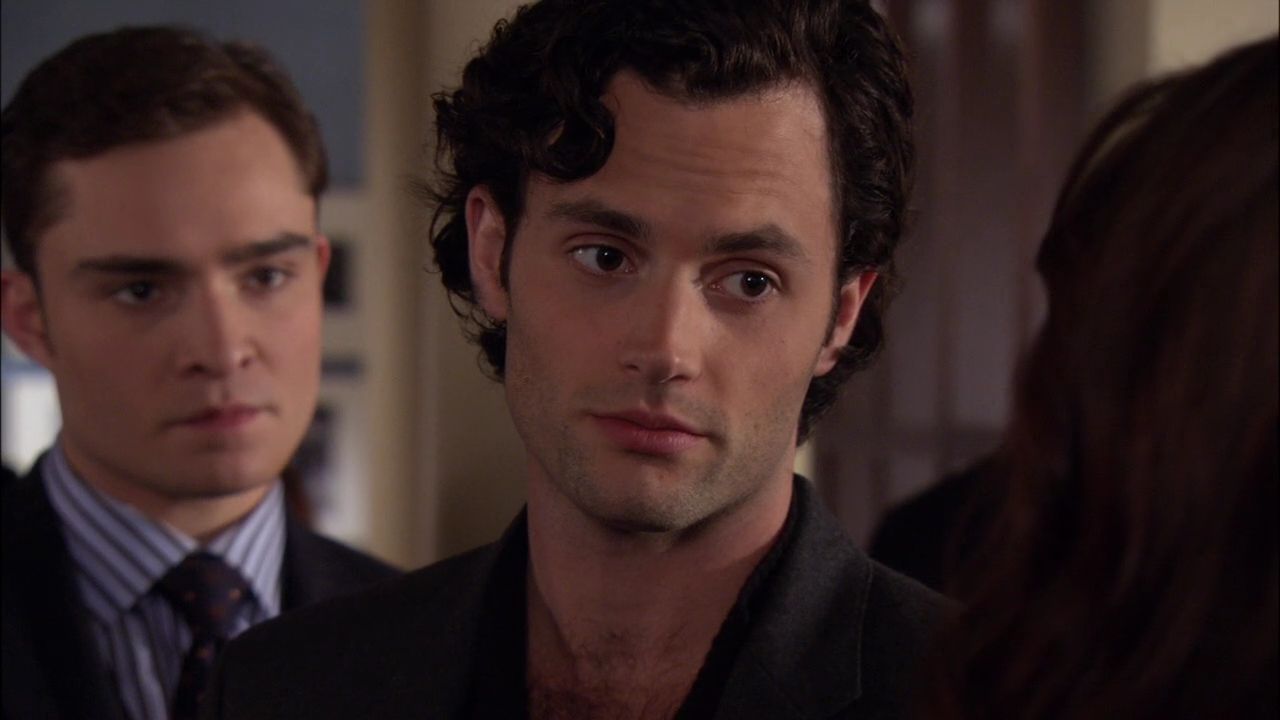 Dan: He's absolutely right. I'm sorry.
Again, just LOOK at the difference between these guys. One is completely remorseful, sincere, and humble enough to step out of the way for Blair's happiness. The other is well...ugh, I'm just too weary of Chuck to even go into it.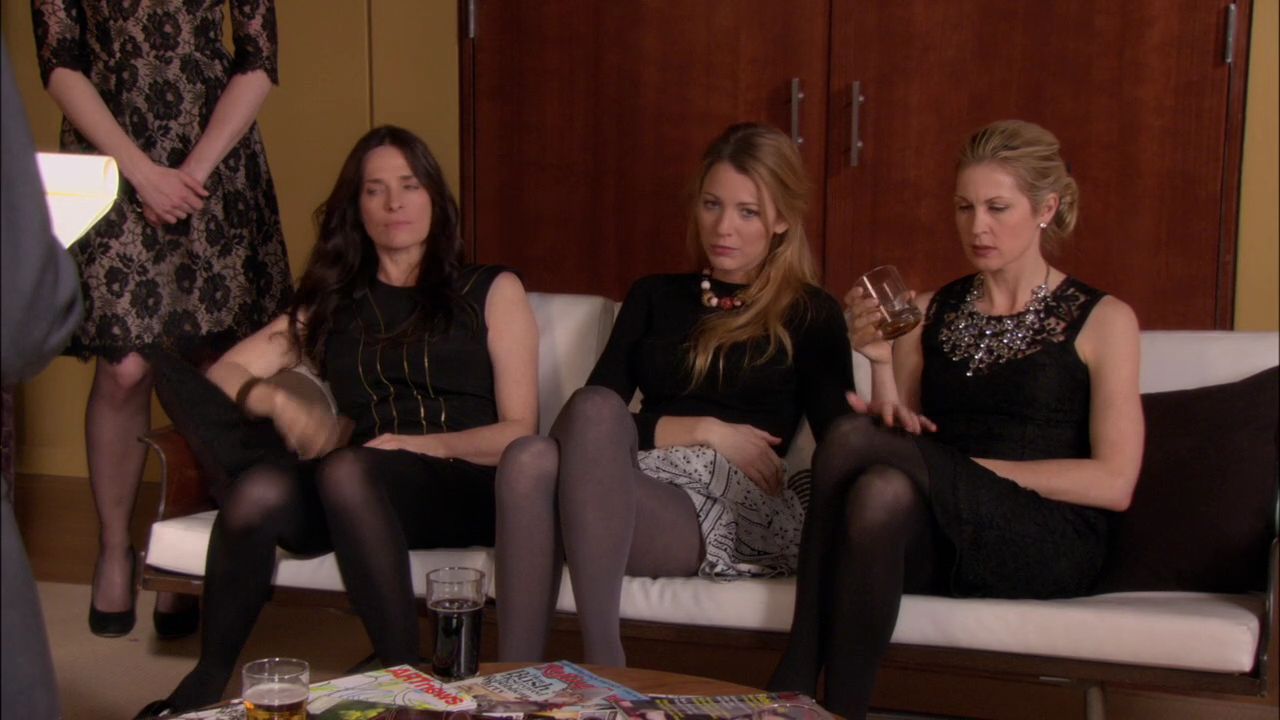 Rest in peace, CeCe...j/k...j/k, who's getting her car?
For real, though, is this how rich people do wakes?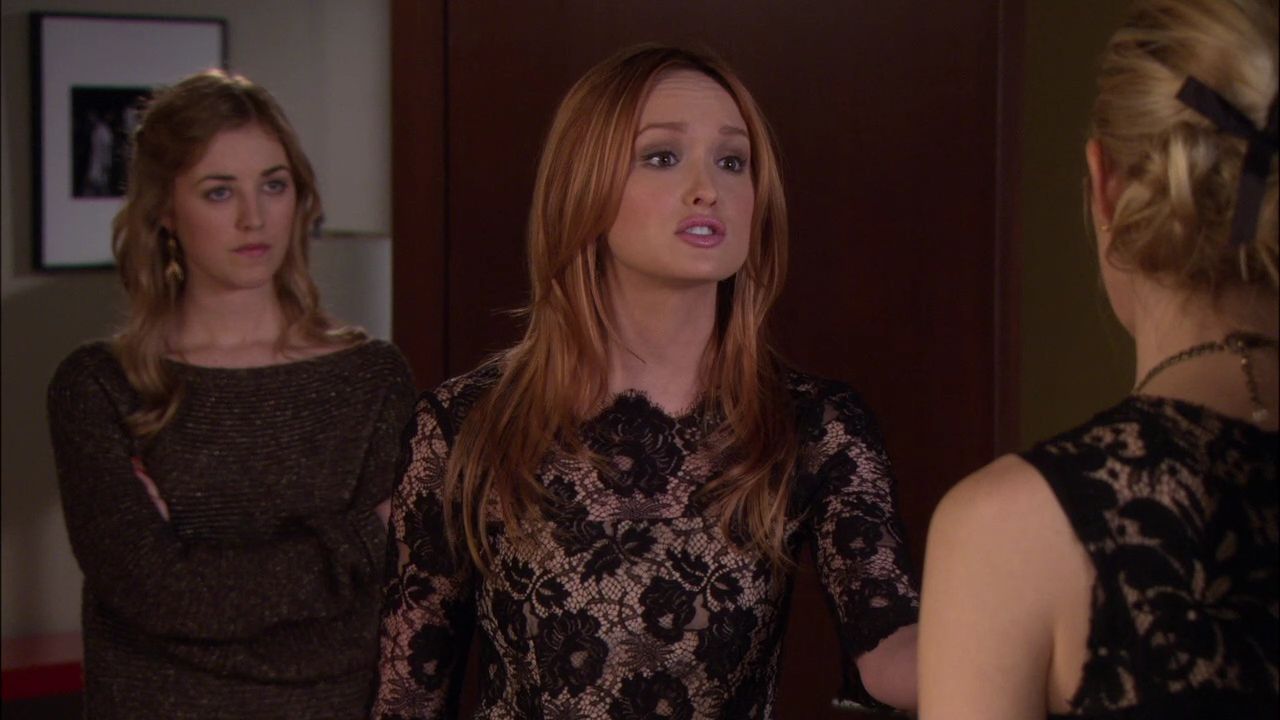 Chivy: I never asked CeCe for anything....except all her worldly possessions!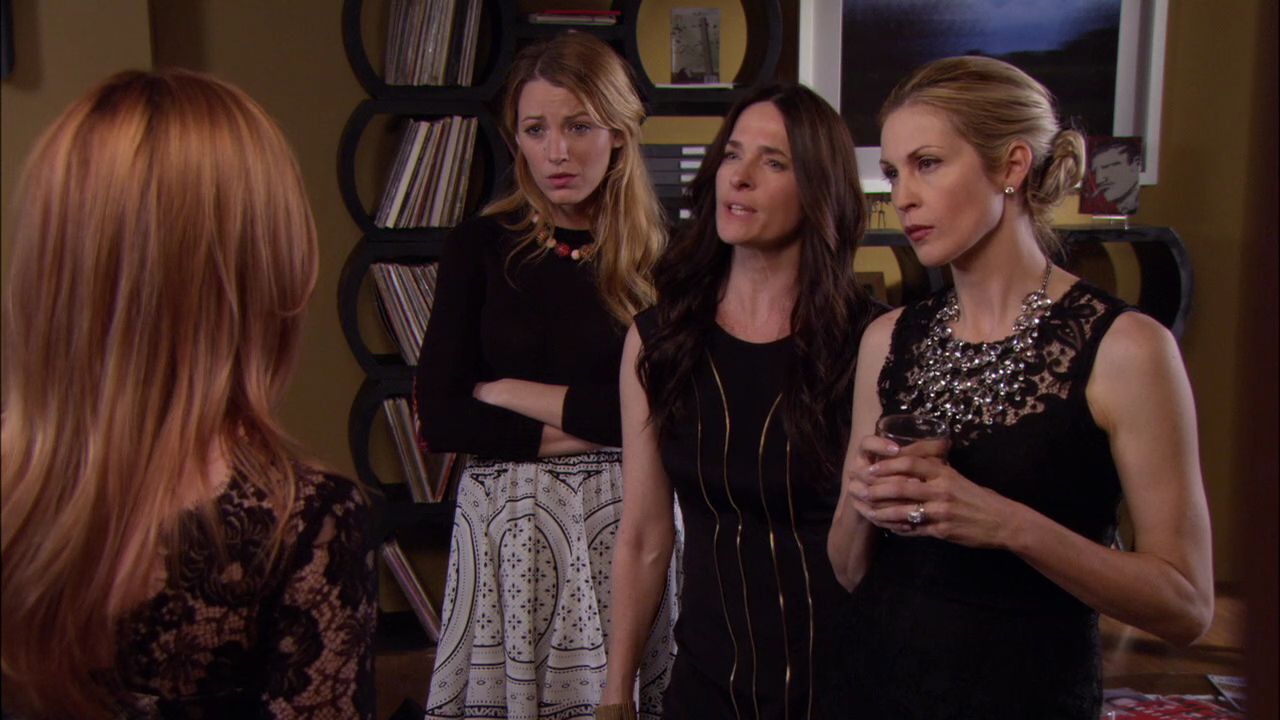 Serena: Are you high?
Once again it's a weird world where I get Serena's POV, but home girl and I have oddly been on the same page lately.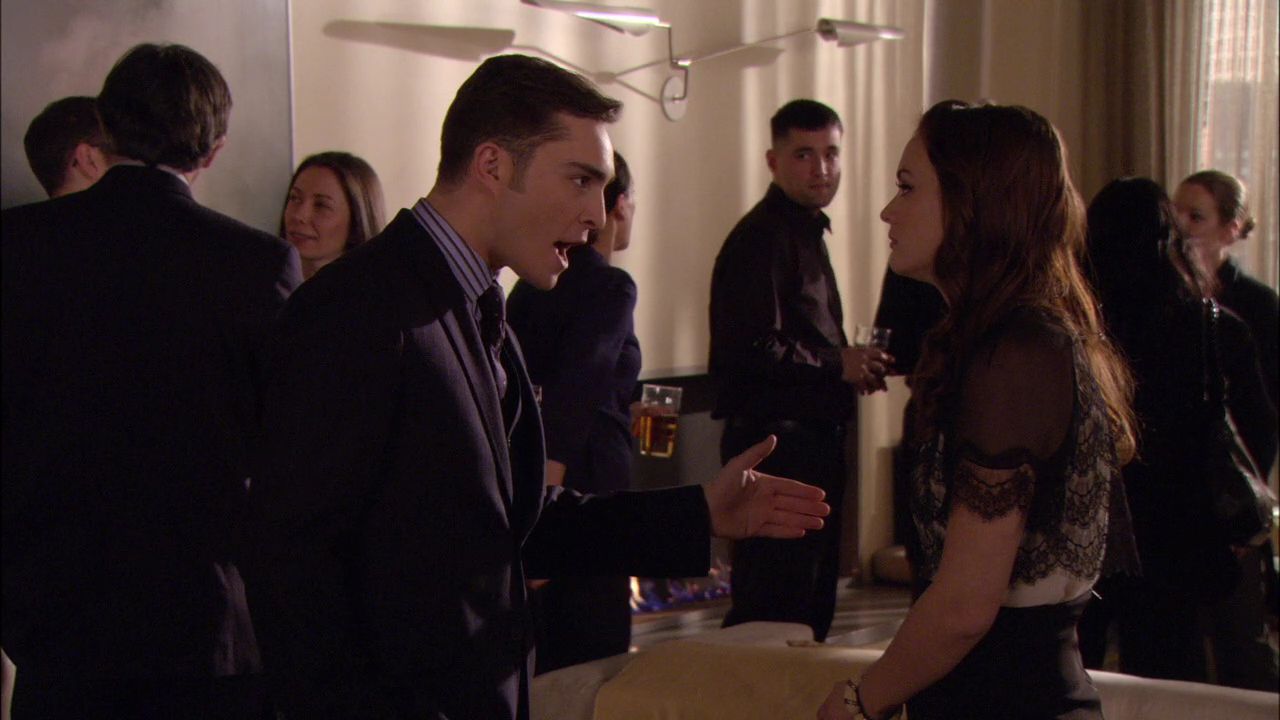 NEVER have I been so happy to cap a Chuck and Blair scene. There's SO much to cover here.
1) Again, look at how weary Blair is with Chuck (in multiple ways).
2) Blair's response that it's "not that simple" is SO telling here. I'll get more into this in a second, but anyone who's been watching this TV show realizes that all of their (and especially) Blair's excuses for them not to be together don't exactly add up. This was the first hint at a deeper problem.
Here's the whopper: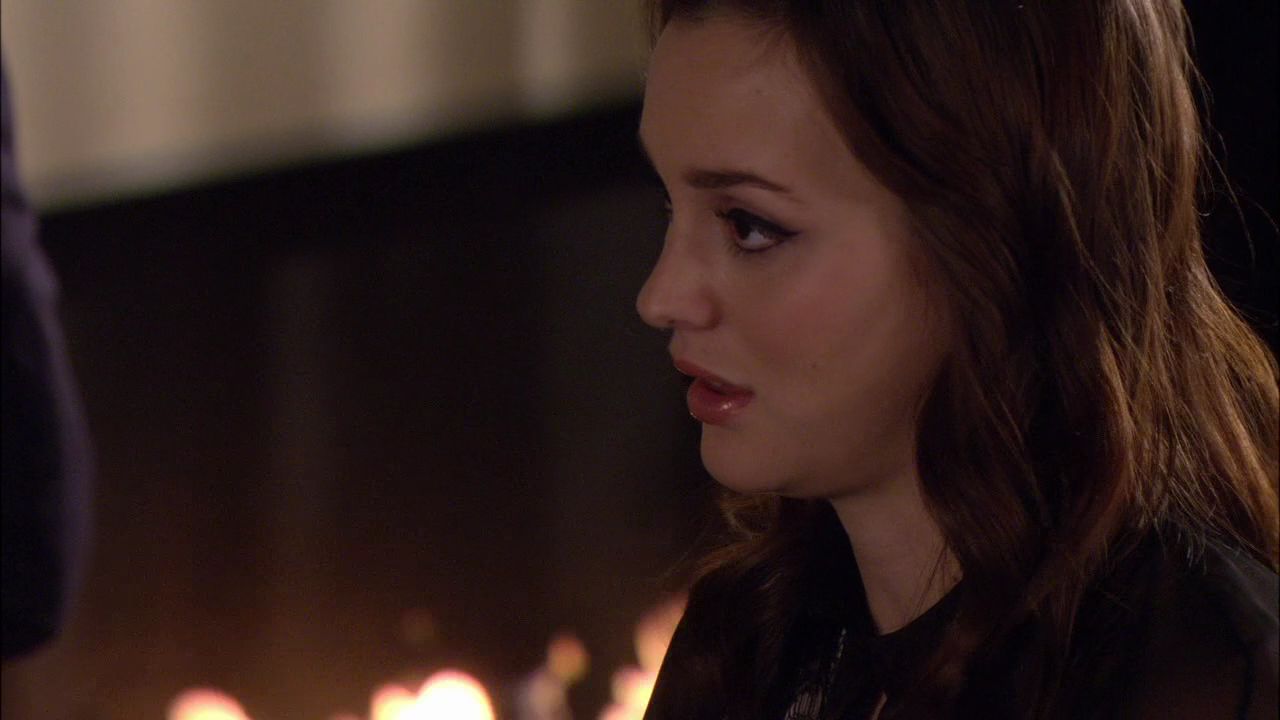 Blair: I love you. I always will. But that doesn't mean I'm in love with you...
BING-F*ing-O. Finally, what many of us "delusional" dair fans have been expressing was confirmed. Blair is not really in-love with Chuck.
Let's just look at this way: Blair let her career, a loveless marriage, a taxi(!), etc stop her from being with Chuck on several different occasions. Literally like an EPISODE after Dan finally admitted his feelings for her, she hasn't let a single thing (out of the many actual LEGITIMATE obstacles) stop them from being together. Not even his hair!
She wants to be with Dan, so she's with Dan. That's what real love and relationship looks like.
But, because this is GG and we don't want Chair shippers collectively jumping off the Empire State building...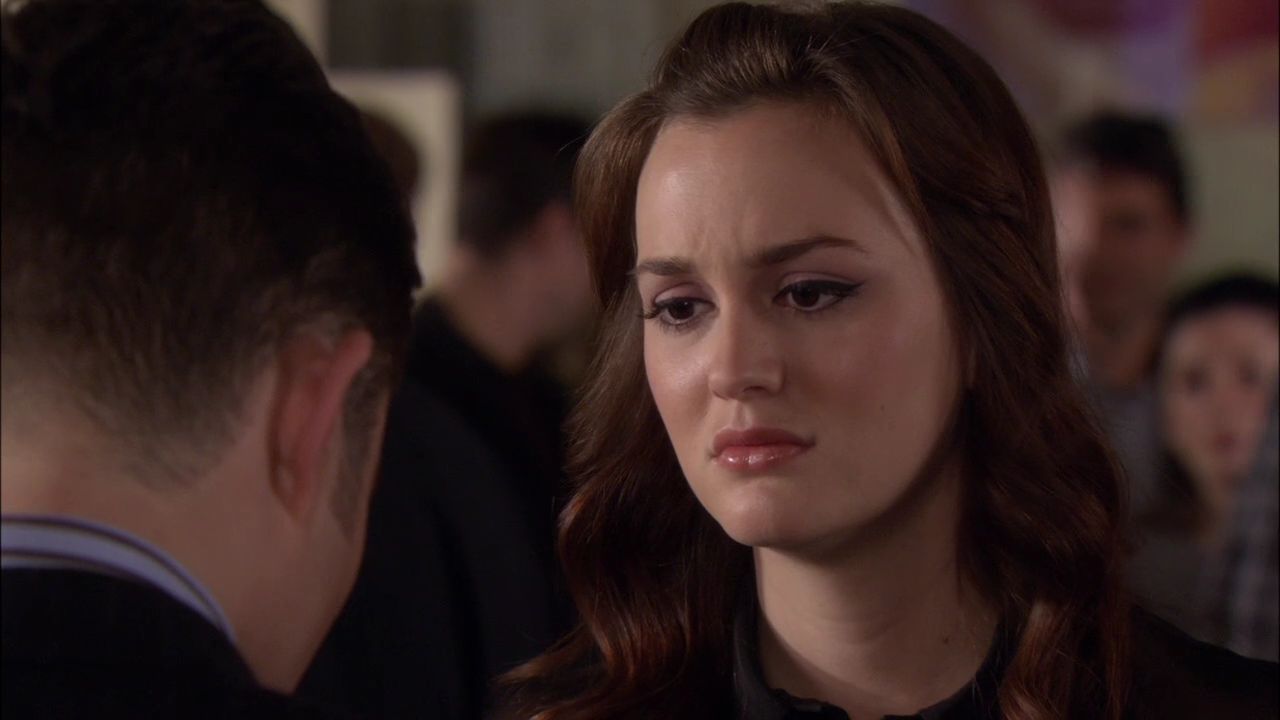 Blair: At least not right now I'm not...the way you need me to be, not the way you deserve.
Again, this is a triangle, y'all. Which strangely enough IS a victory for us. We are legit contenders, I ain't even mad.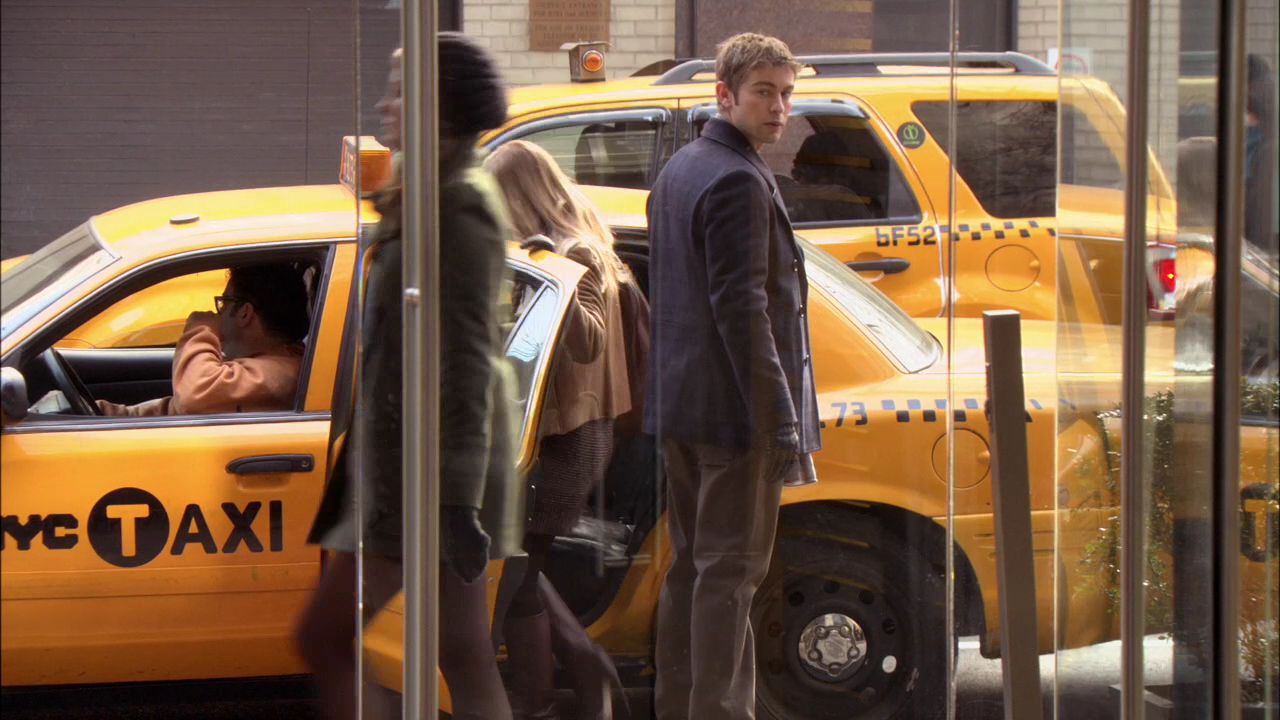 That awkward moment where you know you're being a tool at your BF's Grandma's wake.
Lol, in all seriousness, I sense Serenate in the winds and NGL, I could be down with that.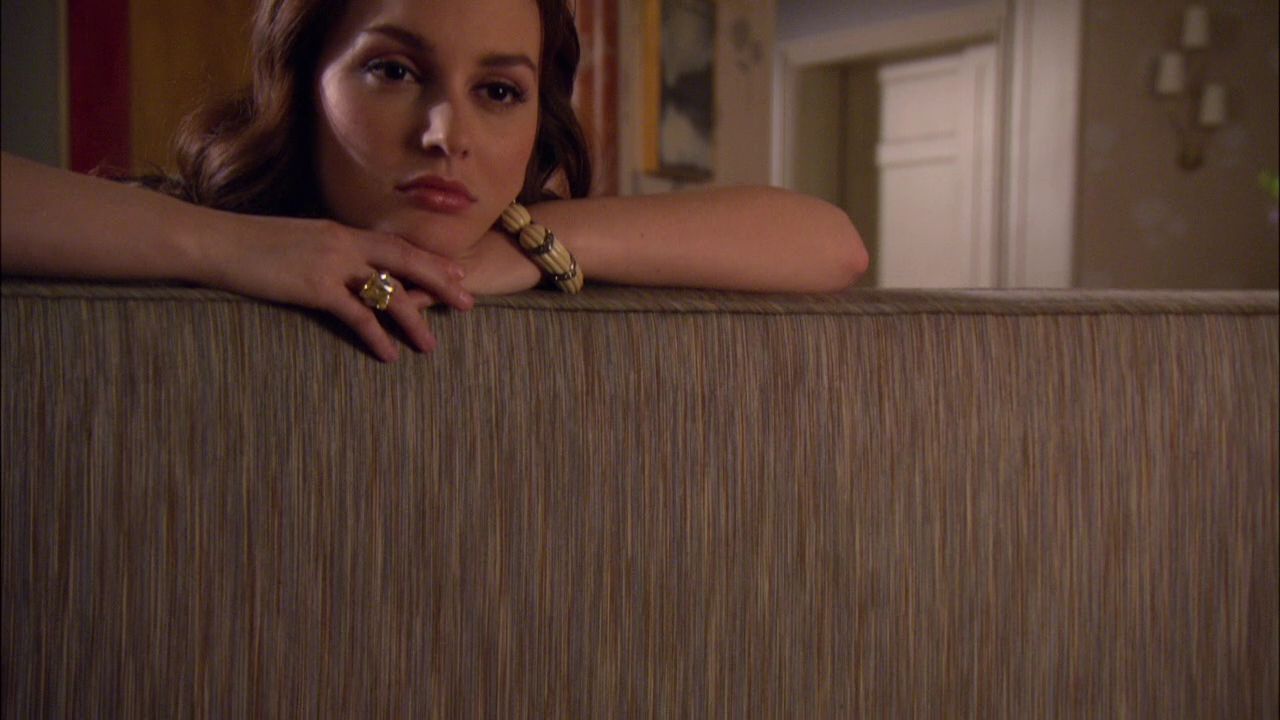 Blair: Did I even SEE Serena this episode?
As I posted elsewhere, this was a sort of sleeper-moment for dair fans. Blair has had one HELL of a long day, so there's a lot on her mind. But, I think specifically and most importantly, she's thinking about Dan. She realizing for that for the first time since high school, she's released her heart from Chuck.
Again, this is not a drill, Dair Babies: Dair is the real deal.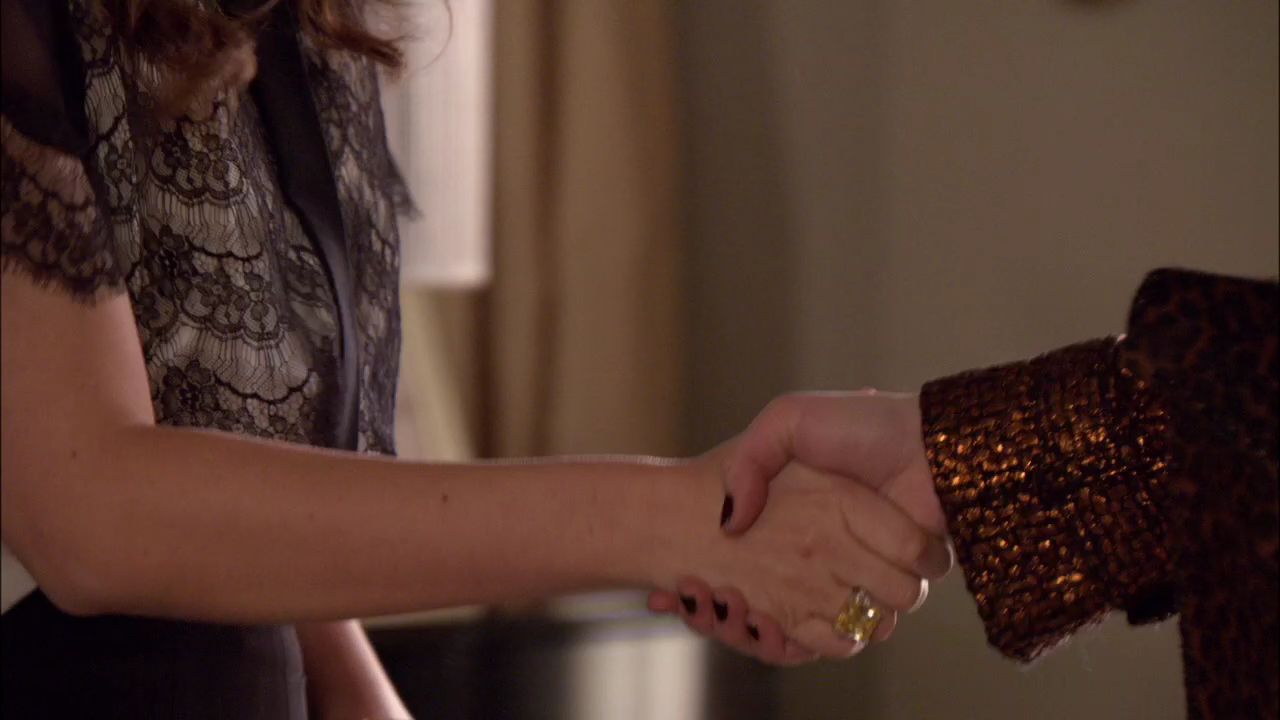 Meanwhile, Blair literally makes a deal with the devil.
Blair: This will never come back to haunt me ...except maybe in the finale.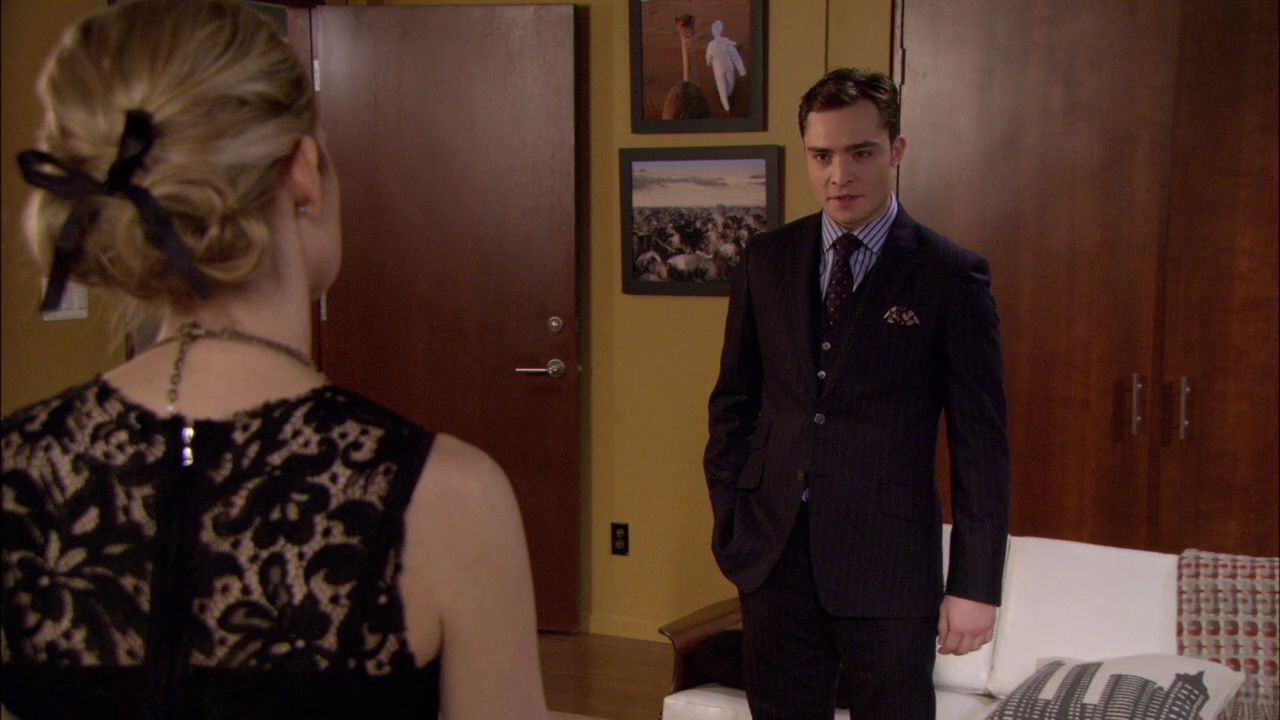 After an obligatory reminder that someone had actually DIED, Chuck and Lily share a moving scene (love these two together).
Most important is Chuck's (and the writers') acknowledgment of how significant Blair's decision is: "She walked away from me today. And not like she has done in the past. It was different...I feel likes she's changing."
She IS changing. That's what normal adult human beings do, Charles. And that's literally been the explicit theme since the 100th episode: "The past is just a prologue, homies!"
Oh, then also, Lily casually brings up something of no real significance: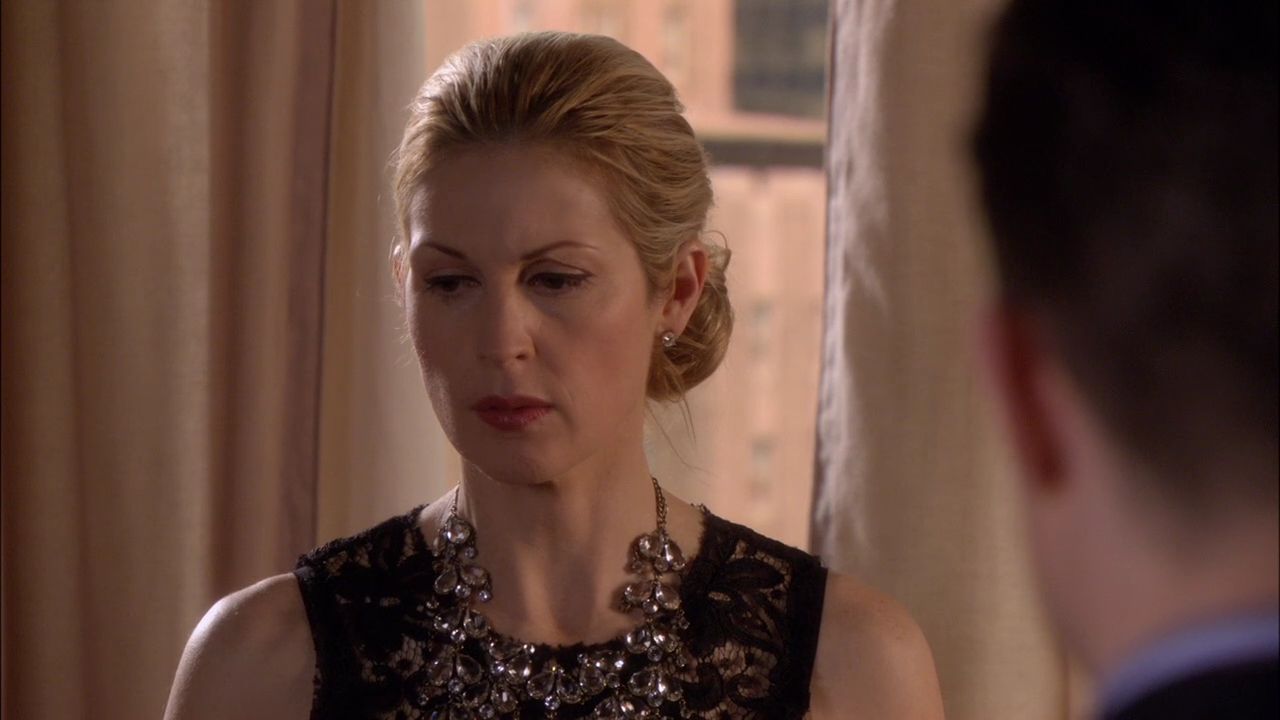 Lily: NBD, NBD, Jack, your jackasss uncle who degraded Blair saved your life. Shh, shh, this totes make sense that this was never alluded to or brought up before...totes makes sense.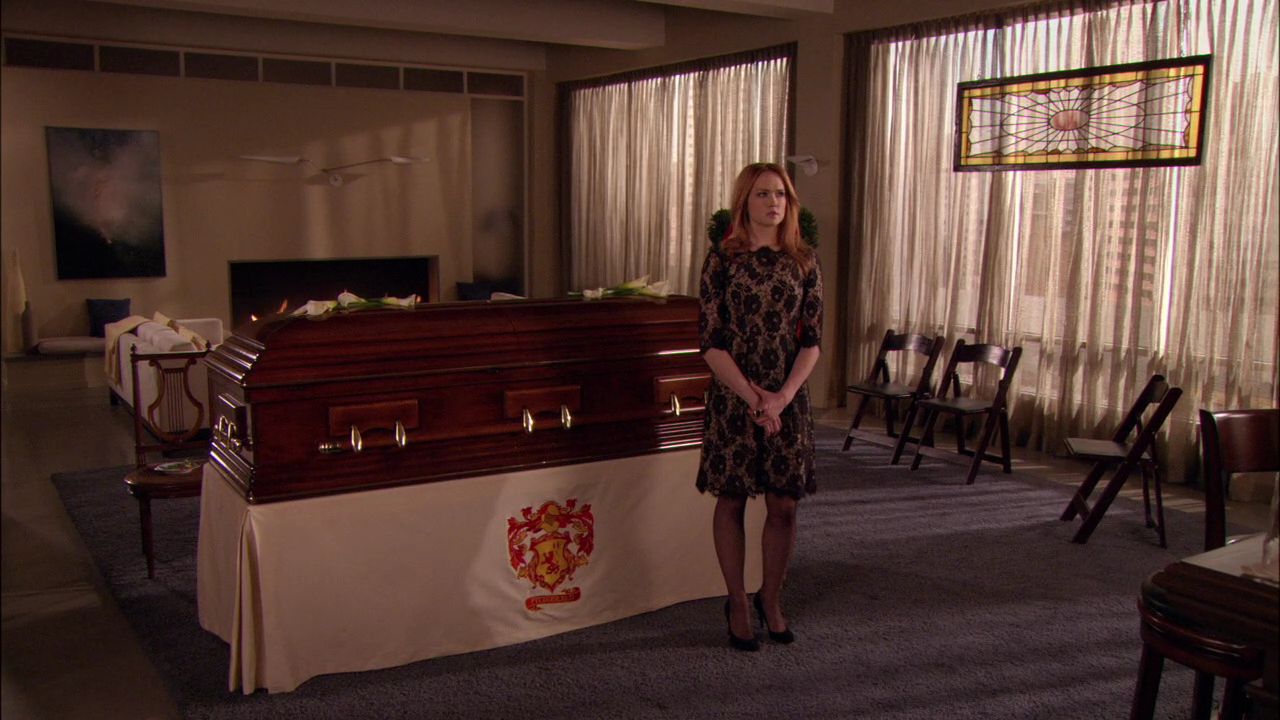 Chivy: ::whispers:: It's going to be so quiet here all by lonesome, just being a victim.
--
As for the end scenes AKA the reason I have gathered the strength to resurrect myself from the dead and re-cap this ridiculous episode...?
NBD guys, NBD guys ::totally haven't been fangirling incessantly all day erry day since Monday:::
The knocks heard 'round the Dair-World.
Let's just take a moment in advance to praise LM's and PB's acting chops. As I posted elsewhere, my Chair-shipper friend made the most insightful comment about this scene: She basically observed that she'd never seen Blair act this way around any other man. That with Chuck she seemed to need to be harder and with Dan she's softer, almost like a little girl, just being loved on. (Yes, I'm slowly trying to convert her to Dair, lol).
That's one of the most beautiful things about this scene. Blair really IS a scared (in a good way) little girl in this scene. Because after years, she's finally come to a place where she can truly give her heart away. And, that's TERRIFYING.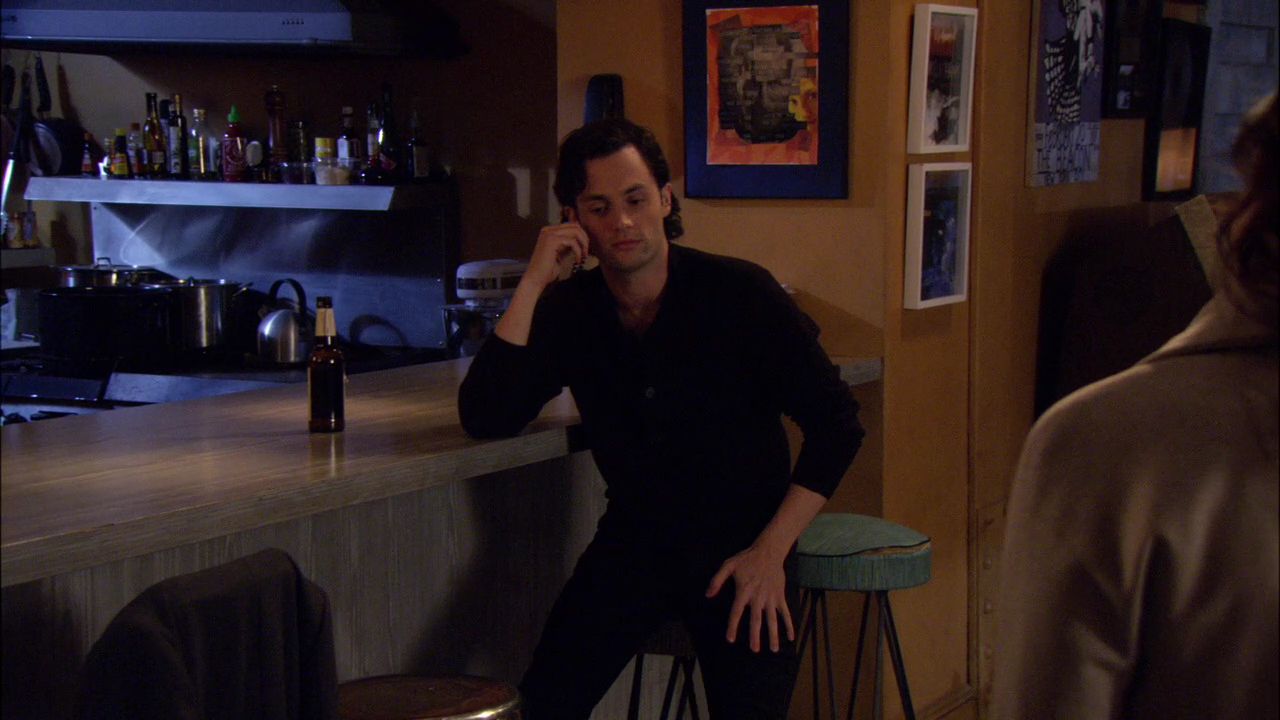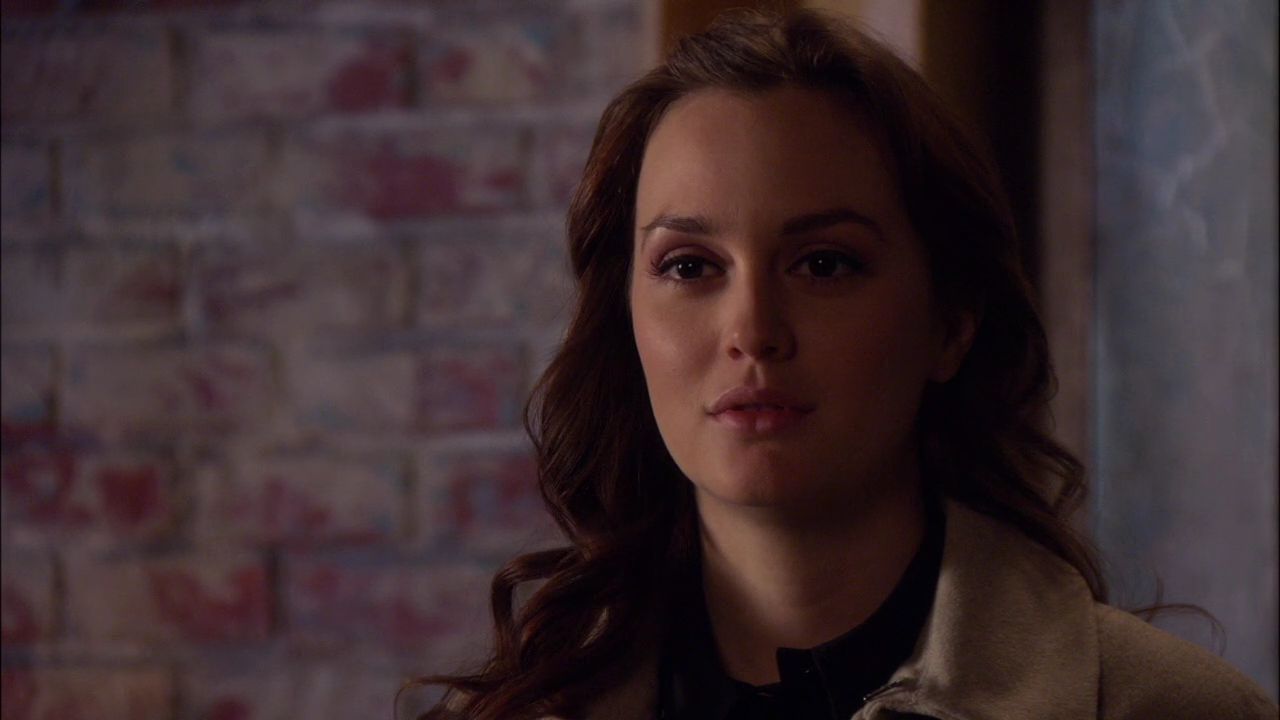 Dan: I'm the worst, basically.
Blair's face: You're the best thing that's happened to me in forever, basically.
I love this scene. Because--let's face it--Dan is (endearingly) pathetic here, doing that adorable broody thing he so loves to do and Blair SEES this. She sees that he's not perfect, that he lives in Brooklyn and has terrible hair, etc--she sees all of this, but she's completely smitten.
And, THIS moment: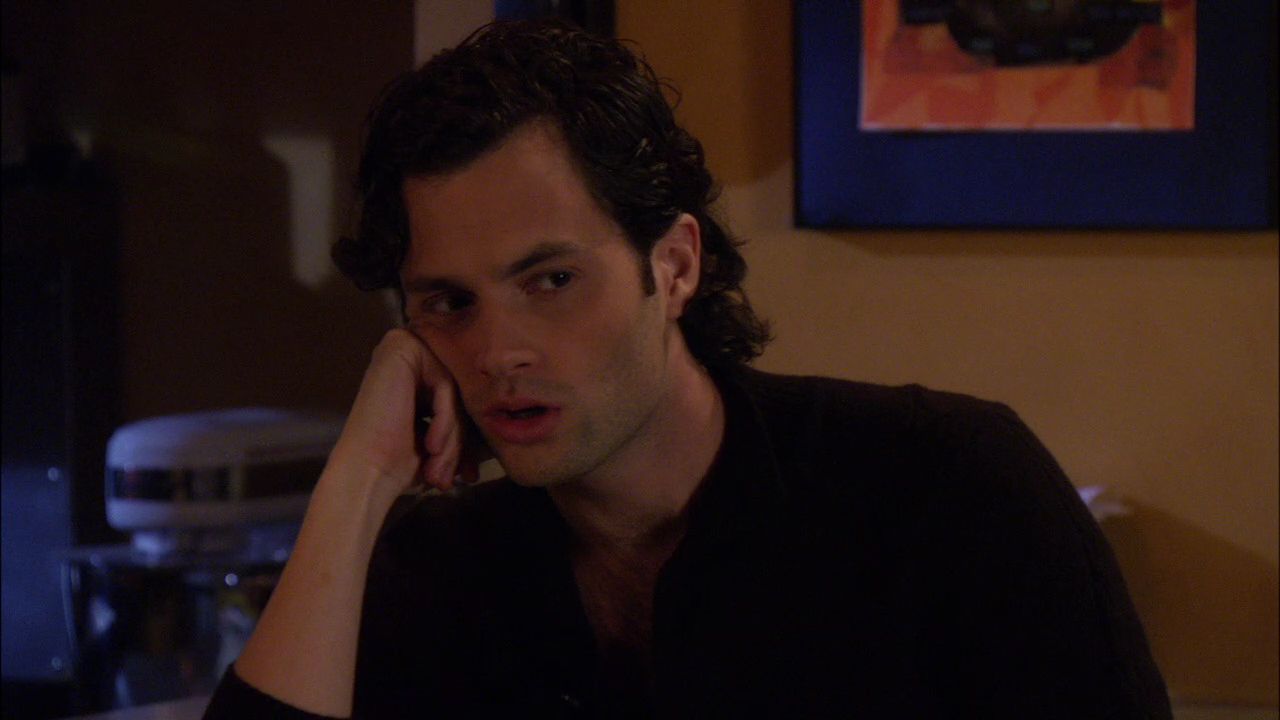 The look of utter RELIEF when he hears she didn't get back with Chuck.
Dan and Blair: Mind Meld Activate!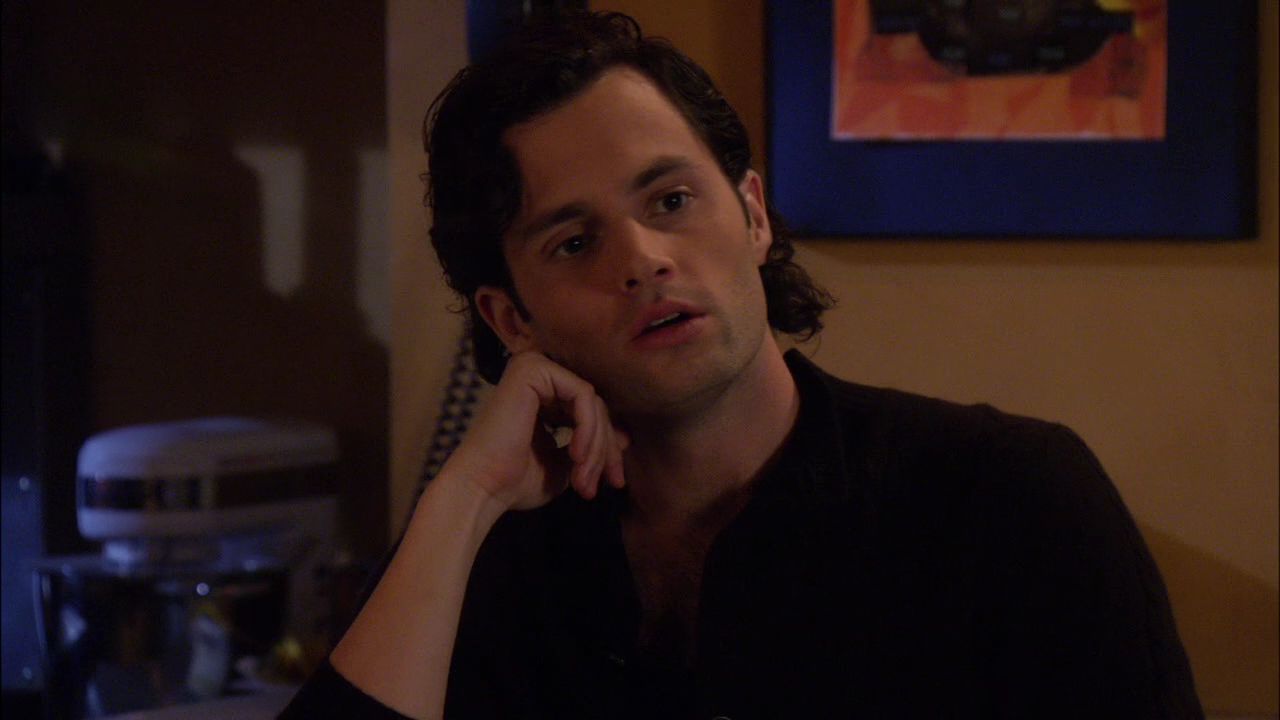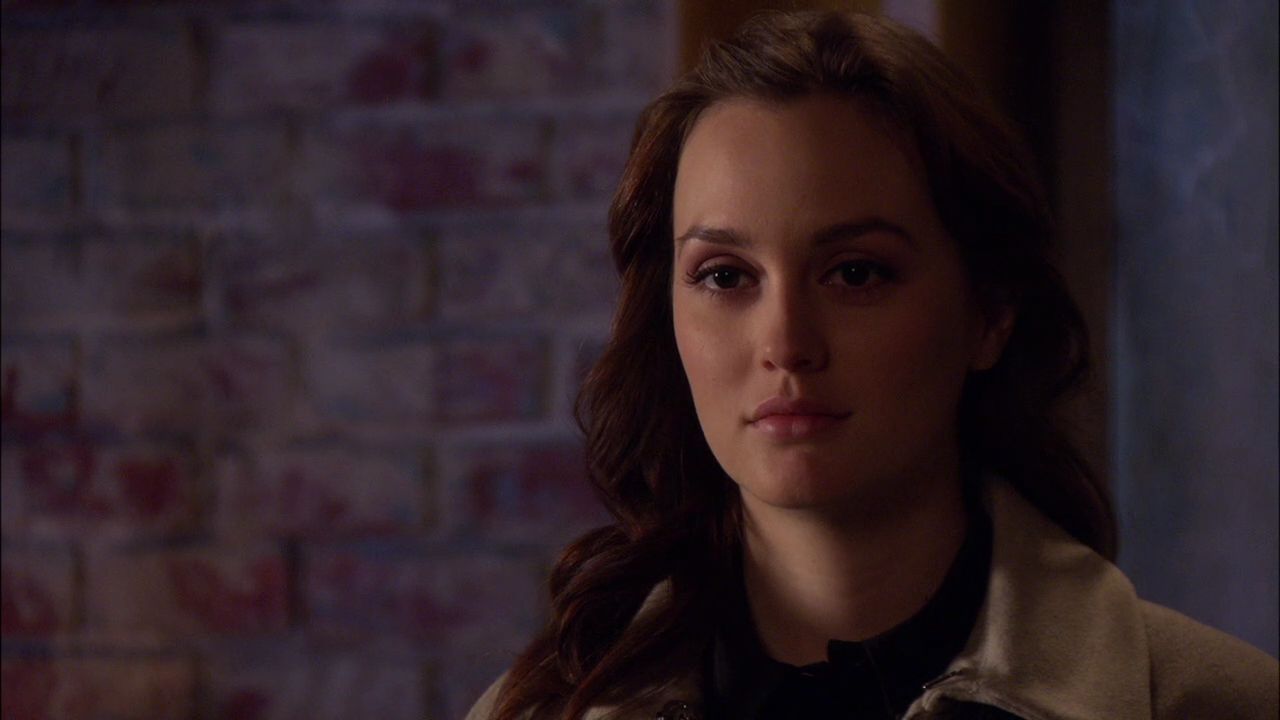 I love how Blair basically only has to send him this one look and it clicks for him.
Then adorableness ensues...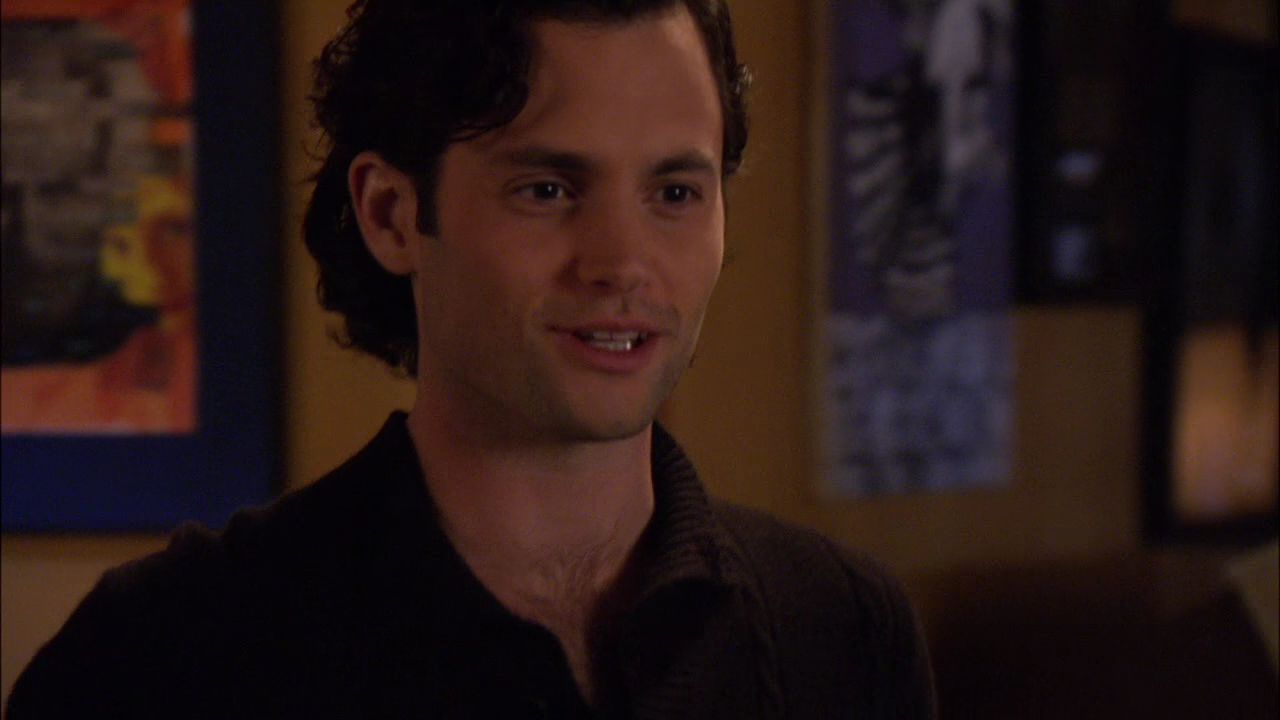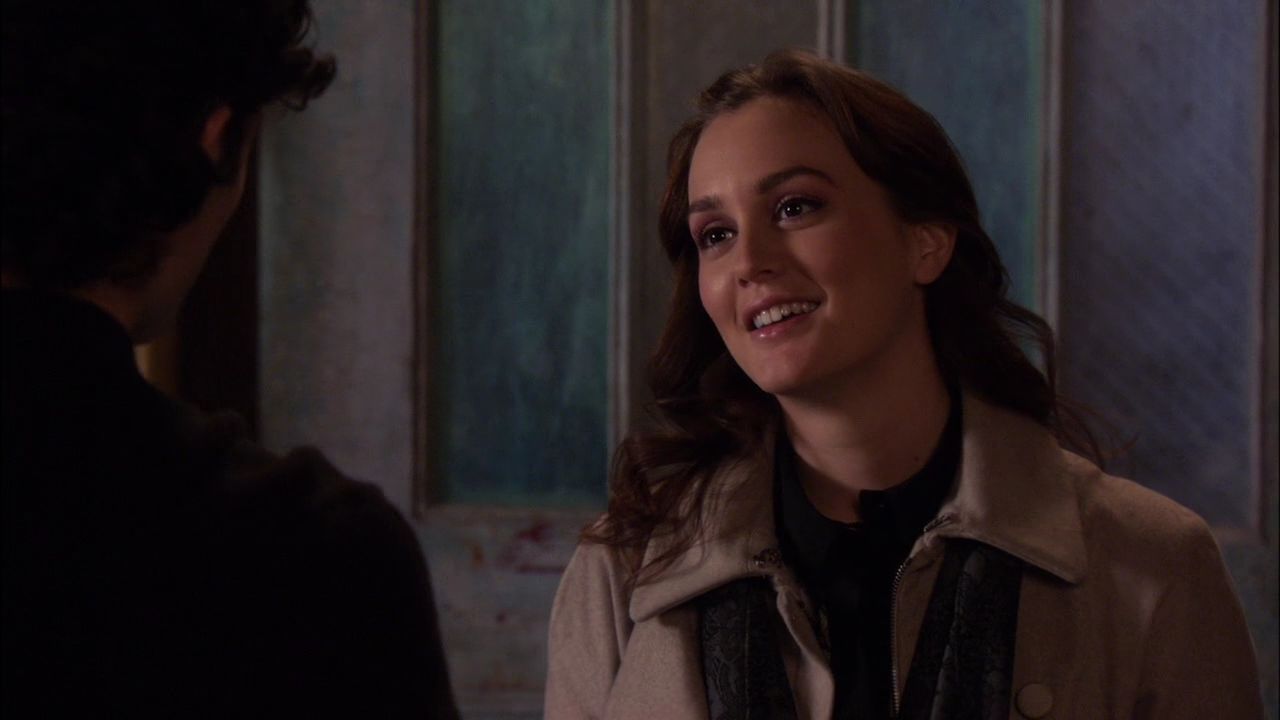 The swaying, ya'll, the SWAYING! Excuse me while I go explode for a moment.
But, besides from the adorable banter, it's amazing to notice the total shift in body language from the last moment to this one. Blair is REALLY putting herself out there, but you can see how she completely opens up--literally beaming--the second he approaches her.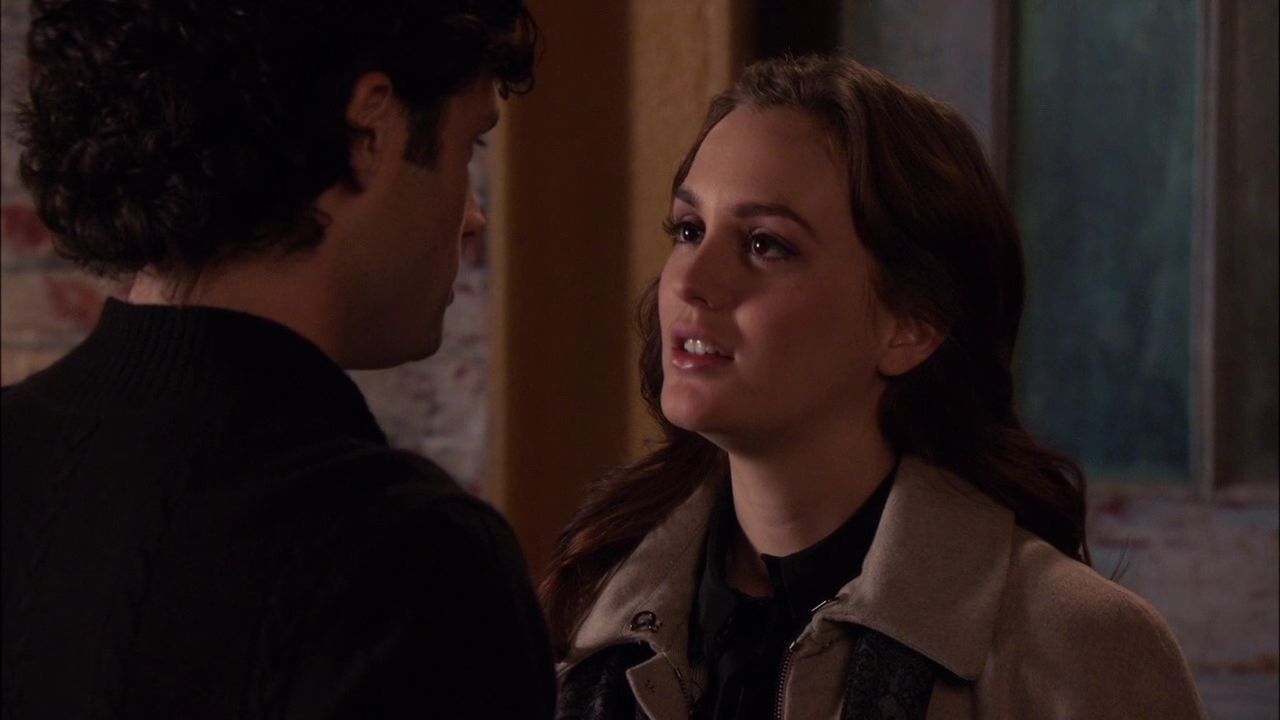 Blair: I just walked away from the love of my life to come here....also can someone get me an oxygen mask, I'm kind of breathless...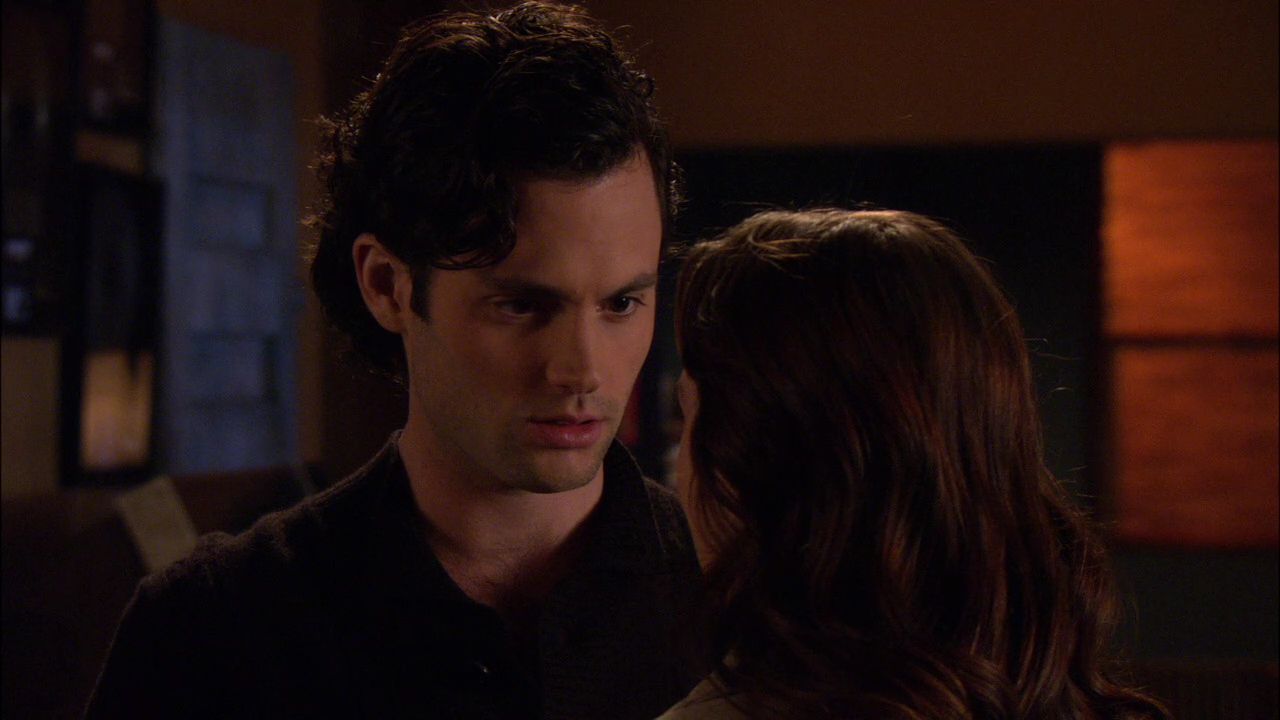 Inside Dan's Head:
But, seriously, no wonder there were literally drum-rolls in the background. This moment was beyond momentous. Let's forget about just Dair for a moment. I think Blair is almost as happy FOR HERSELF that she's finally free. She's truly free to make this decision for herself for the first time in forever.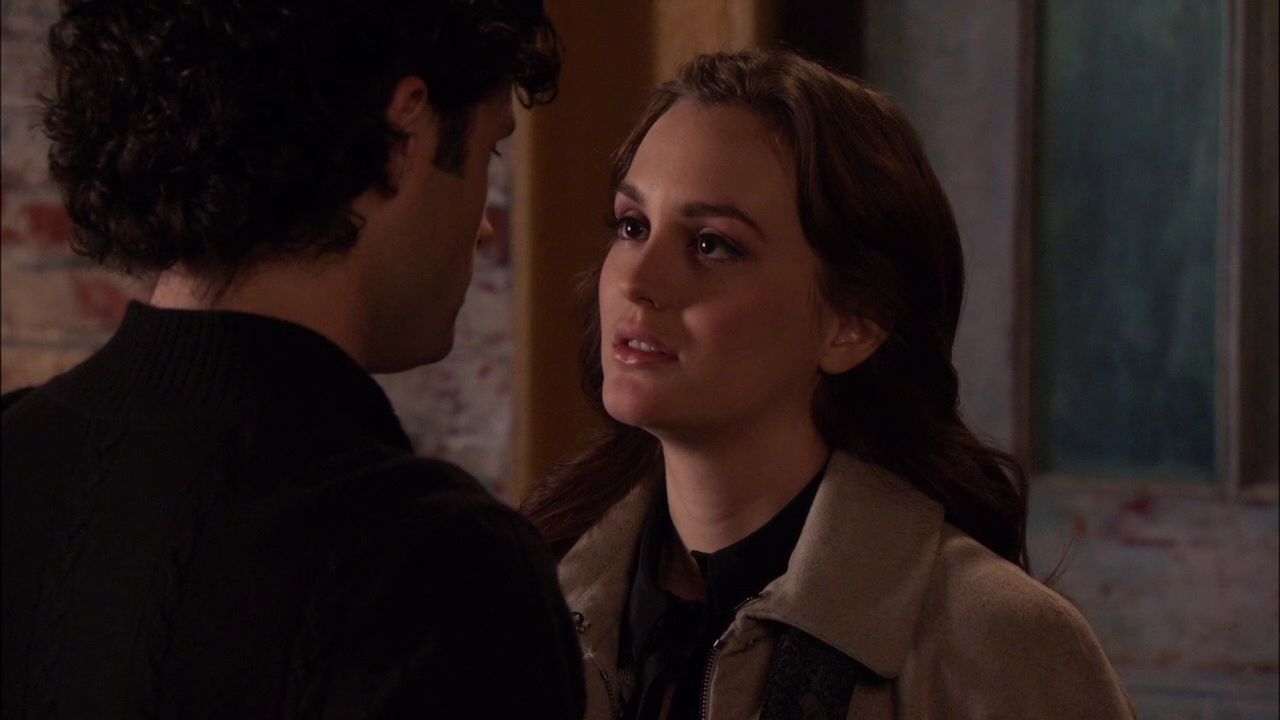 Blair: I love you, basically.
Now, look, I'm no film critic, but I don't think you have read too much between the lines here. But, I DO find it interesting that neither them have used the words "ILY" with each other. This can only mean good things, imo, since when the ILYS are implied but not verbalized, writers are usually saving them for a momentous events.
But, speaking of momentous events...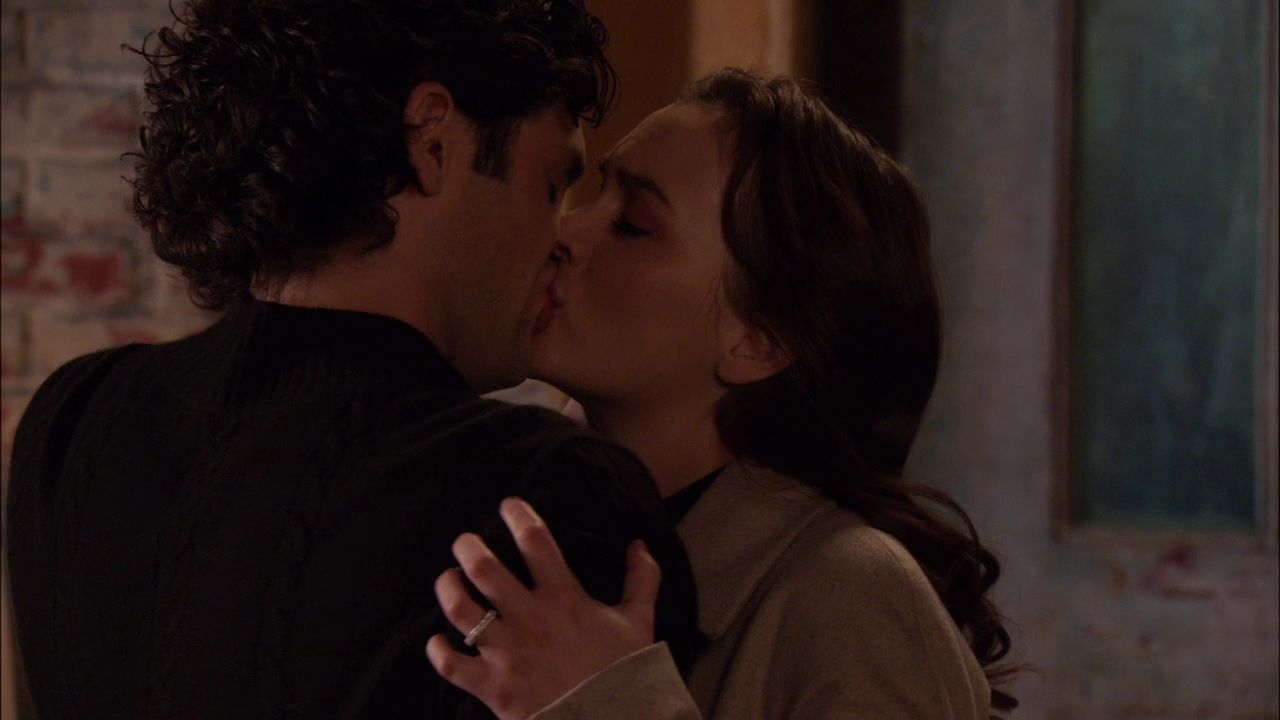 ::Romance Movie Kiss::
I'm not kidding. This is fact. This is literally straight out of every other classic romance movie.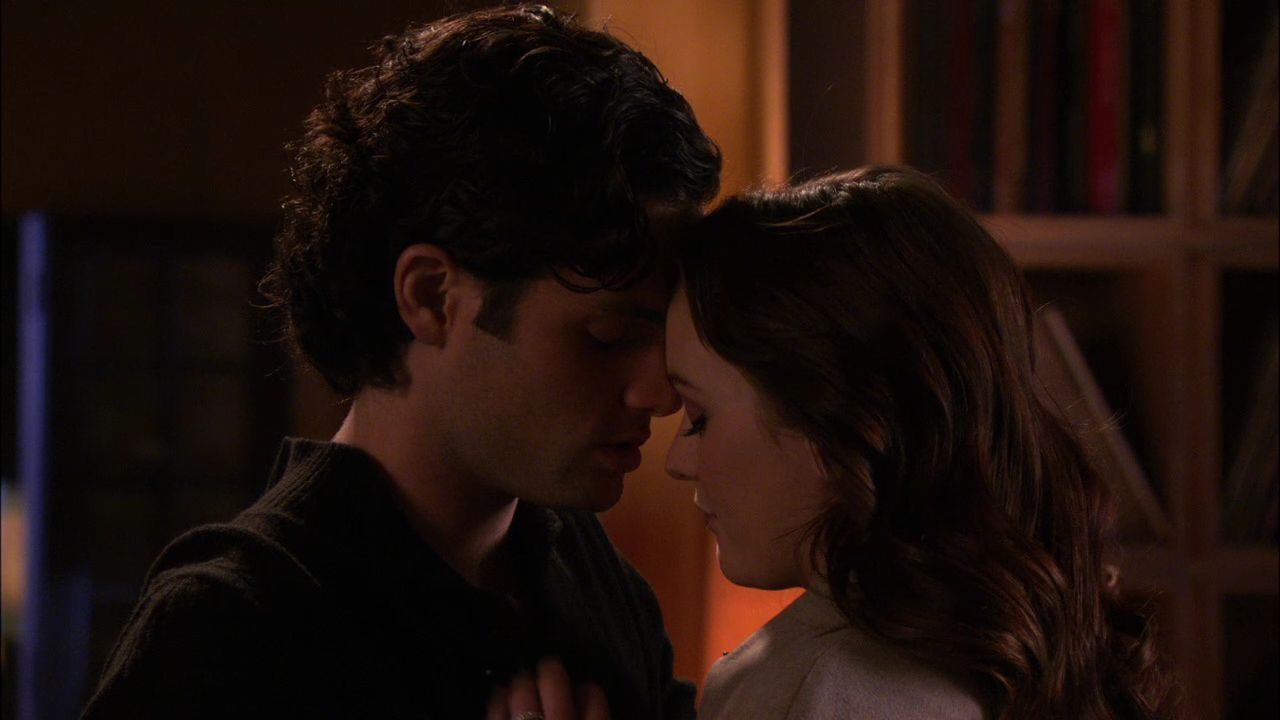 Dan and Blair: Let's take something totally disgusting and cliche and make it work, boo.
I have been on record before in other fandoms about how much I ABHOR forehead touching. Like seriously, it almost automatically disqualifies you from my OTP list on principle.
But there's just something about this moment. It's like they're soaking in all the emotions that have been building between them for over a year now.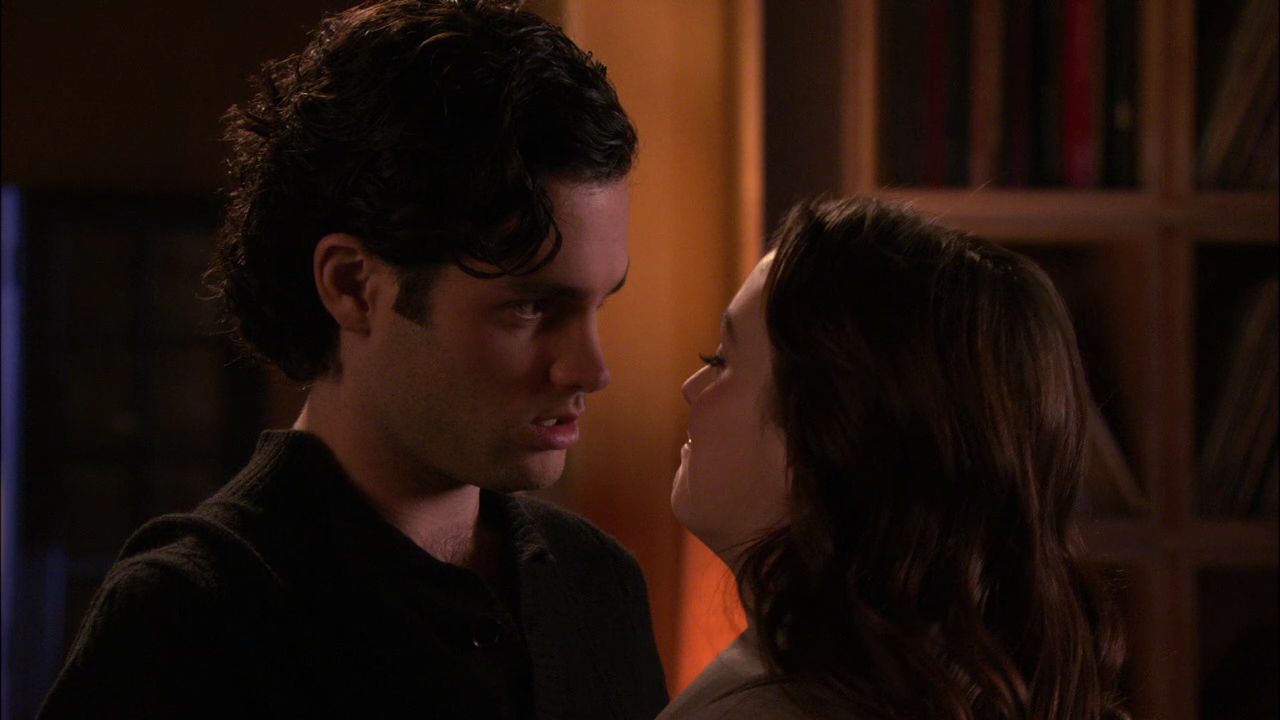 Blair: So, Dan, you gonna invite me in or what?
LOVE how uncool both of them are here.
Blair has zero moves, but she's Blair, so I guess she doesn't need them lol.
Plus, I love the shout-out to the Valentines-Dair episode when she asked him, "You gonna make a move or what?" Basically, you cannot tell me that this longing has not been brewing in Blair for a while now.
But, enough of that, cue the spinning: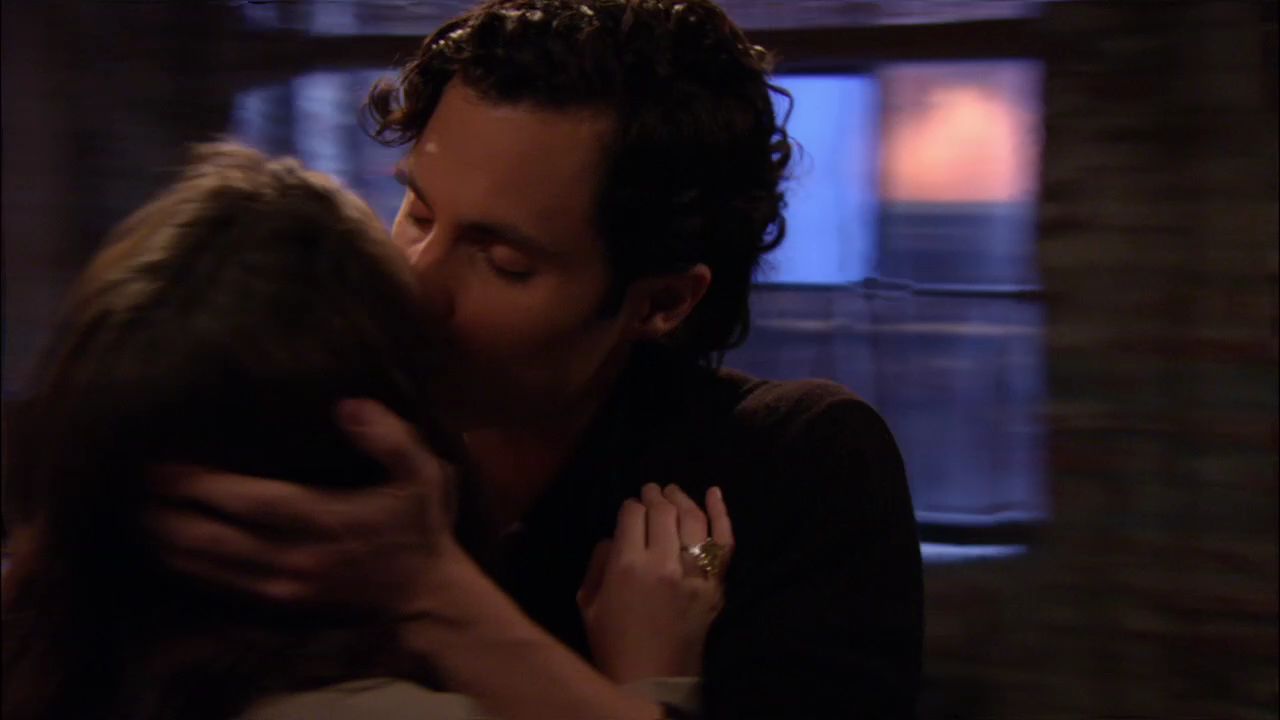 Alert!: Another dorky superman reference. In the first movie, there's this scene where he basically flies around the earth a bunch of times really fast to move back the clock and save Lois (totes makes sense).
For me, this is the Superman-Spin of GG, because it officially voids the infamous Chair kiss (lol) and literally spins the series into a "whole new world" as GG narrated.
Basically, this sh**. just. got. REALER.
Now someone look me in the eye and tell me these two can't have good sex. I dare you. I DAIR YOU. (pun intended).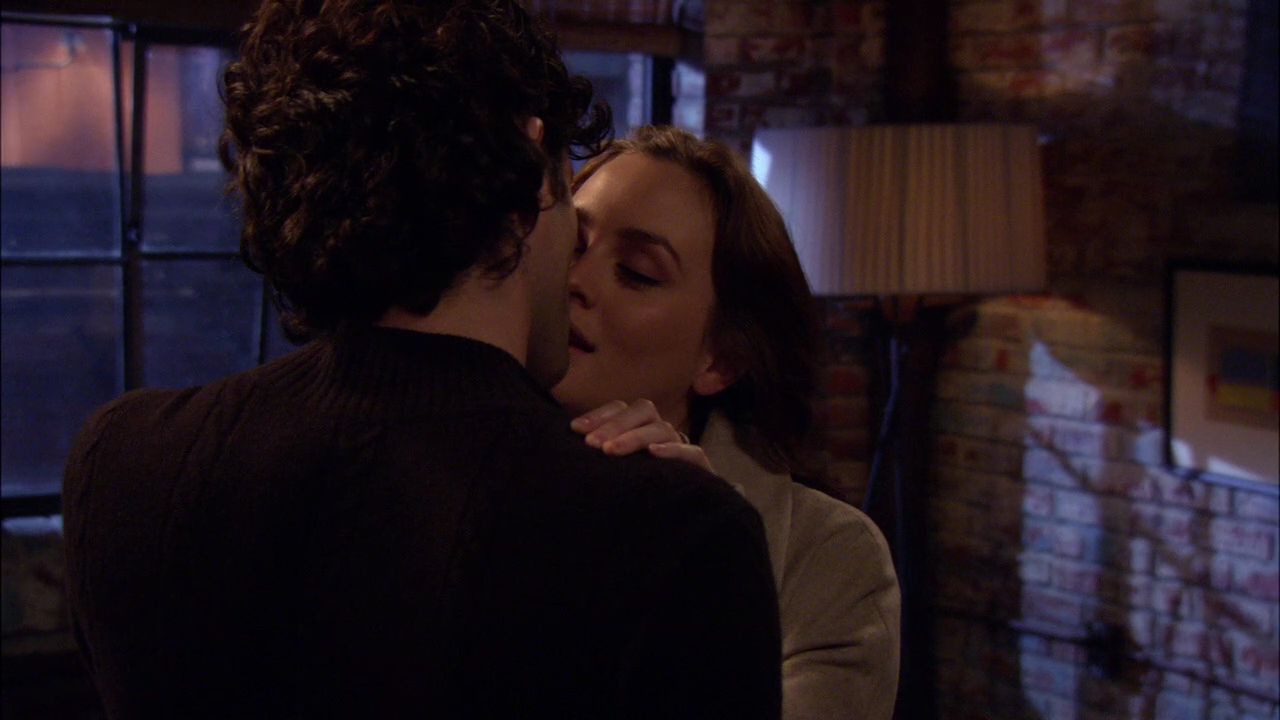 Seriously though. Besides from the blatant mouth sex taking place, Blair's literally moaning his name while Dan has probably needed massive heart surgery since the moment he left the stool.
So remain calm, hit replay, and enjoy the hiatus, Dair-babies :)

**
Thanks for reading :) I'm toying around with the idea of doing some mini-recaps of season 5 Dair eps over the hiatus. Let me know if anyone would be interested in that.